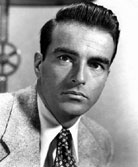 NARTH (National Association for Research and Therapy of Homosexuality) does a good job of highlighting the disfunctional upbringing and family life of notable "homosexuals," in this case deceased actor Montgomery Clift. What is evident from this piece is that a mother (or father) can do quite a number on an innocent child and his or her future. The media — fixated as they are on finding the illusive "gay gene" — rarely factor in (even severe) family disfunction as a contributing cause of homosexuality, but there are amply cases, just among "gay" or "lesbian" celebrities, to make the case that nurture plays an important role in a child's later adulthood embrace of sexual deviance. — Peter LaBarbera
"The Story of Montgomery Clift" 
By Linda Nicolosi, NARTH, reviewing Patricia Bosworth's Montgomery Clift: A Biography
June 14, 2007
Montgomery (Monty) Clift was a broodingly handsome, classical actor who is considered to be one of the greatest screen stars of the Golden Age of film. He led a tormented life, dying prematurely after many years of self-destruction through drinking, drugs and a long string of affairs with men (as well as a few women).
An enormously attractive screen presence, Monty had large, expressive dark eyes, and portrayed a haunting vulnerability and sensitivity that was as much "who he was" onscreen as offscreen. His life story makes fascinating reading.
In Montgomery Clift: A Biography, author Patricia Bosworth describes Monty's father Bill as passive, good-natured, and absolutely adoring of his wife, Sunny. A very successful man in the business world, Bill nevertheless deferred in every way to this strong-willed, opinionated woman at home. "My father would do anything in the world to please Mother," Monty's sister Ethel said (p. 23). "She made everyone–including her husband–feel that no one with any brains could possibly disagree with her and still be a person of consequence" (p. 31).
Indeed, Sunny was known as a vibrantly attractive and intelligent woman. She was "energetic, sometimes venomous, always triumphant in any situation" (p. 284).
Sunny had been adopted as an infant into a family that apparently abused her, and she was never able to locate her birth parents. She had been told, however, that her bloodlines made her a "thoroughbred." Soon she became obsessed with tracking down her geneology, and she poured all her energy into it. Her primary goal in life, biographer Boswell says, was to raise her children as "the thoroughbreds they were" so they would never know the uncertain identity and insecurity she had suffered in her life.
To read Linda Nicolosi's full review, click HERE