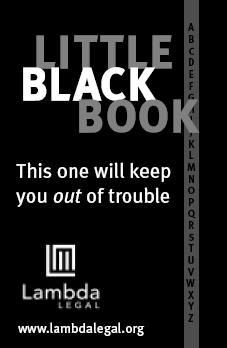 Click HERE to view the actual online web page for Lambda Legal's "Little Black Book" to help homosexual "public sex" cruisers "keep out of trouble." 
By Peter LaBarbera 
From AFTAH's "We-Couldn't-Make-This-Up-if-We-Tried" Department:
Lambda Legal, a high-powered homosexual legal group, publishes a "Little Black Book" to help homosexual men "cruise safely" in public parks and restrooms. The booklet is linked to on a homosexual "Cruising for Sex" website as a helpful tool for "cruising" men to stay out of legal trouble. Click HERE to go to the Lambda web page for their "Little Black Book, and  HERE to view the PDF.
"Cruising" is a popular "gay" male term describing the search for sexual partners, including in public places such as parks and store restrooms. See the "cruising" site's listings for Ft. Lauderdale HERE. 
Typical irresponsible "gay" activism here: rather than tell men not to engage in such reckless depravities like oral sodomy in a public restroom, Lambda Legal's Little Black Book advises, "If you cruise in parks, bathrooms or other spaces open to public view, trust your instincts, be aware of your surroundings — and know your rights."
The Lambda Legal booklet continues (emphasis added): "While Lambda Legal and other groups are fighting against the ways police target men who have sex with men, having sex where others might see you and take offense can subject you to arrest, publicity and other serious consequences. If you feel unsafe, you should leave."
This article was posted on Friday, August 24th, 2007 at 3:36 am and is filed under
Bathhouses
,
Down Low
,
E - Praying for the Lost
,
Lambda Legal
,
National GLBTQ Activist Groups
,
News
,
Public Indecency
,
Public Sex in Your Neighborhood?
,
The Agenda: GLBTQ & Activist Groups
. You can follow any updates to this article through the
RSS 2.0
feed.