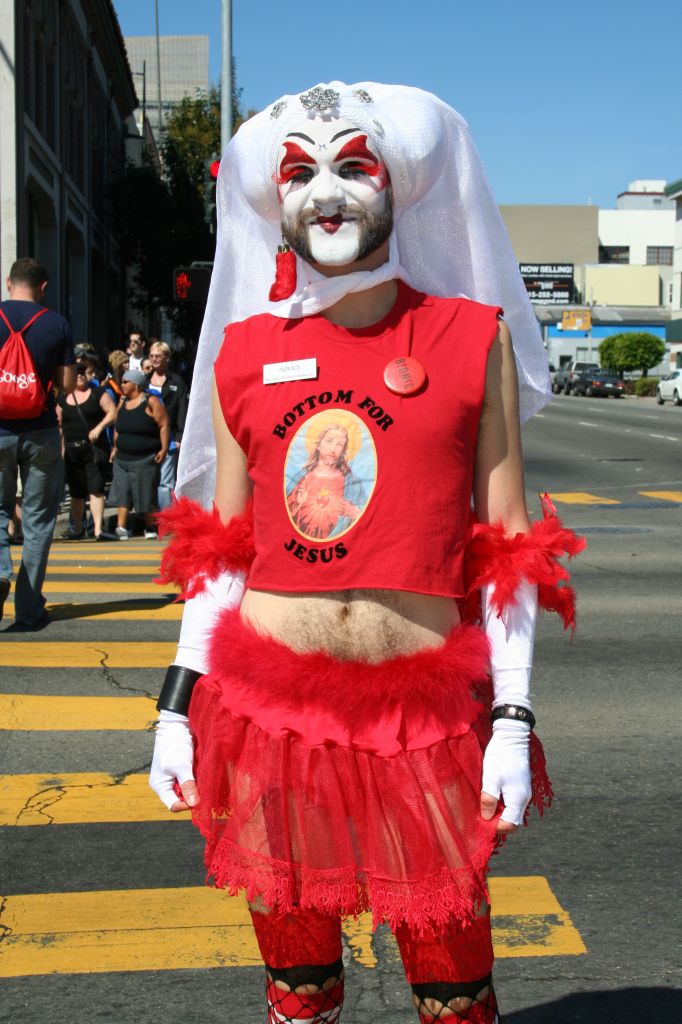 "Novitiate" Sister of Perpetual Indulgence "Sister Bambi Dextrous" wears a "Bottom for Jesus" shirt at the perverse 'Folsom Street Fair' in San Francisco Sunday. Referring to the dominant and submissive positions in homosexual sodomy, he said he usually "tops," but that he "bottoms for Him" (Jesus). As they do every year, the Christianity-mocking "Sisters" welcomed Folsom Street Fair attendees at the various entrances to the Folsom Street Fair and were a major financial beneficiary of it.
WARNING: GRAPHIC AND SEXUAL DESCRIPTIONS NOT APPROPRIATE FOR CHILDREN
By Peter LaBarbera and Allyson Smith
SAN FRANCISCO — Hundreds of men yesterday bared their genitals and some engaged in open sex acts and orgies on city streets, as police stood by and did nothing, at the "Folsom Street Fair," an annual celebration of sadomasochism. 
These two reporters for Americans For Truth videotaped and photographed open sex acts on city streets — including orgies involving men fondling and sometimes fellating one another, as crowds looked on and took photos at this celebration of "kink" that reportedly drews over 200,000 visitors. The relatively small number of police present took a "hands off" approach toward the sadistic "fair" — and did not stop the public sex and nudity.
One police officers agreed with us that public indecency laws "apparently" were not being enforced at the Fair — saying that it is expected every year that this is what will be seen at Folsom.
The Folsom event has received more attention than usual this year after Concerned Women for America exposed Folsom's promotional artwork — a sadistic mockery of Da Vinci's Last Supper painting, with fetishists and "leathermen" replacing Jesus and his 12 disciples, and sex toys sitting atop the table. After protests from the Catholic League, Miller Brewing asked that its logo not be used on the "Last Supper" promotional poster, but it continued to sponsor the event.
The following were witnessed and filmed by these Americans For Truth observers at the Folsom Street Fair yesterday — with no arrests or police action taken despite their occurrence on crowded public city streets:
(Mostly older) men walking down the street completely naked, and posing for photos;
Men masturbating themselves in public, sometimes with a crowd gathering to watch;
Male group orgies in which men masturbated other men, or stimulated them orally (fellatio) on the streets as hundreds of people either watched or passed by;
Men and women whipping and beating each other with floggers, causing red welts;
"Master-slave" couples, both heterosexual and homosexual; 
Women walking with their breasts exposed;
Fetishists such as "pony-play" (people dressed as horses) and "puppy play" (people dressed as dogs);
People posing for pictures with public exhibitionists
A full photo report will follow.
This article was posted on Monday, October 1st, 2007 at 7:07 am and is filed under
Bathhouses
,
BDSM
,
Government Promotion
,
Homosexual Hate
,
Homosexual Hate Speech
,
Homosexual Meccas
,
Homosexual Pride Parades & Festivals
,
News
,
Public Indecency
,
Public Sex in Your Neighborhood?
,
San Francisco
,
Sisters of Perpetual Indulgence
. You can follow any updates to this article through the
RSS 2.0
feed.