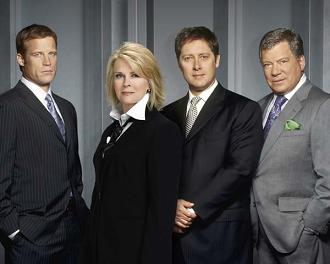 Friends, heads up: ABC's "Boston Legal" tonight (10:00 P.M. EST) will help further the radical "gay" agenda of opening up the America's Armed Forces to open homosexuals — during wartime, no less.
 
The homosexual-bisexual-transsexual movement hypes its victimhood but it has incredible power and money as a small special interest group in society. At bottom, a well-heeled homosexual activist group, Servicemembers Legal Defense Network (SLDN), touts the "Boston Legal" episode, which probably could have been written by the SLDN itself, such is the propagandistic nature of pop culture today. If I were a gambler, I'd wager that the script advances the bogus "gay" activist analogy to ending racial discrimination and makes conservative opponents of homosexuals in the military out to be a "bigots" and irrational "homophobes."
Crazed military "homophobes" have been a favorite target of liberal Hollywood snobs for years — remember Chris Cooper's character in "American Beauty" — who of course turned out to be a repressed homosexual himself?
To read some outstanding articles clarifying current military policy and the "Don't Ask, Don't Tell" policy deviously put in place by President Bill Clinton in 1993 — it does not conform to U.S. law — I recommend Elaine Donnelly's Center for Military Readiness. Start with "Why the Law Did Not Get a Name of its Own."  Elaine is a hero for truth on this and other military issues.
Aren't you tired of the media's and Hollywood's round-the-clock promotion of all things homosexual? I am. And yet, remember this: they have the money, the influence, the elite network of behind-the-scenes and public backers of their cause. But we have the truth: homosexual behavior will always be wrong, and those who defend and practice it are fighting their own "war" — against a Creator who lovingly made man and woman to enjoy each other and beget children in marriage.
[Note to readers: the preceding paragraph was falsely attributed to Elaine Donnelly as a quotation by Ed Brayton, a homosexual advocate, writing for the Michigan Messenger.]
Meanwhile, the unheralded stories of changed EX-homosexuals like Charlene Cothran, an African-American who, with God's help, overcame 29 years of lesbianism, expose as a lie the homosexual activists' central "civil rights" premise of inborn "gay" identity. This debate is really over behavior, not "orientation" — and If homosexual behavior does not belong in the military, why would we allow in people who define themselves by that behavior?
 
Stay strong and don't let the media decide YOUR morality. God bless,
 
Peter LaBarbera
Americans For Truth
www.americansfortruth.org
 
P.S. You can see Charlene's and David Parker's exciting testimonies at Americans For Truth's recent banquet by ordering the DVD below. All proceeds will benefit AFTAH as we seek to counter the rich and powerful homosexual lobby:
 
Order Cothran's and David Parker's Testimonies on DVD and support AFTAH!
To order a complete DVD (or CD) of both Charlene Cothran's and David Parker's outstanding talks at the recent Americans For Truth banquet, make an online donation of at least $25 postpaid to Americans For Truth (please use the online form to specify '2007 Banquet DVD'). You can substitute an audio CD but you must request this specifically. To order by regular mail, send your check or money order specifying "2007 Banquet DVD" (or CD) to: Americans For Truth, P.O. Box 5522, Naperville, IL 60567-5522.
Bulk orders available: 2 for $40; 3 for $55; 4 for $70; add $10 for each additional DVD or contact us (630-717-7631) for large bulk order pricing.
____________________________
Here's the SLDN e-mail promoting "Boston Legal's" pro-homosexual episode:
Emmy-Winning Series Boston Legal Tackles "Don't Ask, Don't Tell" Tonight on ABC
The Emmy Award-winning drama Boston Legal tackles discrimination, homophobia and "Don't Ask, Don't Tell" tonight on ABC.     Tonight's episode, titled Do Tell, involves the case of law partner Denny Crane's Army buddy, General "Fitz" Fitzgerald.  Fitz shows up at the law firm of Crane Poole & Schmidt to tell Denny that he is gay . . . and he's being discharged under "Don't Ask, Don't Tell."  While Denny grapples with the surprising news about his friend's sexual orientation, Shirley Schmidt (played by Emmy winner Candice Bergen) takes up Fitz's case, suing the Army and challenging "Don't Ask, Don't Tell" in court.    For more information, visit ABC's official Boston Legal

website

, or read more about tonight's episode at

Frontlines

or The Bilerico Project.  And check back on SLDN's blog tomorrow morning for a full analysis of Do Tell.      Boston Legal airs tonight at 10pm EST on ABC. 
This article was posted on Tuesday, October 16th, 2007 at 10:29 pm and is filed under
A - What does the Bible say about homosexuality?
,
ABC
,
B - Ex-Homosexual Testimonies
,
C - Heroes for Truth
,
Celebrities
,
Media Promotion
,
Military
,
News
,
Servicemembers Legal Defense Fund
. You can follow any updates to this article through the
RSS 2.0
feed.