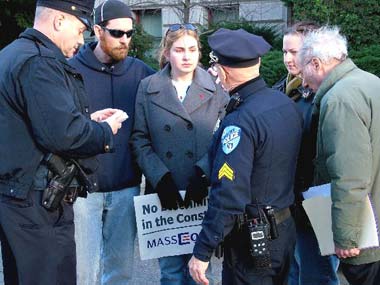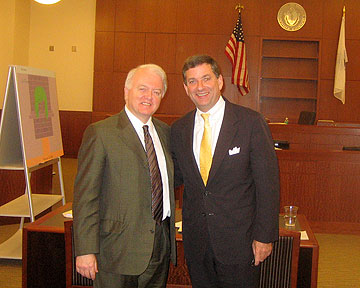 Larry Cirignano (with yellow tie in bottom photo) with attorney Mike Gilleran, after their triumph over ACLU activist Sarah Loy's harassing lawsuit. At top, ACLU Board Member Loy (in middle, holding sign) describes her phony "assault" to police after she disrupted Cirignano's rally and then lied about him pushing her down. If you look closely, you can see Loy's nose growing in the photo — not really. You can congratulate Larry for his court victory over the ACLU at [email protected].
"That's what hate does!"
— Massachusetts activist Sarah Loy's chant after she had fallen to the ground at a pro-family meeting she was disrupting; a judge and jury found no basis for her claim that Larry Cirignano had pushed her in an attack on her "civil rights."  
By Peter LaBarbera
Every freedom-loving American owes a debt of gratitude to Larry Cirignano and all those like him who refuse to give up or "settle" in the face of the radical Left's lies, dirty tricks and intimidation tactics. Cirignano is a Catholic family advocate who was "set up" by an ACLU activist at a pro-marriage rally in Worcester, Massachusetts, turning the pro-family event into a 10-month personal nightmare. (See below, or go HERE to Mass Resistance's excellent background story on the case; their final write-up is HERE.)
You simply won't believe this case: alleged "victim" and pro-homosexual protester Sarah Loy invaded a pro-marriage rally on December 16, 2006; then, as Cirignano was leading her away from the rally that she was trying to disrupt, she fell to the ground and started screaming about "hate" as if he had attacked her! (You can view a sample of the leftist tripe on this website, which identifies Loy as a Board Member of ACLU.)
Loy claimed that Cirignano shoved her to the ground but the jury found that she tripped and fell. You can watch some amateur video footage of the rally HERE. (The video, which is of low quality, might be called, Anatomy of a Smear; a longer version of it, along with still photographs, was used in court to show that some of the government's key "witnesses" to the alleged assault — including Richard Nangle of the Worcester Telegram and Gazette, who reported it as fact — were not in the crowd but standing dozens of feet away.) 
The whole case is further proof — as if we needed it — that nobody lies like the pro-homosexual, pro-abortion Left, whose members are so consumed with hatred for those defending life and the natural family that they will stoop to evil tactics like this in their ends-justify-the-means crusade to destroy them.
Loy's story was a complete fabrication, but Worcester's prosecutors — in bed with the ACLU, the liberal media, and the state's powerful "gay" lobby — took it seriously, wasting tens of thousands of taxpayer dollars and smearing a good man's reputation in the process. 
Is the ACLU claiming that Loy had some "right" to disrupt her opponents' rally (for which they had a permit)? Does this newfangled right extend to Loy and friends lying about Cirignano, implying that this peaceful family man is violent, and forcing him into court to clear his name — all with the cooperation of local prosecutors?
People's Republic of Massachusetts, indeed. All that was lacking was a show-trial judge to complete the charade — a role presiding Judge David Despotopulos was not willing to play.
So much for the ACLU's commitment to free speech and the First Amendment. In the ACLU's playbook, homosexual advocacy trumps genuine liberty and Christians' constitutional freedom to assemble. (In fact, in that sense, the leftist organization's twisted priorities represent the core problem of pro-homosexuality ("sexual orientation") laws: they cannot coexist with the First Amendment and free-association liberties of moral-minded citizens.)
The left-wing Massachusetts lawyers who were all over Loy's spurious lawsuit were counting on Cirignano to throw up the white flag — another notch on the ACLU's intimidation belt. (Numerous school districts have given in to the ACLU's demands on issues like homosexual student clubs rather than fight, out of fear of facing an expensive lawsuit.) Cirignano could have cut a deal to dispense with the case, but chose instead to fight for truth and his own vindication. You can congratulate him at [email protected].
Sarah Loy's pathetic claims of "assault and battery" were exposed as fraudulent. Her lies were (and still are) believed by radical leftists and some reporters — but not by the jury or the judge, who earlier had tossed out her "civil rights violation" claim. (Trashing peaceable assembly in the name of "civil rights" — Stalin would be proud.)
Something else to consider: wherever the homosexual and radical feminist lobbies are strongest, these sorts of abuses against truth and justice occur. Something similar happened to Scott Lively (now with Abiding Truth Ministries) and the Christian group Oregon Citizen's Alliance (OCA) back in 1991: a lesbian who snuck into their pro-family meeting claimed that Lively had "battered" her when he escorted her out of it. (Lesson for conservatives: NEVER touch a homosexual activist or leftist protester.) The media picked up on the phony charge so that Lively and OCA were publicly shamed and smeared at the height of a key referendum battle dealing with homosexuality. 
Ends justify the means.
When will America wake up to the homosexual lobby's exploitation of victimhood to victimize others (us)? True freedom cannot coexist with homosexual power backed up by the state. Below is the account of Cirignano's sweet victory by Brian Camenker of MassResistance, another hero who has refused to back down in the face of spurious lawsuits and left-wing bullying. Write and thank Larry Cirignano at [email protected].
Here is Camenker's and MassResistance's story:
______________________
Jury acquits Larry Cirignano in celebrated case stemming from pro-marriage rally last December!
Doesn't buy absurd "assault and battery" charges, despite rhetoric by ACLU and homosexual activists. Trial was waste of public money by District Attorney.
Civil rights charges already thrown out by judge last week.
DEFEAT FOR ACLU AND HOMOSEXUAL ACTIVISTS!
A jury of four men and two women acquitted Larry Cirignano of the remaining assault and battery charges stemming from a pro-marriage rally last December. The civil rights charges against him had already been dropped by Judge David Despotopulos … in the face of overwhelming evidence in Larry's favor.
When it was finally examined in a courtroom with witnesses, cross-examination, and video, the entire case against Larry Cirignano collapsed.
The jury was selected on Tuesday, Oct. 16 and the trial began Wednesday. On Friday afternoon the jury began deliberating and went home for the weekend at 4 p.m. At 9 a.m. Monday morning they reconvened. At 11:30 a.m. the jury appeared to be deadlocked, but at 1 pm they came out with a unanimous verdict of not guilty.
On Saturday morning, Dec. 16, 2006, Larry Cirignano was helping run a peaceful pro-traditional marriage rally on the steps of Worcester City Hall.  They had a legal permit to use the area for the rally. But dozens of homosexual activists converged on the area in order to disrupt it, many holding signs and screaming vulgar chants and obscenities.
During one of the speeches, Sarah Loy, and ACLU board member and pro-homosexual "marriage" activist, came in and stood in front of the podium, facing the crowd. She held a homosexual-marriage sign and taunted the crowd, chanting.  Larry led her to the side, buy but as Loy made her way through the crowd she fell to the ground. Then she started screaming and chanting "That's what hate does!" and proclaimed that Larry had pushed her to the ground. 
Larry was charged with assault and battery, and later also charged with a civil rights violation.
This case had become a cause celebre in the homosexual movement across the country, as they've attempted to demonize Larry and others in the pro-family movement.
But Loy's claim that she had hit her head on the ground was debunked by witnesses who testified they saw her land on her buttocks, break her fall with her hand, look around for a second, and then l lie down in a fetal position and scream.
The ACLU was heavily involved in the case and during the trial. Ronald Madnick, a prominent ACLU attorney, was at the entire trial and huddled with the prosecutor, Assistant District Attorney Joseph Quinlan, frequently at breaks.  And Sarah Loy was on the Board of Directors of the ACLU.
See the MassResistance day by day account of trial, plus background information on case.
http://www.massresistance.org/docs/issues/cirignano/trial_notes.html
For more information:
Brian Camenker
MassResistance, Waltham Massachusetts; Office: 781-890-6001
Email: [email protected] 
Web:  http://www.massresistance.org/
This article was posted on Thursday, October 25th, 2007 at 11:43 am and is filed under
ACLU - Gay & Lesbian Project
,
Bullying & Victimhood
,
Christian Persecution
,
Diversity & Tolerance Propaganda
,
Freedom Under Fire
,
Gay Straight Alliance
,
GLBTQ Lawsuits & Retribution
,
GLBTQ Targeting Youth and Schools
,
Homosexual Hate
,
Homosexual Hate Speech
,
Media Promotion
,
Mental Health
,
National GLBTQ Activist Groups
,
News
,
Not with MY Tax money!
,
The Agenda: GLBTQ & Activist Groups
. You can follow any updates to this article through the
RSS 2.0
feed.