Victim of harassment lawsuit tells his story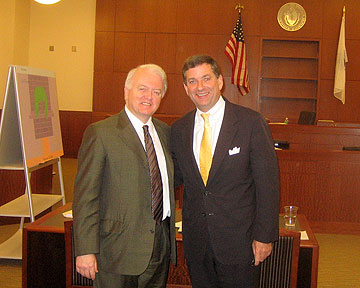 Larry Cirignano (right) in courtroom with Michael Gilleran, the attorney who helped him beat bogus charges by ACLU activist Sarah Loy that he assaulted her after she disupted his pro-marriage rally. Click HERE for more on the case, and HERE to read about a Worcester, Mass. reporter who helped smear Cirignano but who refuses to recant his discredited story. For MassResistance's comprehensive account of Cirignano's trial and Sarah Loy's fraud, click HERE.
By Larry Cirignano
This week we celebrate All Saints Day and All Souls Day.  The Catholic Church venerates saints as role models for all of us to emulate, and to encourage us to strive to defend our faith and principles as they did, despite each of them being a sinner.
In early American history, back in 1597, five Franciscan friars were martyred, in what is now Georgia, for standing up against polygamy and defending marriage.
In early church history St John the Baptist, St John Fisher and St Thomas More were all beheaded for standing up for marriage. 
If we are going to continue as a society, we need to stand up for marriage as these brave saints did, by promoting families raising children, and by protecting our children as our most precious resource.
The family is an essential building block for society.  Families are the first protectors of children as the first providers of food, shelter, health care and education. The home is the domestic church and serves as the first hospital, school and restaurant that most kids will know.
We would need a lot fewer government programs for charity and welfare if our family structures were intact.
Who can deny that divorce and adultery are problems that we as a society ought to deal with?  All of the cultural indicators show that children who live with their biological parents are healthier, are more likely to graduate from high school, go to college and are less likely to be involved in the judicial system, drugs, or suicide.
Sure there are alternative situations because of divorce or death.  Increasingly we see that many children are being born out of wedlock, but as a society we should strive to support the ideal situation for raising children in a family with a married Mother and Father.
The Catechism teaches us that we do violence to children if we intentionally deprive them of either a Mother or a Father and that the best way to raise a child is with both a male and a female biological parent who are married.
Children should have a Mother and a Father. It's not "hate" to say that. Teenagers will frequently declare that their parents "hate" them because they will not allow them to stay out late, go to R-rated movies or go out on unsupervised dates.
Parents know better.  They know that it is precisely because they "love" their children that they will not allow them to get into harms way.  Telling kids NO and offering discipline can make a big difference in their lives. Most of us figure out sooner or later that our parents were a lot wiser than we ever gave them credit for.
Last December, at a Rally for Marriage, in Worcester, MA, I was accused of "hate" because I would not allow a woman to stand in front of a podium and taunt a crowd of people, with her sign blocking their view of the speaker. She accused me of "hate" because I escorted her off the steps and back into the crowd.
She tripped and fell after I left.  When she noticed the attention she received for tripping over the foot of a teenager she went to the ground and started loudly chanting "that's what hate does"  as she curled up into the fetal position.  She wanted me arrested for assault, battery, violating her civil right to protest and a "hate" crime, because she could not have her way. The police had to prevent her from coming back on the steps and protesting. She told them that she knew her rights and that she was with the ACLU.
The police never charged me with a "hate" crime but in February they did charge me with violating her civil rights and assault and battery. After five trips to Worcester for hearings and motions and a five day trial, a judge said that I could not violate her civil right since she did not have a right to interfere with our speaker, on our stage. A jury said that I was NOT guilty of assaulting her.
I do not "hate" someone because they have a different point of view. I did move her off the steps and back into the crowd to prevent a fight.  I did not know what might happen if I left her there bantering with the audience as she blocked their view. I have seen situations where additional protesters sometimes would join arms in a daisy chain and block off a stage, I have also seen  where passionate supporters of differing views, come to blows at an event.
This was an intentional disruption of our rally. It distracted the people who were videotaping the event who wound up focusing on the protesters in the back of the crowd rather than on the speakers at the podium. The police were at the back of the crowd keeping a path open between two groups.
Videos showed the organizers of the protest chanting and shouting during our opening prayer and our Pledge of Allegiance.  The prosecutor did not want the jury to see this disruptive behavior and it was excluded from their viewing.
For the record, we have had many of the same people protesting at our other rallies. In Springfield, Mass., the week before, the city gave us a permit and provided a podium and microphone at the front door of City Hall but the police issued a separate permit for City Hall steps to our opponents, thereby forcing us to go across the street to hold our rally and leaving the gay "marriage" supporters on City Hall steps.
The judge in Worcester did not think that this was relevant to our case and did not allow us to present those facts to the jury.
Just because people saw me escort her and saw her fall down they assumed that I pushed her.  One "eye witness" saw me push her from behind with both hands on her shoulders. Another "eyewitness" saw me push her backwards with both hands on her shoulders. One witness who I found particularly offensive testified that I had pushed her chest. None of the witness could see her feet or if she tripped and none of them saw that I was holding a portfolio the whole time and thus could not have used both hands.
We were able to prove conclusively that two of the prosecution's "eye witness'" were not where they said they were and could not have seen what they claimed they saw. Two other prosecution witnesses say that while they did not see me push Loy down they concluded that I had done so because Loy fell shortly after I escorted her away from the podium.  One of these even admitted on the stand that he had "assumed" I had pushed her down.
My witness testified that I had left her and was on my way back to the podium when she tripped over a young girl's foot and fell down. Luckily she was not seriously injured in her fall although one person reported that I had bashed her head into the sidewalk.
I'm no saint and luckily I'm not a martyr.  The prosecution wanted to incarcerate me in the brand new jail.  Luckily I will avoid their hospitality. This was a huge waste of government resources because I held the politically unpopular view that Marriage should be between One Man and One Woman. Any other case would have been thrown out for wasting the court's time.
In the future I hope the police will set up a separate place for protesters and spend more time preventing trouble and protecting the free speech of the permit holders.
Government might be able to change the definition of marriage but it can not redefine sin and so far only judges, not the people's elected representatives, have seen fit to change the interpretation of the law's definition of marriage. 
I will always stand up for the people's right to vote to define marriage, defend the Church's teaching that adultery and sodomy are wrong, and in Christian charity, correct people who want to teach our children otherwise.
I want to thank Michael Gilleran Esq., who made it possible for me to defend myself in court by taking my case pro-bono.  I could not have afforded to defend myself otherwise.
I also want to thank all the people who came to my trial and offered prayers and support. 
Nobody wins in these cases.  The time and effort are very costly financially and emotionally.  I would "hate" to waste more taxpayers money, more court and police time and even my opponents time on any further litigation.  I wish her peace.
Larry Cirignano
larryvote@aol.com
111 So Columbus St
Arlington, VA 22204
703-521-0478
"The world is a dangerous place to live–not because of the people who are evil, but because of the people who don't do anything about it."
–Albert Einstein
This article was posted on Wednesday, October 31st, 2007 at 11:58 pm and is filed under
"Civil Unions" & "Gay Marriage"
,
"Civil Unions" & "Gay Marriage"
,
A - What does the Bible say about homosexuality?
,
Bullying & Victimhood
,
Catholic
,
Christian Persecution
,
Court Decisions & Judges
,
Freedom Under Fire
,
Government Promotion
,
Homosexual Hate
,
Homosexual Hate Speech
,
Media Promotion
,
News
,
Not with MY Tax money!
,
The Bible, Churches, & Homosexuality
. You can follow any updates to this article through the
RSS 2.0
feed.