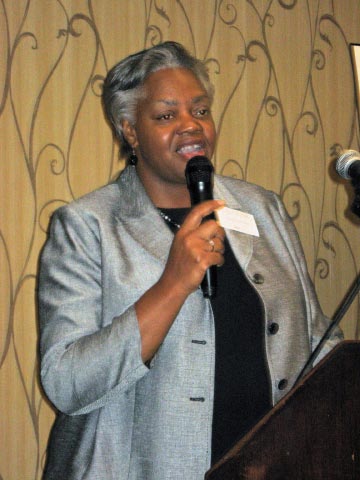 Charlene Cothran, shown here speaking at Americans For Truth's banquet in October, proved her own magazine, and radical "gay" activist Wayne Besen, wrong when she gave her life to God and left the homosexual lifestyle. To reach Charlene, write editor@venusmagazine.org.
"Ex-Gay Ministries: A Bald-Faced Lie!"
— headline in article written by homosexual activist Wayne Besen in Venus Magazine, vol. 4, no. 4, 1998. Venus was a magazine devoted to African-American homosexuals, but that changed when Venus' publisher, Charlene Cothran, left the homosexual lifestyle and dedicated her life — and her magazine — to helping other men and women find freedom from homosexuality through Jesus Christ. At the time, Besen was associate director of communications for the Human Rights Campaign, the nation's leading homosexual lobby group. Now he runs an outfit called "Truth Wins Out," dedicated to disparaging ex-"gays" and ministries that help people leave the lifestyle — and, of course, savagely attacking pro-family groups like Americans For Truth.
We're sure that Besen, as America's Premiere Anti-Ex-Gay Investigator (APAEGI), has created a file on Charlene, but based on her splendid speech at Americans For Truth's banquet, his quest to "prove" that her change is not genuine (or perhaps that this former veteran homosexual activist never really was a lesbian…) will be an impossible one. Not that he won't try, though.
_________________________
Get a DVD of Cothran, Parker Speeches at AFTAH Banquet!
It's not a lie! Proceeds will help the work of Americans For Truth
To order a complete DVD (or CD) of both Charlene Cothran's and David Parker's outstanding talks, make an online donation of at least $25 postpaid to Americans For Truth (please use the online form to specify '2007 Banquet DVD'. You can substitute an audio CD but you must request this specifically. (To use Paypal or other credit card options beyond M/C and VISA, click HERE or the "Donate to AFTAH" button at the top of the website.
To order by regular mail, send your check or money order specifying "2007 Banquet DVD" (or CD) to: Americans For Truth, P.O. Box 5522, Naperville, IL 60567-5522.
Bulk Orders available (all postpaid): 2 for $40; 3 for $55; 4 for $70; add $10 for each additional DVD or contact us (630-717-7631) for large bulk order pricing.