TAKE ACTION:  Write CNN News at www.cnn.com/feedback/forms/form5.html?92 and/or Anderson Cooper at http://www.cnn.com/feedback/forms/form5.html?10 to comment on their egregious pro-homosexual and anti-Republican bias and lack of professionalism in the CNN/Youtube presidential debate Wednesday.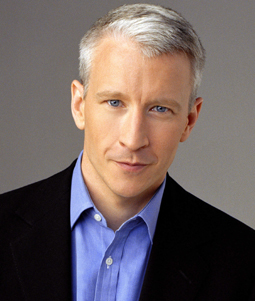 CNN's Anderson Cooper, who moderated CNN's scandal-ridden, pro-homosexual presidential debate Wednesday, was listed by the homosexual magazine OUT as one of the nation's most influential homosexuals. Though Cooper is mum on his "sexual orientation," his pro-"gay" bias is abundantly clear at CNN, as it was again at Wednesday's debate. Would homosexual "outers" go after Cooper if he were less pro-homosexual in his reporting?
By Peter LaBarbera 
Does Anderson Cooper, who moderated CNN's woefully biased Republican presidential debate Wednesday — with its planted questions from pro-Democrat partisans, including two homosexual activists — have a conflict of interest when it comes to covering homosexual issues?
Cooper has been the target of periodic "gay" outing speculation but he remains mum on his "sexual orientation." At CNN, Cooper's pro-"gay' sympathies are not hard to discern, as exemplified by his recent grilling of a pro-family spokesman on the question of same-sex parenting.
Homosexual "outing" activists like Mike Rogers target for public exposure alleged "closeted" homosexuals who publicly criticize or act against the homosexual political agenda — while leaving alone those who do not. This puts added pressure on the likes of Cooper to engage in pro-homosexual advocacy. (Ditto for alleged secret homosexual politicians like Rep. David Dreier (R-CA), who recently broke ranks with the GOP House majority by voting FOR the pro-homosexual ENDA bill.)
Rogers told me once that he doesn't "out" legislators who toe the "gay" line politically. His strategy is illustrated by his note below on his own blog begging for alleged homosexual "outing" targets on Capitol Hill (most of Rogers' victims have been Republicans):
PLEASE PLEASE PLEASE PLEASE PLEASE send me — at tips@blogactive.com — the names of:

 

1. Democrat politicians who are GAY and IN FAVOR OF THE FEDERAL MARRIAGE AMENDMENT or MARRIAGE PROTECTION ACT.

 

2. Staffers of Democrats who are GAY and work for Democrats who FAVOR THE FEDERAL MARRIAGE AMENDMENT or MARRIAGE PROTECTION ACT.
Cooper is not a politician, but the same forces may be at work in his situation. "Outing" remains controversial among homosexuals, but note the word choice of this homosexual letter-writer who is complaining (anonymously) about an article by Michael Musto in the homosexual magazine OUT that labeled Cooper as "gay": "There was nothing in the article that indicated Mr. Cooper is doing anything against our community that would require an outing."
Require an outing? Translation: if Cooper were to do a hard-hitting piece against homosexual "marriage" or "gay parenting" — or perhaps if he were to start treating pro-family guests on his CNN "360" program with the same respect he accords pro-homosexual guests — then the "gay" outing machine could swing into action against him, without the polite playfulness characterizing questions about his "orientation" today.
If he wanted to, Cooper could easily put the homosexual speculations to rest (what straight guy doesn't forcefully deny rumors or allegations that he's gay?), but he may have a built-in incentive to continue with his on-air pro-homosexual advocacy (masquerading as disinterested journalism) — to keep the peace with "gay" activists.
Meanwhile, the rest of America gets biased, pro-homosexual coverage, without being informed that a particular journalist may have a private ax to grind. This happens not infrequently when homosexual journalists cover "gay" issues. (Of course, some openly or hidden homosexual reporters are fair and cover both sides of the issue, as do some in the "gay" press; also, homosexuality is hardly the only private bias at work in journalism: years ago, New York Times Supreme Court reporter Linda Greenhouse caused a mini-scandal by marching in a huge "pro-choice" march in Washington, D.C.)
For the record, here is what Musto writes regarding getting a reaction from CNN or Cooper for his OUT Magazine story about his sexuality:
I asked CNN for a comment from Anderson and/or themselves. They apparently didn't even forward it to him, they just responded by sending me a blanket No comment. Besides, in the past, Anderson's turned down the chance to be labeled "gay." And when New York Daily News columnist Ben Widdicombe asked him if he had any comment about the Out piece, he said "No."
If Anderson Cooper is a homosexual, he ought to admit it, for the sake of full disclosure (ditto for secretly homosexual politicians, especially those who call themselves pro-family conservatives). But even if he isn't — or is but doesn't want to disclose it — he should return to journalistic impartiality on homosexuality-related stories, or recuse himself from covering them rather than go to bat for the "gay" cause — like he and CNN did in a most unprofessional way at the GOP debate Wednesday night.