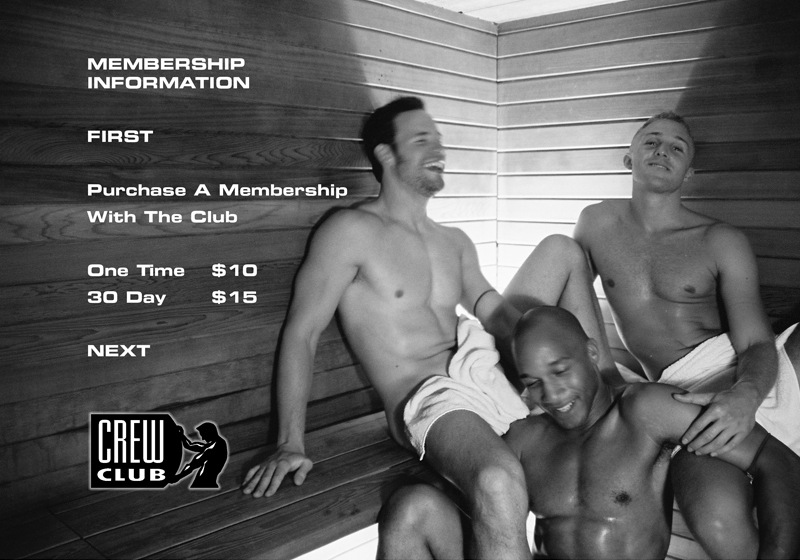 Photo on website of the "The Crew Club," a 24/7 homosexual bathhouse where men go for anonymous sodomitic encounters with other men. Homosexual media like the Washington Blade — which ran a full-page Crew Club ad next to a "World AIDS Day" ad — promote "AIDS awareness" and homosexual promiscuity at the same time. The Crew Club should be shut down as a public health hazard.
By Peter LaBarbera 
On November 30, 2007, the homosexual newspaper Washington Blade ran the following side-by-side, full-page ads: 1) PAGE 2: ad highlights "World AIDS Day 2007," paid for by the Whitman-Walker Clinic; and 2) PAGE 3: ad for "Crew Club," a 24/7 bathhouse in Washington, D.C., where men go to "hook up" sexually with other men.
The Blade's ad placement is a microcosm of everything that is wrong with homosexual activists'  hypocritical approach toward HIV/AIDS. They preach "safer sex" but refuse to take a "just say no" approach toward sex businesses like Crew Club that foster anonymous sodomies. Meanwhile, they clamor year after year for increased federal AIDS funding, even though HIV/AIDS research is already massively over-funded compared to other diseases that are NOT linked to immoral conduct.
Here are excerpts from the two Blade ads:
PAGE 2, Washington Blade: "World AIDS DAY 2007" … After 26 years of HIV/AIDS:
500,000 Americans dead of AIDS
1,000,000 Americans HIV-positive
15,000 dead in the DC area
30,000 in DC area HIV-positive
"Join Whitman-Walker Clinic for World AIDS Day. Cherish those lost. Remember those still living. Renew hope for a future free of HIV/AIDS…."
PAGE 3, Washington Blade: "A WORKOUT YOU'LL NEVER FORGET"
"…Private Rooms, Gym & Cardio, Steam Bath, Lockers, Sauna, Much More, 24-7" [shows man grasping another man], The Crew Club, 1321 14th St., NW, DC….
Editor's Note: "private rooms" are for sexual encounters. An international homosexual "cruising for sex" website describes Crew Club as: "Bathhouse with limited facilities. Open 24 hours." The comments from the cruising site make clear that men go to the Crew Club to find sex with other men. (I state this obvious point because homosexual activists like Rick Garcia of Equality Illinois sometimes pretend to the media not to know what goes on at these perversion centers.)
Here are a few "cruising for sex" comments about Crew Club:
Comment June 2007: "This place was awesome on a Tuesday night. Hot mix of black and Latino dudes, with preps too. The facilities were really clean and staff very friendly. The cruising action was intense, although I agree that steamroom was too bright, and even too warm to linger long."
Comment August 2007: "Decent, clean facility, but the men are hit-or-miss. Earlier hours tend to have older, out of shape men. Hot boys come later (they don't have real jobs!), especially after the clubs close. Sometimes I have been in [intercourse] heaven, other times I have been appalled by some of the people who had the nerve to walk around undressed and thinking someone wants them. A lot of the guys are too cautious, as if they are afraid you are a cop or something, but I guess that's just DC. Small rooms are a little too small. Hardly enough room to lay on the bench and [commit sodomy] without putting one foot on the floor. Best boys are there after midnight but there will be a line and all of the rooms may be sold out by that time."
Comment August 2007: describes Crew Club as "Men walk around in a never-ending figure eight looking for some way to hookup. It's like wandering through the halls of a Motel 8. I have just described the entire club to you."
NOTE: if you are shocked by the existence of an organized "gay cruising" network that helps men find reckless, anonymous, and degrading sex as described above, join the rest of America. Yet the "cruising for sex" site and others like it lists thousands of specific locations across the United States, and the world, where men can "hook up" anonymously with other men. 
Needless to say, Americans For Truth calls for the Crew Club and other big-city bathhouses to be closed down as public health hazards — and as a sensible, compassionate measure to slow the spread of HIV/AIDS and other sexually transmitted diseases. Remember that men who do not identify as "gay" go to such clubs, with the potential of bringing disease back to their unknowing female spouses.