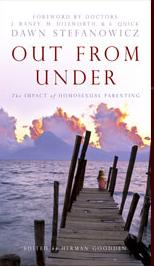 Canadian writer Dawn Stefanowicz poignantly tells of her painful and bizarre upbringing caused by her father's homosexuality.
Folks, this is a beautifully written book that testifies to the lunacy of encouraging homosexual parenting in public policy. It can be ordered through Dawn's website
A Christian woman from Canada has written a new book that details the trauma she suffered during her childhood as a result of her father's homosexual behavior. In "Out from Under: The Impact of Homosexual Parenting," Dawn Stefanowicz (www.dawnstefanowicz.com) recounts her story of growing up in a homosexual home in Toronto, Canada, during the 1960s.
Stefanowicz said she was prompted to write the book in 2004 after testifying before a Canadian senate committee against hate crime legislation and expressing public opposition to the sexual diversity curricula used in her country's schools.
The author and speaker said writing down her memories about being raised by a father who welcomed numerous male sex partners into the family's home on a regular basis was a painful process. Stefanowicz said her father's destructive homosexual behavior created confusion about sexuality in her own life. In the book she chronicles how, as a young girl, she often wished she were a boy.
"It's a very difficult thing to describe," she said. "You doubt your own sexuality because you're looking at your parent's example. And for me, when I looked at my father I did not feel affirmed as a young girl growing up, nor as a woman. My own femininity was denied in that kind of situation. Women were not valued."
However, Stefanowicz also said writing about her childhood helped her to heal, and that she hoped the book would aid other children in homosexual homes to "find truth and their own healing."
"Children are impacted long-term in homosexual environments — not just while they're growing up, but throughout their adulthood," said the author. "Children [of homosexuals] who have been in touch with me, even into their fifties and sixties, still describe certain difficulties that they are facing long-term."
Stefanowicz said it was her faith in Jesus Christ that enabled her to face her traumatic past and forgive her father, who died of AIDS in 1991.
This article was posted on Tuesday, February 26th, 2008 at 11:05 am and is filed under
A - What does the Bible say about homosexuality?
,
Diversity & Tolerance Propaganda
,
Government Promotion
,
HIV/AIDS
,
Homosexual Parenting
,
News
,
The Bible, Churches, & Homosexuality
. You can follow any updates to this article through the
RSS 2.0
feed.