New Book by Macel Falwell Dispels Media Myths of Preeminent Preacher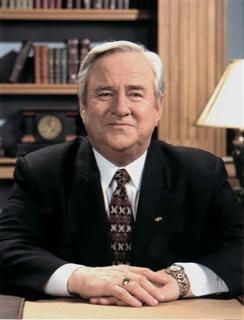 Contact: Kevin McVicker, 703-739-5920, 800-536-5920, kmcvicker@sbpublicaffairs.com
WEST MONROE, La., April 24 /Christian Newswire/ — One year after his passing, Jerry Falwell's wife of forty-nine years, Macel Falwell, gives a candid and heartfelt look at the life of one of America's most influential religious and political leaders.
In Jerry Falwell: His Life and Legacy (Howard Books, May 2008), Mrs. Falwell describes Rev. Falwell in a way that the mainstream media never would. She details his unfailing optimism, his deep generosity, his vision as the founder of Liberty University and the Moral Majority and as a loving husband and father.
The book paints a portrait of a passionate man determined to spread the Gospel. We see the Falwells establish their Thomas Road Baptist Church in an old soda bottling plant in 1956. Rev. Falwell prayed for new members and went out and knocked on every door in town to invite his neighbors to Sunday services. Continued HERE …
Click HERE to read the entire Christian Newswire release
This article was posted on Friday, April 25th, 2008 at 12:14 pm and is filed under
A - What does the Bible say about homosexuality?
,
Bible
,
C - Heroes for Truth
,
Gospel evangelism
,
Homosexual Hate
,
Homosexual Hate Speech
,
Media Promotion
,
Mel White
,
News
,
Pro-Homosexual Media
,
The Bible, Churches, & Homosexuality
. You can follow any updates to this article through the
RSS 2.0
feed.