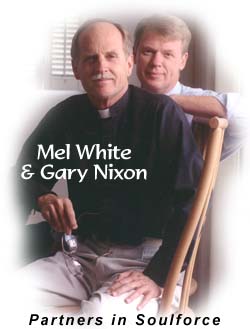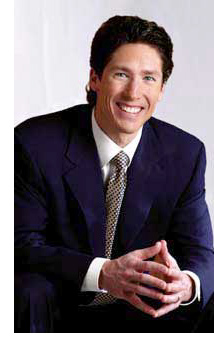 Will Soulforce founder and homosexual activist Mel White, pictured here with lover Gary Nixon, accuse Joel Osteen (right) of "spiritual violence" if Osteen's Lakewood Church chooses not to enter into a "dialogue" over homosexuality?
Folks, the irony of this latest Soulforce gimmick is that most of these mega-church pastors (Harry Jackson being the key exception) are not known for confronting the homosexual agenda. For example, Bill Hybels' Willow Creek Community Church in South Barrington, IL, did not even participate in the Protect Marriage Illinois (www.protectmarriageillinois.org) referendum campaign in 2006. But Soulforce's activism may force them to take a more public stand on this seeming 'special sin' that has its own well-funded and extremely powerful lobby. Targeted churches with contact pages are listed below the press release. — Peter LaBarbera, www.aftah.org
_____________________________
News Release
Americans For Truth
www.americansfortruth.org
May 9, 2008
Contact: Peter LaBarbera: 630-717-7631; americansfortruth@comcast.net
Americans For Truth Condemns Soulforce's Politicized 'Dialogue' with Mega-Churches
NAPERVILLE, Illinois — Americans For Truth President Peter LaBarbera today accused the homosexual activist group Soulforce of "politicizing Sunday worship" to further its anti-biblical agenda — by calling for (quasi-forced) "dialogue' with mega-churches like Joel Osteen's and Rick Warren's "at the point of a potential protest."
Soulforce is leading an activist event called the "American Family Outing" in which they seek "peaceful dialogue" (on their terms) with Lakewood and five other mega-churches across the country each Sunday between Mother's Day and Father's Day. This Sunday they are targeting Osteen's Lakewood Church in Houston.
LaBarbera issued the following statement on Soulforce's American Family Outing gimmick:
"In a letter to Lakewood Church, Soulforce claims that its proposed 'dialogue' is designed to 'lift up the conversation about faith, family and homosexuality to a national level and bring a new tenor of respect to the issue.' The truth is that Soulforce is trying to convince Bible-believing churches that their Scriptural teachings against this particular sexual sin are wrong.

"You don't achieve good-faith dialogue by announcing that you will be arriving at a church on a specified Sunday with 'several dozen' homosexual-led families. In the same way, Soulforce sent homosexual activists demanding 'dialogue' to Christian colleges: those that refused were hit with media-hyped protests.

"It is no more appropriate to 'dialogue' over homosexuality than it is to dialogue over any other sin. What if a traveling band of incest advocates – or perhaps a Gossipers' Task Force — announced that it would be arriving at Lakewood Church on Mother's Day demanding 'dialogue' about their special interest? This is pro-'gay' political theater, nothing more.

"Soulforce and its allies (including Peggy Campolo, wife of Tony Campolo) claim they are 'deeply committed to respect for the authority of Biblical teachings.' That is not true, as evidenced by Soulforce's twisting of Scripture to advance the notion that homosexual behavior is acceptable. Soulforce founder Mel White has recklessly accused Christian pro-family leaders who defend Biblical orthodoxy of 'spiritual violence' –– playing to the vicious caricature of traditionalists as violent 'homophobes.'

"Christians don't negotiate with God over homosexuality or any sin. Rather, we reach out with truth in love to people with the hopeful Gospel message that God can help them overcome any sin, including homosexuality, through faith in Jesus Christ."
TARGETED MEGA-CHURCHES AND THEIR CONTACT PAGES:
Lakewood Church, Houston, TX (Rev. Joel Osteen)
The Potter's House, Dallas, TX (Bishop T.D. Jakes)
Hope Christian Church, Beltsville, MD (Bishop Harry Jackson)
New Birth Missionary Baptist Church, Lithonia, GA (Bishop Eddie Long):

Willow Creek Community Church, South Barrington, IL (Rev. Bill Hybels): (write to info@willowcreek.org)

Saddleback Church, Lake Forest, CA (Dr. Rick Warren): (write to info@saddleback.net)
This article was posted on Friday, May 9th, 2008 at 12:17 pm and is filed under
"Civil Unions" & "Gay Marriage"
,
"Civil Unions" & "Gay Marriage"
,
A - What does the Bible say about homosexuality?
,
B - Ex-Homosexual Testimonies
,
Bible
,
Christian
,
D - GLBTQ Pressure Within Churches
,
Diversity & Tolerance Propaganda
,
E - Praying for the Lost
,
GLBTQ Targeting Youth and Schools
,
Gospel evangelism
,
Mel White
,
News
,
Pro-Homosexual Media
,
Soulforce
,
The Bible, Churches, & Homosexuality
,
Universities & Colleges
. You can follow any updates to this article through the
RSS 2.0
feed.