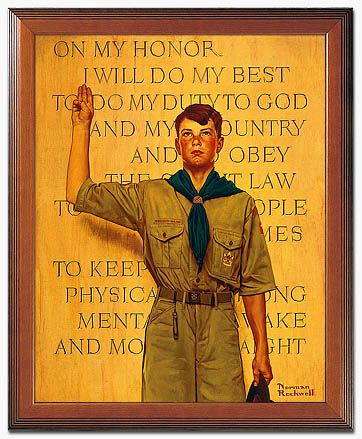 Surely the homosexual (and atheist) lobby's vindictive, selfish and shameless campaign against the Boy Scouts of America is one of the cruelest ever orchestrated by the Left. They could care less about this wonderful organization for boys, which they are helping to destroy and bankrupt through endless legal harassment.
Do you still have a problem saying that organized homosexuality is a force for evil in our society? Thank God that the Philadelphia Scouts' Cradle of Liberty Council, which initially sought a politically correct accommodation with the city, is now fighting back. To sign up for Family Research Council's terrific "Washington Update" and other e-mail publications, click HERE. — Peter LaBarbera
Scout Oath
On my honor I will do my best
To do my duty to God and my country
and to obey the Scout Law;
To help other people at all times;
To keep myself physically strong,
mentally awake, and morally straight.
Scout Law
A Scout is: Trustworthy, Loyal, Helpful, Friendly, Courteous, Kind, Obedient,Cheerful, Thrifty, Brave, Clean, Reverent
Philly Rocks the Cradle of Liberty
By Tony Perkins, Family Research Council, "Washington Update," May 28, 2008
Eight days shy of the eviction deadline imposed by the city of Philadelphia, the Cradle of Liberty Boy Scout Council is striking back. On Friday, Scout officials filed suit in federal court to end a longstanding struggle with the city over a building that the council built and has occupied since 1928 for $1 a year. In a public war over the Scouts' membership policy which bars homosexuals from joining, Philadelphia's leaders have threatened to pull the rug out from under the Cradle's headquarters. City officials say their demands are entirely justifiable under a 26-year-old city ordinance that bans discrimination based on sexual orientation.
As Philly's mayor sees it, the Scouts have three choices. They can vacate the premises by May 31, open their doors to gay members and staff, or pay $200,000 in annual rent. Cradle of Liberty elected the fourth option–suing for their right to privately assemble on public property as other organizations have done without reproach. The city's demands would be somewhat understandable in a politically correct environment had it not welcomed other religious and civic groups to use Philly facilities at minimal charge. The Scouts will argue–and rightly so–that have been unfairly targeted for eviction.
Considering that the Cradle of Liberty spent $1.5 million renovating the space in the mid-'90s and pays about $60,000 a year in upkeep, it would be in the city's best interest to maintain the tenancy. Philadelphia has also benefited from 80 years of the Scouts' influence on young boys in a city where gangs and violence rates soar.
It's incredibly ironic that the city is begging for million of state dollars to combat urban problems, while at the same time trying to force out one of the greatest crime deterrents in all of Philadelphia–a character-building youth program that serves 70,000 boys. The focus may rest squarely on the City of Brotherly Love now, but the case has national implications for religious freedom. If the city is successful in bringing the Scouts to their knees, other towns will be emboldened to do the same. But if the Cradle of Liberty prevails, fewer people will be willing to challenge the Scouts' rights to adhere to a traditional moral code.
This article was posted on Thursday, May 29th, 2008 at 8:58 am and is filed under
Boy Scouts
,
Candidates & Elected Officials
,
Christian Persecution
,
Court Decisions & Judges
,
Freedom Under Fire
,
GLBTQ Lawsuits & Retribution
,
Government Promotion
,
News
,
Not with MY Tax money!
,
The Bible, Churches, & Homosexuality
. You can follow any updates to this article through the
RSS 2.0
feed.