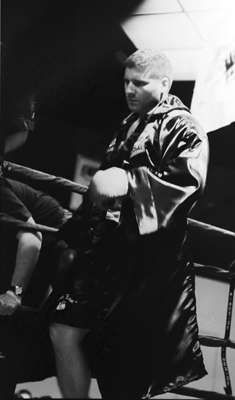 Matt Barber, a Board Member of Americans For Truth, was a professional heavyweight boxer before he got in the ring with a different type of bully, the aggressive — and often anti-Christian — Homosexual Lobby.
Concerned Women for America Press Release
CONTACT: NATALIE BELL, 202) 488-7000 ext. 126
Washington, D.C. — Matt Barber, Policy Director for Cultural Issues with Concerned Women for America (CWA), will be leaving his post with CWA and joining the staffs of Lynchburg, Virginia-based Liberty University School of Law and Liberty Counsel, two of the nation's premier pro-family organizations. Barber will serve as Associate Dean for Career and Professional Development with Liberty Law School and will be Director for Cultural Affairs with Liberty Counsel.
CWA Founder and Chairman Beverly LaHaye said, "Matt Barber has been a tremendous asset to CWA and leaves an indelible imprint on the organization; his intellect and passion about cultural and family issues are second to none. We will miss his very relevant and timely articles, as well as his influence on the broader conservative movement. We wish him well as he goes to Liberty for this important next step in his career. We are pleased that he will continue to partner with us on the issues that are so important to him and to us."
CWA President Wendy Wright said, "Matt's insightful commentaries and dedication to doing what is right will continue to serve our common goals of influencing our culture."
Mathew D. Staver, Founder of Liberty Counsel and Dean of Liberty University School of Law, said, "Matt Barber is a proven and successful pro-family leader. He consistently provides concise and cutting edge commentary on important moral and political issues. We are pleased to welcome Matt to Liberty University School of Law and Liberty Counsel where he will continue to advance religious liberty, the sanctity of human life and the traditional family. As the Associate Dean for Career Services and Professional Development, Matt will have the opportunity to work with some of America's brightest and most promising future leaders as he works to place them in strategic positions of influence.
"Beverly and Tim LaHaye have been strong supporters of Liberty University School of Law, and both serve on the Board of Trustees for Liberty University. The Liberty Center for Law and Policy, which is a joint partnership between Liberty University School of Law and Liberty Counsel, is pleased to work with Concerned Women for America in our nation's capitol. As Matt Barber joins our staff, we look forward to our continued work with CWA."
Matt Barber said, "It is with mixed emotions that I and my family answer this new call on our lives. I am in the fortunate position of leaving an organization that I love and respect to work with another organization I likewise admire.
"I look forward to continued public advocacy with Liberty Counsel relative to issues so very important to our nation, and I count it an incredible blessing and privilege to be called to work directly with the best and brightest of our nation's future leaders at Liberty Law School.
"My time with CWA has been an incredible blessing, and I will always consider myself one of CWA's 'like-minded men.' I look forward to working hand-in-hand with CWA in the future to help further Biblical principles in all areas of our unique American culture."
Concerned Women for America is the nation's largest public policy women's organization.
–30–