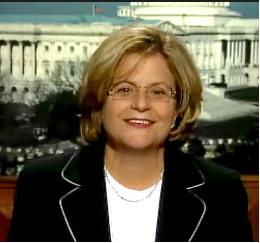 Rep. Ileana Ros-Lehtinen (R) is one of two Republicans (with Conn. Rep. Chris Shays) on the newly-formed, 52-member House Gay, Lesbian, Bisexual, and Transgender Caucus. Ros-Lehtinen, though a Catholic, panders heavily to homosexual activists because she represents the "gay" enclave of South Miami Beach, Florida.
Americans For Truth is featured in this story on American Family Association's One News Now news website. Some readers are wondering: now that Congress is in the business of sin-based "caucuses," when will the House Adultery Caucus will be formed? Actually, that might hit a little too close to home for some philandering Members. The One News Now story — which you can listen to HERE — is excerpted below:
Homosexuality takes Congress by storm
Jeff Johnson – OneNewsNow – 6/13/2008
The two openly homosexual members of the U.S. House of Representatives have recruited 50 of their colleagues to officially join them in promoting the homosexual agenda in Congress.
Democrats Barney Frank of Massachusetts and Tammy Baldwin of Wisconsin are the only open homosexuals serving in Congress. They have joined with Republicans Ileana Ros-Lehtinen of Florida and Christopher Shays of Connecticut, and 50 other Democrats to create the House Gay, Lesbian, Bisexual, and Transgender Caucus. Peter LaBarbera, president of Americans for Truth About Homosexuality, says it is a sad day when Congress enshrines official promotion of sexual immorality.
"How interesting that we now have a homosexuality, transsexual caucus – I guess you could call it – at the congressional level. It's just unbelievable that there are this many congressmen who are promoting homosexuality and transsexual perversion," LaBarbera laments.
While LaBarbera criticized the two Republicans for lending the appearance of bipartisanship to the group, he reserved his primary wrath for the Democrats.
"I think what this shows is that the hard-core Democratic Left is extremely pro-homosexual," he states. "Big city populations have many homosexual activists, and they're disproportionately powerful compared to the rest of the people in the district. Do I think that the average person in the district knows that these members are promoting homosexuality in this way? No way! But there are probably powerful homosexual constituencies in each one of these districts," LaBarbera explains.
Click HERE to read the whole story on OneNewsNow or listen to it online.