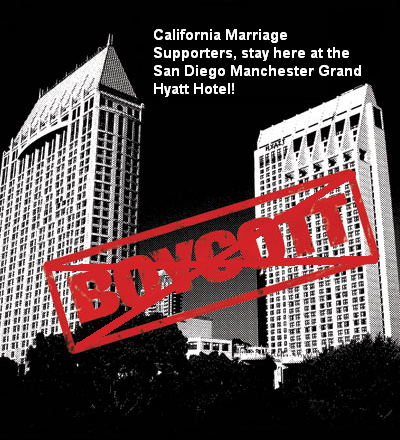 Defending marriage is not "hate." At left we've modified a radical San Diego homosexual group's dark anti-Doug Manchester artwork calling for a protest next week against his Manchester Grand Hyatt Hotel (see real hotel photo below) because Manchester gave $125,000 to support the California Marriage Amendment. Pro-marriage Californians should support Manchester and all businessmen who support the marriage amendment in the state.
According to some militant homo-fundamentalists in San Diego, supporting the preservation of marriage as solely between a man and a woman constitutes "hate." Acting on that absurd and bigoted notion, "queer" activists in San Diego are planning a protest against hotel owner Doug Manchester, to be held Friday, July 18 (1:00-2:00 PM) at Manchester's San Diego Grand Hyatt Hotel. Manchester, to his credit, gave $125,000 to the California Marriage Protection Amendment effort. A strong Catholic, he is worried that "gay marriage" in the state will lead to lawsuits against religious schools that teach that real marriage is between a man and a woman — i.e., that the counterfeit homosexual variety is wrong.
Folks, can you see the escalating anti-religious harassment that follows the progression of the homosexual activist movement? To affirm their "rights" and contorted brand of "equality" (which is actually radical egalitarianism), they need to tear down Judeo-Christian tradition and culture. Now is the time for all marriage supporters and defenders of sexual sanity to frequent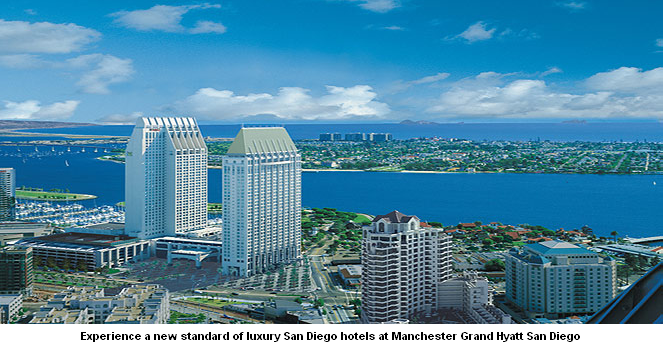 hotels and businesses owned by pro-family marriage defenders like Doug Manchester. Unilateral Christian disarmament in this "culture war" will lead to state-sanctioned oppression of people of faith — it's that simple.
Here's the link to Doug Manchester's Grand Hyatt Hotel, and that to his other hotel in San Diego: the Grand Del Mar. — Peter LaBarbera
This article was posted on Friday, July 11th, 2008 at 2:42 pm and is filed under
Biblical Truth
,
C - Heroes for Truth
,
California
,
Catholic
,
Catholic Pro-Family
,
Christian Persecution
,
Conservative Leaders
,
Freedom Under Fire
,
GLBTQ Lawsuits & Retribution
,
News
,
Stealing Civil Rights
,
The Bible, Churches, & Homosexuality
. You can follow any updates to this article through the
RSS 2.0
feed.