… So why are Republicans nationwide working so hard to court this activist gay group that opposes Prop 8 and the party's platform on defending marriage?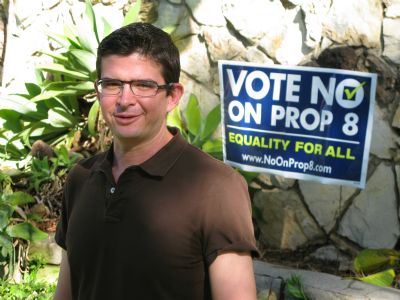 Scott Schmidt of the Los Angeles Log Cabin Republicans (LCR) stands beside "Vote No on Prop 8" sign in photo for the Los Angeles Independent. California LCR activists are working hard to defeat Prop 8, which would reinstate the historic definition of marriage in the state. Schmidt says that Log Cabin has just 20,000 members nationwide — yet many Republican politicians and strategists treat them as if they are as important a constituency as the millions of pro-family and religious Republicans who actually support — rather than undermine — the GOP's marriage platform.
[Take Action: send this story to every Republican you know]
By Peter LaBarbera, www.aftah.org
Dear Readers,
This just in: the Log Cabin Republicans — a homosexual activist group that gets mostly sympathetic media attention and is actively courted by Republican leaders — has all of 20,000 members nationwide.
Yep, 20,000 members, according to an interview by Log Cabin-L.A. activist Scott Schmidt with the Los Angeles Independent. That's about the size of two or three evangelical mega-churches, or the population of, say, Liberal, Kansas.
LCR's puniness only accentuates the folly of the GOP "Big Tent" policies that seek to appease the party's conservative base of millions of pro-family, pro-traditional-marriage Republicans — while simultaneously "reaching out" to a tiny sliver of Republican homosexual activists in the name of "inclusion." It should be noted that like other homosexual activists, Log Cabin activists talk a lot about tolerance even as they routinely denigrate religious conservatives opposed to their pro-homosexuality agenda as being guilty of "hate" and "bigotry."
This year, Log Cabin is working hand in hand with Democratic and liberal "gay" advocates to defeat Proposition 8 in California, which merely restores the state's previous, ancient definition of marriage as one-man, one-woman after thousands of years of tradition on marriage was effectively ruled "unconstitutional" by California's highest court.
The following is taken from Schmidt's Oct. 2, 2008 interview with the L.A. Independent:
LAI: What is the size of the Log Cabin Republicans?

Schmidt: We have about 20,000 nationally with about 10 percent here in California. Los Angeles is one of the first and largest chapters.

LAI: Does Log Cabin take positions on different issues?

Schmidt: When they take positions, they are going to be on issues that we feel are important to gays and lesbians and we'll make that known. The biggest issue facing gays and lesbians right now is defeating Proposition 8, whether they're in California, Texas or Wisconsin, that's their right to marry.
Schmidt went on to say that California Log Cabin activists are "out there talking to Republican women" to defeat Prop 8.
GOP Platform on Defending Marriage
Log Cabin's pro-same-sex-"marriage" activism is at war with the Republican Party Platform, which states, in part (emphasis added):
Preserving Traditional Marriage

Because our children's future is best preserved within the traditional understanding of marriage, we call for a constitutional amendment that fully protects marriage as a union of a man and a woman, so that judges cannot make other arrangements equivalent to it. In the absence of a national amendment, we support the right of the people of the various states to affirm traditional marriage through state initiatives….

Republicans have been at the forefront of protecting traditional marriage laws, both in the states and in Congress. A Republican Congress enacted the Defense of Marriage Act, affirming the right of states not to recognize same-sex "marriages" licensed in other states. Unbelievably, the Democratic Party has now pledged to repeal the Defense of Marriage Act, which would subject every state to the redefinition of marriage by a judge without ever allowing the people to vote on the matter. We also urge Congress to use its Article III, Section 2 power to prevent activist federal judges from imposing upon the rest of the nation the judicial activism in Massachusetts and California…. [Click HERE for entire GOP 2008 Platform]
Democratic Platform on Repealing DOMA
However, Log Cabin and Schmidt are in more line with Democratic Party platform on marriage and homosexual relationship. Here's an excerpt from page 52 of the Democratic 2008 Platform (emphasis added):
It is not enough to look back in wonder at how far we have come; those who came before us did not strike a blow against injustice only so that we would allow injustice to fester in our time. That means removing the barriers of prejudice and misunderstanding that still exist in America. We support the full inclusion of all families, including same-sex couples, in the life of our nation, and support equal responsibility, benefits, and protections. We will enact a comprehensive bipartisan employment non-discrimination act. We oppose the Defense of Marriage Act and all attempts to use this issue to divide us. [Click HERE for the entire Democratic 2008 Platform.]

This article was posted on Tuesday, October 14th, 2008 at 1:44 pm and is filed under
Candidates & Elected Officials
,
Democrat Party
,
Log Cabin Republicans
,
Media Promotion
,
News
,
Republican Party
,
The Bible, Churches, & Homosexuality
. You can follow any updates to this article through the
RSS 2.0
feed.