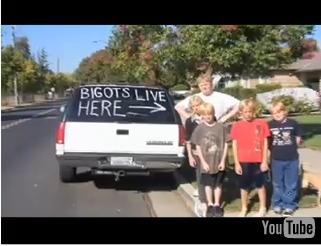 Vandals For 'Gay Marriage'? California family that supports the Proposition 8 amendment — reinstating the natural definition of marriage as between a man and a woman — poses beside their car, which was vandalized by "No on 8" activists. The family was targeted for their beliefs. Click HERE to watch a Protect Marriage video describing the hateful acts and slanders committed by pro-homosexual "No on 8" activists.
Dear Americans For Truth Reader,
Please go to the California "Protect Marriage" website and view their compelling video on the desperation of "No on 8" forces trying to derail the proposed constitutional amendment to preserve the natural definition of marriage as one-man, one-woman.
Note the hypocrisy of the "gay marriage" forces — you know, the ones who like to lecture the rest of us on  "tolerance." Come to think of it, it looks like the "No on 8" activists could use some diversity training.
Seriously, it is imperative that California citizens VOTE TODAY on this critically important issue and urge your friends to do likewise! Ditto for voters in Florida and Arizona who also have the opportunity to preserve and protect natural marriage at the ballot box. (Florida's amendment requires a 60-percent "Yes" vote.)
To everyone else outside those states the message is the same: please vote today, and do not let the liberal media decide this election. If you are in the western half of the country, please do not even consider not voting — even if you have heard that exit polls on the eastern half of the country are running against your candidate or your preferred party! Your vote counts — not just for deciding who will be our next president, but for deciding a host of local races and the composition of the United States House and Senate.
Again, I urge you: don't throw your vote away by failing to show up on Election Day! America's fighting men have given their lives to guarantee the freedom to vote for Iraqis in that far away land. Let's not dishonor their sacrifice by failing to exercise our same precious right here in America. God bless you. — Peter LaBarbera, www.aftah.org
__________________________________
Below is a letter from California Proposition 8's campaign manager, Frank Shubert:
Dear Friend,
With every recent poll showing Proposition 8 slightly leading or surging with support, our opponents are growing increasingly desperate.
They have aired two new commercials this weekend that are nothing short of shameful. In one, they compare people who believe in traditional marriage to those responsible for the internment of Japanese Americans during World War II. And in another they call backers of traditional marriage, "intolerant" and "offensive."
Did you ever dream that because you believe marriage is between a man and a woman you'd be called "intolerant," "offensive" and have it suggested you are racist to boot?
Do the tactics of our opponents anger you? They anger me. But let's not lash out. Let's use this as motivation to maximize our get-out-the-vote efforts so that we send a powerful message on Tuesday: Proposition 8 will pass because traditional marriage matters.
The commercials from our opponents are so desperate and over the top that I think there is a very good chance they will backfire with voters. Still, our opponents' smear campaign cannot go unanswered. That's why we have created a new video to remind California voters – and our dedicated Yes on 8 volunteers — about which side has truly displayed intolerant and offensive behavior in this campaign.
Watch the video HERE.
I've never seen such boorish behavior and such utter disregard for principles of fair play – not to mention respect for freedom of expression – as I have seen from opponents of Proposition 8. For a community that demands tolerance from others, they seem completely incapable of showing tolerance for anyone who may disagree with them on traditional marriage.
There are some important things you can do to fight back against these latest attacks. First, please share our new video with your friends, family, colleagues and neighbors so they can evaluate our opponents' outrageous claims for themselves. Most importantly, please sign up to work on Election Day. We're in the process of mobilizing 100,000 people to help us get Yes on 8 voters to the polls. We need people to phone voters and knock on doors to remind our supporters that Tuesday is "D-Day" for marriage.
Even though support for Proposition 8 is surging and we have momentum, the race is very close. Every vote matters. Please forward our new video now, and make sure you are part of our volunteer army on Election Day.
The institution of marriage is in our hands. It's up to us to save it.
Sincerely,
Frank Schubert
Campaign Manager
ProtectMarriage.com – Yes on 8
This article was posted on Tuesday, November 4th, 2008 at 3:32 am and is filed under
"Civil Unions" & "Gay Marriage"
,
"Civil Unions" & "Gay Marriage"
,
Christian Persecution
,
Court Decisions & Judges
,
Current State Law
,
Freedom Under Fire
,
Homosexual Hate
,
News
,
Stealing Civil Rights
,
Vandalism
. You can follow any updates to this article through the
RSS 2.0
feed.