"Defending Marriage Is Not 'Hate,'" say pro-family advocates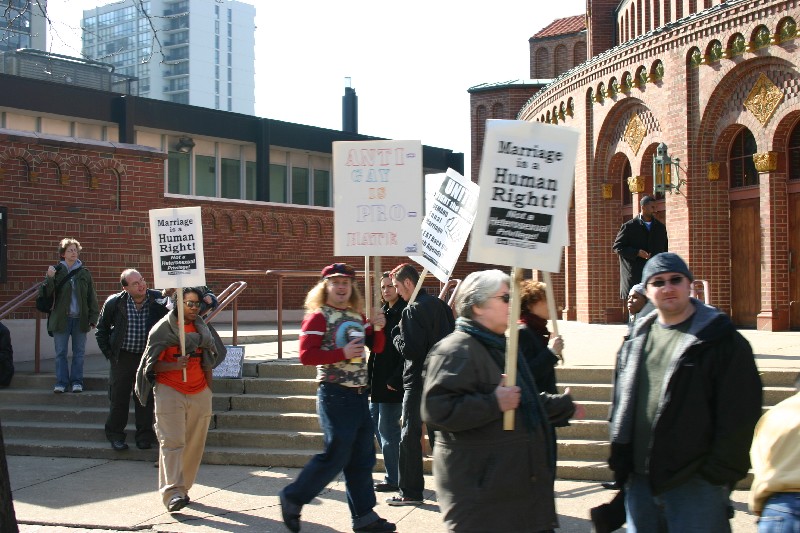 The far left, Chicago-based Gay Liberation Network has been smearing Christians as "haters" for years. Here they shown in 2005 picketing the city's beloved Moody Church, which GLN fanatically labeled a "House of Hate" because Moody pastor Erwin Lutzer wrote a book against homosexual "marriage." Click to enlarge; photo by Dave Smith, Illinois Family Institute.
_____________
News Advisory, Protect Marriage Illinois and Americans For Truth
November 15, 2008
Contact: Peter LaBarbera: 630-717-7631; americansfortruth@comcast.net
CHICAGO – Peter LaBarbera, Board Member of Protect Marriage Illinois and president of Americans For Truth (www.aftah.org), issued the following statement in response to the national homosexual protest day against Proposition 8's passage in California. LaBarbera joins Matt Barber of Liberty Counsel (www.lc.org) and a small group of Illinois pro-family advocates in Chicago to oppose the Chicago pro-homosexual-"marriage" rally today at Federal Plaza.
Statement by Peter LaBarbera:
We stand here today proudly in support of Prop 8 – which preserves the age-old definition of marriage as between and a man and a woman in California – and similar pro-traditional-marriage amendments that have passed in 30 states across the nation. Americans have spoken: they oppose the radical redefinition of marriage. We in Illinois hope to join the other states in passing a constitutional amendment to prevent activist courts from foisting "gay marriage" on our citizens.

Homosexual activists arrogantly reject the will of people and are trying to overturn their loss at the ballot box through the courts in California. If they succeed, it will create a constitutional crisis in California and sour citizens on the power of their vote – but that's fine for homosexual activists because it's always all about them. No wonder they regard all opposition to their "gay marriage" agenda as illegitimate, and even malign pro-family advocates – including African Americans who voted by 70-30 in California for Prop 8 – as "haters, bigots and homophobes."

Gay activists talk a lot about "tolerance" but many do not practice what they preach. In the days since the election, America has watched as homosexual militants have escalated their anti-Christian and anti-religious attacks. Homosexual activists targeted the Mormon Church and other churches that supported Prop 8 with protests and even violence. A suspicious white powder was discovered at two Mormon temples and at a printing plant used by the Knights of Columbus, a Catholic organization that supported and helped finance Prop 8's successful campaign.

In Palm Springs, an elderly woman in favor of Prop 8 was assaulted by "gay" militants, and in Michigan, a lesbian anarchist group called "Bash Back!" stormed an Assemblies of God church and began throwing around condoms and engaging in vulgar behavior. So it's no surprise that homosexual activists are going after the IRS non-profit charity status of opposing churches.

Incredibly, even after "No on 8" ran a vicious TV ad that was blatantly bigoted against Mormon missionaries, in the aftermath of the election "gay" activist accused Prop 8 of telling "lies" during the campaign. Here in Chicago, one of the main organizing groups for today's homosexual protest is the Gay Liberation Network (GLN) — a group that regularly maligns Christians and smears churches as "haters" because they disagree with GLN about homosexuality. Defending marriage is not "hate," and agreeing with the historic Judeo-Christian opposition to homosexual practice is not "bigotry." Those like GLN who smear Christians as "bigots" and "homophobes" merely for standing up for their Biblical beliefs about the sanctity of marriage reveal themselves as hateful bigots. We need a Proposition 8 here in Illinois!
This article was posted on Saturday, November 15th, 2008 at 6:16 pm and is filed under
"Civil Unions" & "Gay Marriage"
,
"Civil Unions" & "Gay Marriage"
,
A - What does the Bible say about homosexuality?
,
Court Decisions & Judges
,
Freedom Under Fire
,
Gay Liberation Network
,
Gay Rights vs. Others' Rights
,
Government Promotion
,
Homosexual Hate
,
Illinois
,
News
,
Stealing Civil Rights
,
The Bible, Churches, & Homosexuality
. You can follow any updates to this article through the
RSS 2.0
feed.