Boy Scouts fought same homosexual law, and won in Supreme Court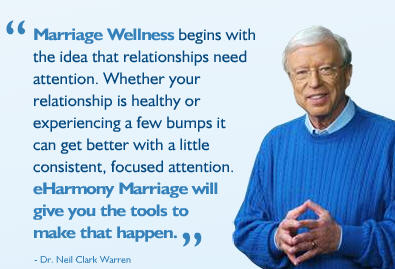 E-PERVERSION.COM? Born-again Christian Neil Clark Warren and the company he founded, eHarmony.com, have capitulated to a New Jersey "sexual orientation" complaint using the state's homosexual "rights" law– by expanding its dating service to homosexuals. The Boy Scouts fought the same law rather than cave on their principles. Click HERE for the settlement and HERE for a news release by New Jersey's Attorney General. TAKE ACTION: write Warren at ncwarren@eharmony.com. 
Americans For Truth sent out the following e-letter today to: Dr. Neil Clark  Warren, founder of the eHarmony online dating company; eHarmony's management team; and various pro-family groups and leaders (listed at bottom). We refer you to WorldNetDaily's story, "eHarmony to Match 'Gays,'" detailing the company's capitulation to New Jersey following a "discrimination" complaint by a homosexual activist. Some excerpts from the WND story are at bottom. — Peter LaBarbera, www.aftah.org
TAKE ACTION: Contact Dr. Neil Clark Warren at ncwarren@eharmony.com. An eHarmony contact page and blog for comments can be found HERE (several management e-mails listed bounced back).
________________________________
Subject: Dr. Warren et al, you sold your soul (or at least eHarmony's)…

Importance: High
FR: Peter LaBabera, Americans For Truth
TO: Dr. Neil Warren, founder of eHarmony, and eHarmony's Management:
Dr. Warren et al, you sold your soul (or at least eHarmony's)…
… It is a shame that you chose not to follow the lead of the Boy Scouts of America by standing up for your legal rights as a moral company that believes in REAL marriage – one that would not promote homosexuality and ungodly, unhealthy relationships. (You will recall that the Scouts, too, were challenged under New Jersey's "sexual orientation" law, but New Jersey was overruled by the U.S. Supreme Court.)  I suppose this means you have now officially joined the list of Companies Promoting Immorality (CPI) – a growing list, indeed. How tragic that eHarmony's resources – and your good name — will be used to advance the cause of homosexual behavior, a changeable sin.
You could have set an example to Christians and freedom-loving Americans everywhere by fighting on principle for your company's First Amendment right not to be bullied into submission by a politically correct state bureaucracy. Instead, you capitulated. In addition to hurting the cause of Christianity, you have damaged the cause of freedom and particularly religious freedom in America. It appears that eHarmony is no longer a "match" for Integrity.
Your attorney told WoldNetDaily that eHarmony "spent three years defending against this proceeding …It was a burden in terms of the high costs of litigation and the time and resources management devoted to it." Do you know what is a far greater burden? Forcing Americans bit by bit to lose their liberty by abandoning their faith and moral creed to appease modern, worldly notions of sexuality — in which behavior once universally regarded as sinful is now a mere "orientation" and the basis for "civil rights."
Evidence that homosexuality is a behavior — and not an "identity" — issue can be found in the many ex-gays and ex-lesbians who have found freedom from homosexuality through Christ — and true love and marriage with a member of the opposite sex.
I would like a written response giving your justification for now promoting relationships that you, Dr. Warren, (presumably) at least once believed were against God's will. But please do not try to argue that eHarmony was forced into this sellout, because you could have chosen a brave and noble course of resistance rather than submit to state tyranny.
I will join other pro-family organizations in encouraging singles to use other dating services that have not sold out their God and their moral beliefs for the almighty dollar.
Sincerely,
Peter LaBarbera
President, Americans For Truth about Homosexuality
Naperville, Illinois
www.aftah.org
630-717-7631
Cc. Various pro-family leaders representing: Family Research Council, Liberty Counsel, Culture & Media Institute, American Family Association, Focus on the Family, Concerned Women for America, Maine Family Policy Council, Illinois Family Association, West Virginia Family Foundation, American Family Association of Michigan; Family Policy Network; WorldNetDaily; attorney Jan LaRue; American Family Association's "One News Now"; CNSNews.com
Ref: "eHarmony.com to match 'gays,'" WorldNetDaily: http://www.worldnetdaily.com/index.php?fa=PAGE.view&pageId=81446
____________________________________
WorldNetDaily reports:
 eHarmony.com to match 'gays'
Dating site originally promoted by James Dobson bows to lawsuits
Posted: November 19, 2008
By Chelsea Schilling
© 2008 WorldNetDaily
Internet dating service eHarmony has officially agreed to begin matching homosexual couples, beginning next year.
The popular California-based service has been known for focusing on long-term relationships, especially marriage, which has been said to align with founder Clark Warren's early work with Focus on the Family's evangelical Christian base and perspective.
Warren, a psychologist with a divinity degree, has had three of his 10 books on love and dating published by Focus on the Family. It was an appearance on James Dobson's radio program, in 2001, that triggered a response of 90,000 new referrals to the website, starting a climb of registered participants on the site from 4,000 to today's 20 million clients.
As WND reported, the company originally said it was " based on the Christian principles of Focus on the Family author Dr. Neil Clark Warren." It stood firm on its decision to reject homosexuals from its profiling and matching services. Its entire compatibility system is based on research of married heterosexual couples.
In 2005, Warren told USA Today the company's goal is marriage and that same-sex marriage is illegal in most states.
"We don't really want to participate in something that's illegal," he said. …
Last week, eHarmony agreed to begin providing an eHarmony-affiliated "Compatible Partners" service to gays and lesbians, with listings labeled "male seeking male" and "female seeking female" by March 31, 2009.
For complying, the New Jersey Division on Civil Rights has dismissed the complaint against eHarmony, and Warren is considered "absolved of liability." Also, the dating site has been ordered to pay the division $50,000 for investigation-related administrative costs and give McKinley $5,000. It has agreed to provide a free one-year membership to its "gay" service to McKinley, plus free six-month memberships to "the first 10,000 users registering for same-sex matching within one year of the initiation on the same-sex matching service," according to the settlement.
A news release by New Jersey's Office of the Attorney General reveals that eHarmony has also agreed to the following terms:
eHarmony, Inc. will post photos of same-sex couples in the "Diversity" section of its website as successful relationships are created using the company's same-sex matching service. In addition, eHarmony, Inc. will include photos of same-sex couples, as well as individual same-sex users, in advertising materials used to promote its same-sex matching services
eHarmony, Inc. will revise anti-discrimination statements placed on company websites, in company handbooks and other company publications to make plain that it does not discriminate on the basis of "sexual orientation"
the company has committed to advertising and public relations/ marketing dedicated to its same-sex matching service and will retain a media consultant experienced in promoting the "fair, accurate and inclusive" representation of gay and lesbian people in the media to determine the most effective way of reaching the gay and lesbian communities….
Click HERE for the full WND story.
This article was posted on Thursday, November 20th, 2008 at 5:56 pm and is filed under
"Civil Unions" & "Gay Marriage"
,
"Civil Unions" & "Gay Marriage"
,
A - What does the Bible say about homosexuality?
,
Christian Persecution
,
Corporate Promotion
,
Current State Law
,
Freedom Under Fire
,
Gay Rights vs. Others' Rights
,
GLBTQ Lawsuits & Retribution
,
News
,
Stealing Civil Rights
,
The Bible, Churches, & Homosexuality
. You can follow any updates to this article through the
RSS 2.0
feed.