300,000 men dead from homosexual sex; so why are gay bathhouses flourishing?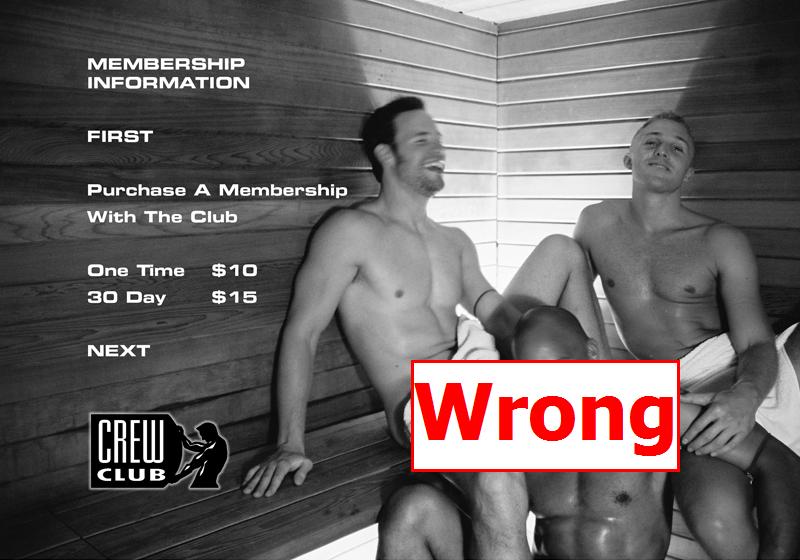 SHUT DOWN THESE PERVERSION CENTERS?  With 300,000 men dead from AIDS due to homosexual sex, why are homosexual bathhouses and sex clubs flourishing in the United States? At left is an ad in a homosexual newspaper for the Crew Club, a Washington, D.C.-based bathhouse where men go to commit anonymous sodomies with other men (our editorial comment is in red). It's time for American AIDS policy to stop indulging and encouraging male homosexual behavior, which is one of the main risk factors of HIV/AIDS. Click on ad to enlarge.
___________________________________________________
Linda Harvey writes on her excellent Mission America website:
On World AIDS Day, 12 Astounding Facts about AIDS in the U.S.
December 1 marks the annual observance of "World AIDS Day." While we should rightfully mourn the passing of so many victims, let's get real about what can be done to prevent future death and disability, not to mention the expenditure of billions of dollars.
In short, we need to recognize that HIV/AIDS is largely a male homosexual disease in the U.S., and it is highly preventable.
Here are some facts to consider:
1. Over 1 million people now have HIV in the U.S.(a)
2. Almost half of HIV cases (just under 500,000) are known to involve male homosexual behavior.(b) This is a highly conservative figure. Male- to- male sex is a contributing factor in other transmission categories as the Centers for Disease Control defines them. A more realistic actual figure is around 60-70%.
An estimated 300,000 males in the U.S. have died of AIDS as a result of male homosexual sex.(c)
Read the rest of this article »