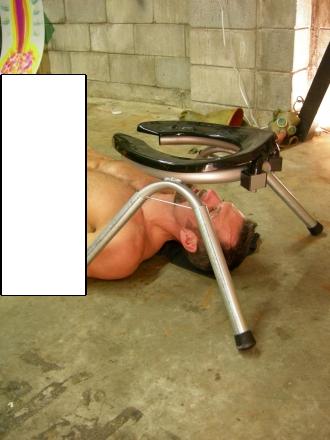 HOMOSEXUAL ACTS ARE UNHEALTHY — Man demonstrates "rimming chair" technique for anal-oral sodomy in this covered-up photo taken from the website of the "pig sex" group (Fort Troff) organizing the orgy planned this Saturday night at the Doubletree Hotel Washington — located at 1515 Rhode Island Ave. N.W., in the nation's capital just blocks from the White House. Call the Doubletree at 202-232-7000 and parent company Hilton's Corporate Complaint Line at 310-278-4321. Will D.C. Public Health officials and the D.C. Police Department prosecute this obvious public health hazard if Doubletree and Hilton officials allow it to go forward?
Contact: jmattbarber@comcast.net
January 16, 2009;  FOR IMMEDIATE RELEASE
Lynchburg, VA – Matt Barber, Director of Cultural Affairs with both Liberty Alliance Action and Liberty Counsel [and a Board Member of Americans for Truth], released the following statement today in response to news that the Hilton brand Doubletree Hotel near the White House (1515 Rhode Island Ave., NW – 202-232-7000) will be playing host to a homosexual orgy organized by the "Mid-Atlantic Leather Maneuvers" in at least three of its public banquet rooms this inaugural weekend.  Americans for Truth About Homosexuality (AFTAH) broke the initial story [CLICK HERE]:
"It's appalling that the Hilton Doubletree Hotel chain is apparently so beholden to the mighty dollar that it would facilitate – in banquet rooms used by the public – a homosexual orgy boasting some of the most vile sex acts imaginable.  Despite initial denials by the hotel manager, I and other sources have verified with the hotel's "Sales and Catering" and "Reservations" departments that, unbelievably, the hotel is in fact planning to go forward with the 'gay' orgy.

"It's simply inexcusable that the Doubletree would place at risk the health of its staff and future guests by facilitating this orgy in rooms where food is served," continued Barber.  Centers for Disease Control and Prevention statistics establish that men who have sex with men suffer infection from various forms of communicable disease, such as Hepatitis and HIV/AIDS, at an astronomical rate.  Lower income hotel staff will be tasked – ostensibly under penalty of job loss – with cleaning up the various forms of potentially infectious biological waste left behind.

"I have therefore notified the Washington D.C. Department of Health about the planned Doubletree orgy.  The representative I spoke with was stunned and told me that the matter would be immediately investigated.  I also notified the Washington Metropolitan Police Department, which will be looking into possible criminal violations should the Doubletree go forward with the event.

"I suggest people contact Hilton's Corporate Complaint Line at 310-278-4321 and tell them that they will no longer be staying at Hilton brand hotels if the Washington Doubletree goes through with this vile event."
This article was posted on Friday, January 16th, 2009 at 3:05 pm and is filed under
BDSM
,
Gay Culture
,
Gay Rights vs. Others' Rights
,
Health & Science
,
Homosexual Pornography & Film Festivals
,
Hotels & Casinos
,
Leather
,
Mental Health
,
News
,
Physical Health
,
Pornography
,
Public Sex in Your Neighborhood?
,
Sodomy
. You can follow any updates to this article through the
RSS 2.0
feed.