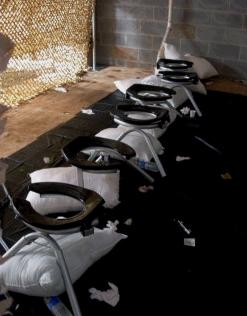 Homosexual activists hate it when Americans For Truth exposes the extremely unhealthy and immoral behaviors that define homo-sexuality. At left are "rimming chairs" (see explanation here) of the sort that a homosexual "pig sex" group hopes to use in Washington, D.C., this weekend at an orgy they hope will be held at the Doubletree Hotel at 1515 Rhode Island Ave. NW — just a few blocks from the White House. Pro-homosexual websites such as The Body recognize that "rimming" — oral-anal sodomy — causes hepatitis A, but generally they refuse to come out and say: stop practicing this risky behavior. (Once you've rationalized anal sodomy, it's difficult to condemn other perversions.) TAKE ACTION: Contact Doubletree Hotels and their parent company, Hilton Hotels, and urge them to cancel this wicked event and to stop profiting off of perversion.
Dear AFTAH Readers,
Our e-mail today offers only a snippet of AFTAH's exclusive story about yet another homosexual orgy, this one planned for the luxurious Doubletree Hotel at 1515 Rhode Island Ave. NW in Washington, D.C. hotel this Inaugural Weekend – a cornucopia of deviance that we hope will be closed down due to our reportage. It is a shocking expose that once again testifies to man's capacity for extreme wickedness and debasement in the pursuit of sin. The "gay" movement to "normalize" homosexuality is evil, and so we should expect that astounding evils would emanate from it – which they do.  Already, WorldNetDaily.com has picked up this story ("'Pig sex' orgy set for inaugural week"), and we hope other conservative news outlets will, too. Click HERE for our full story.
UPDATED CONTACT INFO FOR DOUBLETREE/HILTON:  Please take a moment to call Doubletree Hotel Washington at 202-232-7000 (800-492-5195), or leave a comment on their online corporate feedback page. Also, contact Hilton Hotels, which owns Doubletree, at 310-278-4321 (they're based in Los Angeles); here's Hilton's corporate PR page.  Please know that we are not naïve and recognize that the hotel industry has been utterly corrupted by catering to perverse homosexual events like these all over the world. "For the love the love of money is the root of all kinds of evil." (1 Timothy 6:10).
We will let you know if Doubletree Hotel Washington does the right thing by turning away this grotesque spectacle.  Already, homosexual activists are attacking the messenger, me, for exposing this heinous event, as they always do.  God bless you. – Peter LaBarbera; e-mail us at americansfortruth@comcast.net.
Here's the story (WARNING: GRAPHIC DESCRIPTIONS): Breaking News: Doubletree Hotel in D.C. Plays Host to Homosexual 'Pig Sex' Orgy during Inaugural Weekend
See these and other articles at www.americansfortruth.com:
This article was posted on Thursday, January 15th, 2009 at 10:33 am and is filed under
BDSM
,
Biblical Truth
,
Homosexual Pornography & Film Festivals
,
Leather
,
Mental Health
,
News
,
Physical Health
,
Pornography
,
Sexual Revolution
,
Sodomy
. You can follow any updates to this article through the
RSS 2.0
feed.