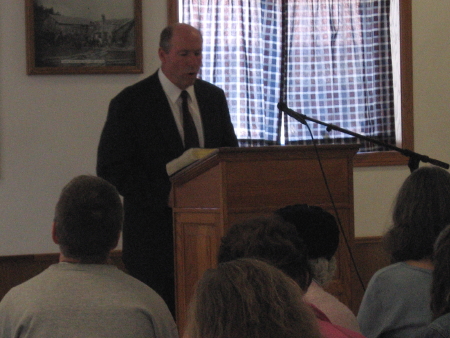 Not the Right Kind of "Hate" Victim.  In 1996, pro-family activist and pastor Ralph Ovadal was punched in the left ear from behind by a homosexual activist while protesting a pro-"gay" school event in Madison, Wisconsin. Ovadal was knocked unconscious and taken to the hospital with serious injuries from the blind-side assault. Although police first charged the attacker with "substantial battery," Dane Country prosecutors did not attempt a "hate crimes" conviction and Ovadal's assailant ultimately was not even charged with a misdemeanor (he received a mere ordinance violation). Pastor Ovadal continues to suffer neck and leg pain from the brutal attack, which is fully documented with police reports. Now imagine that the circumstances were reversed and Ovadal — a vocal opponent of organized homosexuality — had assaulted a well-known "gay" activist. Most likely he would have been charged with a "hate crime," the media would have lavished coverage on the case, and Ovadal would have served jail time. To paraphrase George Orwell, in the politically correct world of "hate crimes," some victims are more equal than others. Call Congress at 202-224-3121 to protest two "Thought Crimes" bills, HR 256 and HR 262 today. Click on photo to enlarge.
From our good friend and youth advocate Linda Harvey, founder of Mission America. TAKE ACTION by calling your Congressman and U.S. Senators at 202-224-3121 or through www.congress.org; politely urge them to oppose all new "Thought Crimes"(Hate Crimes) legislation.
HATE CRIMES BILLS predicted to move fast in U.S. House
There are two bills now in U.S. House of Representatives on so-called hate crimes, and both need to be OPPOSED for lots of reasons but the most egregious element is the "sexual orientation" language and opportunities for violation of religious freedom and further legitimizing of 'gay' behavior. They are also  pork-laden, social engineering bills that are unnecessary in a time of what should be budgetary conservatism.
Just remember,the key problem with hate crime legislation is that the crimes supposedly only covered through such bills are, in fact, already crimes, and can already be prosecuted under current laws. All the "sexual orientation" category does is add extra penalties if opposition to homosexuality (the "wrong" attitude) is determined to be a factor.
Both have been referred to the House subcommittee on Crime, Terrorism and Homeland Security. They are likely to be reconciled at some point into one piece of legislation.
H.R. 256 The David Ray Hate Crimes Prevention Act of 2009
This is a gun control bill, but it also would add the sexual orientation language to our existing hate crime statutes, for crimes involving interstate and foreign commerce.Just think about the Internet and the free speech about homosexuality that might now be interpreted as "inciting hate crimes" especially if the site sells anything (the "commerce" requirement).
H.R.262 The David Ray Ritcheson Hate Crimes Prevention Act
This is a pork bill, providing victim's assistance, housing, tax breaks and even family leave to victims of hate crimes. Will act as an incentive to be labeled a victim of a hate crime.
This bill also adds the "sexual orientation" category.
This bill grants $10 million for the next five years for the federal Department of Education to make grants to local schools for "hate crime prevention education." Imagine what this will open up regarding anti-Christian teaching.
What can you do? Call House members from your state. Call toll-free 1-877-851-6437 or toll 1-202-225-3121.
Thank you–we need LOTS of calls on this! Forward to your e-mail contacts.
——————————-
More from Mission America:
Why are American kids being drawn into primitive practices and weird sexuality? Find out in Linda Harvey's book,"NOT MY CHILD: Contemporary Paganism and the New Spirituality." Order it from AMG Publishers today by clicking HERE.
Get your children out of the public schools NOW, or start today fighting anti-Christian, pro-homosexual teaching!
For the latest news about the homosexual agenda in our schools, go to our companion web site, www.truthatschool.org/news.htm
Please help support our work!
Mission America
PO Box 21836
Columbus, OH 43221
Mail list service for Mission America provided by afo.net and totalnetguard.com filtering service, the Internet service that protects your family on the internet.
Mission America
www.missionamerica.com
This article was posted on Tuesday, February 24th, 2009 at 4:01 pm and is filed under
A - What does the Bible say about homosexuality?
,
Assaults
,
Biblical Truth
,
Christian Persecution
,
Freedom Under Fire
,
Government Promotion
,
Hate Crimes Prosecution
,
Hate Speech (Laws)
,
Homosexual Hate
,
News
,
Pending Legislation
,
The Bible, Churches, & Homosexuality
. You can follow any updates to this article through the
RSS 2.0
feed.