"This kind of overheated rhetoric creates a climate where hate crimes can occur … We demand that The Family Policy Council of West Virginia apologize and take down this violent ad. This video is reckless, wrongheaded and irresponsible." –Wayne Besen, executive director of Truth Wins Out (TWO), a militant homosexual group, describing the alleged horrific effects of the West Virginia pro-marriage video [click Youtube video directly below] that used a target graphic to illustrate the point that homosexual activists are targeting traditional marriage for redefinition. See article by Laurie Higgins following the video:
_________________________________________
By Laurie Higgins
First published Feb. 25, 2009 by Illinois Family Institute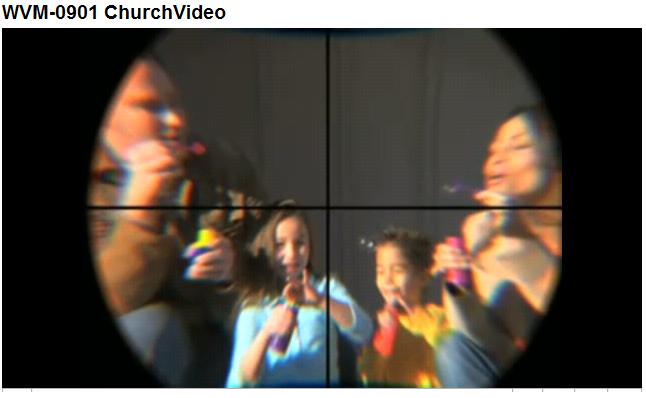 Wayne Besen said this visual target graphic representing homosexual activists targeting traditional marriage — in a video produced by the Family Policy Council of West Virginia — turned the video into a "violent ad." At bottom is an excerpt of the narration of the video surrounding the portion with the "target" graphic.
Wayne Besen, former spokesman for the subversive homosexual activist Human Rights Campaign and founder of the hate organization Truth Wins Out, apparently can't make a distinction between a domestic terrorist threat and — a metaphor.
Besen has a West Virginia marriage initiative in his sights. He sees in this utterly benign video by The Family Policy Council of West Virginia a nefarious sniper threat. Please watch the video that has so terrorized Besen and that is more like an episode of The Waltons than 24:  http://www.wvformarriage.com/ [Click on YouTube above to watch video.]
His claim is both idiotic and comical. In one frame of this video, we see the nuclear family through the sight of a gun, which is a commonplace metaphor that means that someone or something is taking aim at or opposing something.  Is Besen actually claiming that society should prohibit the use of this metaphor? Will society tolerate this kind of intrusive censorship? And is Besen claiming that he and his collaborators don't have traditional marriage and the natural family in their crosshairs?
I can't think of a more serious domestic threat to fundamental First Amendment rights than that which is posed by homosexualists who seek to circumscribe both speech and religious rights if the exercise of those rights impedes their unholy march toward compulsory approval of homosexual behavior.
As I've mentioned before and will likely mention again, Georgetown University lesbian law professor, Chai Feldblum, has stated that when same-sex marriage is legalized, conservative people of faith will lose religious rights.
Public school libraries engage in virtual absolute censorship of all books that espouse conservative perspectives on homosexuality, all the while accumulating a horde of pro-homosexual books that would make Midas envious.
Public schools expose students to resource after resource in context after context that affirm the view that homosexuality is morally equivalent to heterosexuality while never offering resources that challenge that view.
Anti-discrimination policies that include the term "sexual orientation" are being used to prohibit people of faith from acting according to their consciences. Because we, in our ignorance, apathy, and cowardice, permitted this term to be included in anti-discrimination policy, schools can't fire administrators and teachers who have elective amputations of healthy body parts and cross-dress.
And now, homosexual activists have metaphors in their sights.
____________________________________
Here is an excerpt of the narration from the pro-traditional-marriage video by the Family Policy Council of West Virginia, in the portion surrounding the "target" graphic:
"Marriage between a man and a woman is held up as the ideal in all of civilized society because its profound stabilizing effects on our culture, as well as the important economic benefits of strong and intact families. ["Target" graphic begins here] But today that ideal is under an unrelenting attack as same-sex marriage in West Virginia is a closer reality than you may think [target graphic ends]. Thirty states have already passed constitutional amendments defining marriage but activists outside our state are aggressively targeting the remaining 20, including West Virginia — working tirelessly to redefine marriage away from God's design to favor the desires of adults over the needs of children for the naturally balanced model of a mother and a father. The push for SSM has produced an historical crisis for the church. Today in courtrooms across the country in decisions as recent as last month, our constitutional guarantee of religious liberty is going toe to toe with an aggressive social agenda, and the Church is losing…."