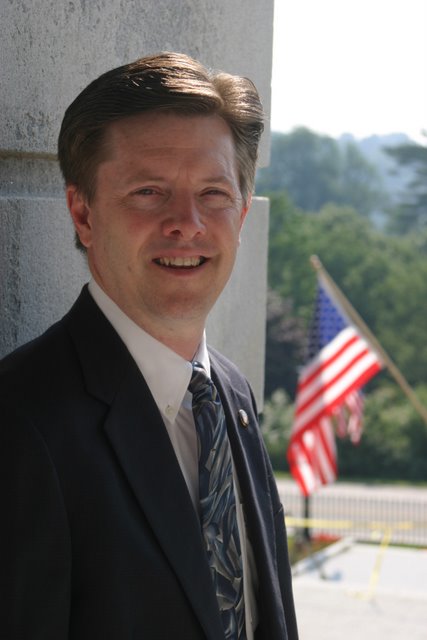 Dear Readers,
Mike Heath, head of the Christian Civic League of Maine (now renamed the Maine Family Policy Council), has led two successful statewide drives to turn back "sexual orientation" (homosexuality) laws in Maine, in 1998 and 2001. Now Heath (Board Chairman of AFTAH) will lead the effort to preserve the real definition of marriage in his state. We predict that he will win. Thanks to the efforts of Heath, Paul Volle, Paul Madore, and others, the homosexual agenda has encountered more serious resistance in Maine than in any other New England state. Sure, Mainers are worn out by the "queer" debate — something that GLBT activists count on to achieve their misguided goals — but they still know a fraud when they see one. Please help Mike — who needs to raise $100,000 immediately for the marriage-defense campaign — and the good people at Maine Family Policy Councill any way you can. — Peter LaBarbera, www.aftah.com
_________________________
From the Maine Family Policy Council:
Heath Will Lead Peoples Veto
By Staff
In the early 1990s Mike Heath said that the push for gay rights wouldn't end until homosexual marriage was enacted.  Twice he persuaded a majority of Mainers to affirm common sense in statewide voting.  The 47 year old father of three is prepared to do it again.  Today he announced that he would lead his third peoples veto of sex outside of marriage.
The people of Maine know what marriage is,"  said Heath.  "Politicians pretend this debate is complicated and emotional.  It isn't.  Maine people know the difference between right and wrong.  What has been going on in Augusta for the past twenty years is a horrific farse."
In 1998 Heath campaigned for equal rights [against a pro-homosexual "sexual orientation" law].  He said he will do that again this time.
He continued, "The other side has that part right.  This is about equal rights.  It is about making sure everyone has equal legal rights that are rooted in something substantial.  Common sense tells all of us that you can't give rights to people for doing wrong!"
"It is also a matter of freedom of conscience.  No government has the right to silence the people in a matter pertaining to a grave moral evil, nor will any government ever have the right to equate a grave moral evil with a sacred institution,"  he said.
Heath has been married for 27 years.  He reminded everyone that all Mainers can already get married.  They can marry someone of the opposite gender.  Real equal rights preserve, honor and uphold that reality.
The Peoples Veto will begin as soon as the Secretary of State provides petitions to Heath.  He said he looks forward to working with everyone in Maine who wants to preserve marriage and urged people to call 207-592-4137 or e-mail him at  [email protected].