"No president, even Bill Clinton, has issued such a radical embrace of the entire homosexual agenda," says Knight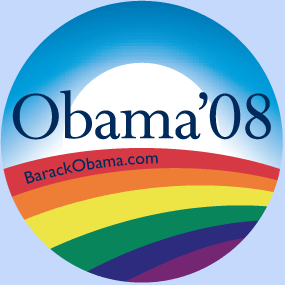 Candidate Barack Obama had a special logo for homosexual and transsexual "pride." No wonder "queer" activists have high expectations for him to carry forward their agenda as President.
___________________
By Robert Knight – Guest Columnist for OneNewsNow [to sign up for OneNews Now's Daily News Brief, go HERE] – 6/9/2009
For the first time in history, a U.S. president has issued a White House proclamation celebrating transgenderism — along with homosexuality, lesbianism, and bisexuality.
In his June 1 "Pride Month" proclamation, Barack Obama boasted of appointing Senate-confirmed openly homosexual nominees to high executive offices, described reluctance to accept homosexuality as "discrimination and prejudice," and called for passage of the entire homosexual political agenda, including programs for "LGBT youth."
No president, even Bill Clinton, has issued such a radical embrace of the entire homosexual agenda. To give "teeth" to the LGBT youth emphasis, President Obama recently appointed Kevin Jennings, the founder of the Gay, Lesbian and Straight Education Network, as the Assistant Secretary of Education for Safe and Drug Free Schools. [See AFTAH articles on Jennings HERE and HERE (his "[F–k] 'em quotation on the "religious right").] Jennings' group backs homosexual lessons for children, beginning in kindergarten, and sponsored a Massachusetts conference in 2000 in which children as young as 12 were instructed graphically about how to perform homosexual acts.
The president's proclamation calls for:
"Outlawing discrimination in the workplace," which means passage of the Employment Non-Discrimination Act, which would empower the federal government to force employers with 15 or more employees to adopt "sexual orientation" special protections now applicable to race, ethnicity, and sex.
"Enhancing hate crime laws." The Matthew Shepard Hate Crimes Prevention Act (S. 909), now in the Senate, would lay the foundation for special treatment based on gender identity and homosexuality and would empower the Justice Department to take over any criminal case that it deems a "hate crime." Similar laws paved the way for "thought crime" statutes in Canada, Sweden, England and other nations where public criticism of homosexuality is now banned and passages in the Bible have been declared "hate speech."
Adoption of children by homosexual couples, guaranteeing that orphans would be placed in fatherless or motherless families by design, despite the availability of more than one million husband-and-wife households awaiting adoption.
Recognition of transsexuals and transvestites as a civil rights category on a par with race, ethnicity, place of birth, or sex. This means that men who dress as women would obtain more rights under the law than other Americans and could force employers to accommodate them, regardless of the impact on the workplace. A male school bus driver in Pennsylvania, for instance, showed up for work dressed as a woman and claimed that he had the right under a state law to do so, regardless of the impact on the children.
Civil unions. The president specifically called for civil unions, which give the rights and privileges of marriage to same-sex couples. Civil unions put the government on record as encouraging homosexuality with legal incentives. The proclamation did not mention the federal Defense of Marriage Act (DOMA), but Obama has called elsewhere for repealing it.
End the military's ban on homosexual behavior. Despite a letter signed by more than 1,000 retired generals and admirals opposing this idea, Obama says he wants open homosexuals to serve in the nation's armed forces.
When traditional sexual morality is redefined as "discrimination and prejudice," the law will be used to criminalize biblical Christianity. Children will be taught in schools that God's plan for marriage and sexuality is merely a form of bigotry and that "trying out" homosexuality will be a rite of passage. The volunteer military will be shaken to its roots, putting recruitment and retention at risk.
The stakes are enormous for our churches, our nation, our children and grandchildren.
Speak now — or forget about having peace in the future.
This article was posted on Wednesday, June 10th, 2009 at 10:54 am and is filed under
"Civil Unions" & "Gay Marriage"
,
"Civil Unions" & "Gay Marriage"
,
A - What does the Bible say about homosexuality?
,
Government Promotion
,
Kevin Jennings
,
Military
,
News
,
Obama
,
Pending Legislation
,
The Bible, Churches, & Homosexuality
. You can follow any updates to this article through the
RSS 2.0
feed.