Appointee blasted Pope on condoms, calls his homosexuality "an unchangeable gift from God"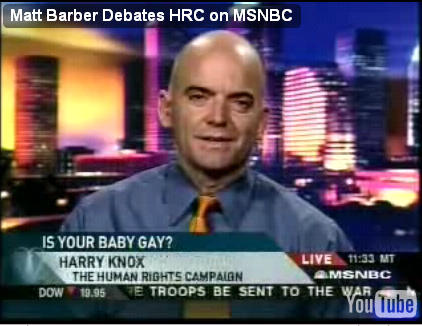 Harry Knows Better than God?  Homosexual activist and Obama "faith council" appointee Harry Knox calls his homosexuality an "unchangeable gift from God" in an MSNBC debate. Knox has also called Pope Benedict a "discredited leader" and the (Catholic) Knights of Columbus the pope's "foot soldiers" in a "discredited army of oppression." TAKE ACTION: urge your Congressman and Senators (202-224-3121; 202-225-3121) to ask President Obama to remove Knox — with his deep prejudices against traditional religion — from his Faith Advisory Council.
Folks, click here to see the AFTAH's "Satan's Talking Points" post on Harry Knox's MSNBC TV debate with AFTAH Board Member Matt Barber, in which he claimed that: "being gay or lesbian is an immutable, unchangeable gift from God, one for which I am very grateful. And it would fly in the face of my respect for God to give that gift back." (The YouTube video is embedded in the story.) We highly recommend LifeSiteNews.com, from which this article is reprinted, and also CNSNews.com, which has done several excellent pieces on the Knox controversy:
By Peter J. Smith, reprinted from LifeSiteNews.com
WASHINGTON, D.C., June 5, 2009 (LifeSiteNews.com) – The White House says the President is "comfortable" with a homosexual activist on his advisory council of faith-based initiatives, a man who has come under attack for having vilified the Catholic Church, calling the current Pope a "discredited leader" and the Knights of Columbus his "foot soldiers" in a "discredited army of oppression."
CNSNews.com reported [June 3] that the White House has essentially shrugged at calls from Catholics that Harry Knox, the former director of the "religion and faith program" at the Human Rights Counsel, a homosexual lobby group, be removed from the President's Advisory Council on Faith-Based and Neighborhood Partnerships for his insulting and bigoted language toward the Catholic Church (see LSN coverage).
Prominent Catholic figures, including House Republican Leader John Boehner, Catholic League President Bill Donohue, American Life League's Judie Brown, and members of the Family Research Council, expressed their concern to Obama in a May 13 letter, citing Knox's remarks as proof he is "unfit to serve" on an advisory board billed as fostering interfaith cooperation.
"As Catholics, we call on you to remove Mr. Knox from his position and to formally disassociate yourself from his militant anti-Catholicism," stated the letter, signed by 22 Catholic leaders. "Failure to do so will result in the tainting of your Faith-Based Council – and indeed, your entire administration – as anti-Catholic."
The letter also stated, "We do not know if you or members of your Administration were aware of Knox's deplorable, abusive attitude towards the Church and Pope Benedict XVI when you named him to the Council. We assume you were not."
The letter continued, "But since then, there have been numerous press reports on Knox's loathsome and clearly bigoted rhetoric, so there no longer is any excuse for your failure to act. We can remain silent no longer."
A CNSNews reporter finally obtained comment from White House press secretary Robert Gibbs on the issue, who made clear Obama had no problem with Knox on his advisory counsel.
"The president is comfortable with the makeup of his faith advisory council," Gibbs said
Knox has refused to back down from comments in which he accused Pope Benedict XVI of being "morally reprehensible" for not supporting the use of condoms in Africa.
"The Pope's statement that condoms don't help control the spread of HIV, but rather condoms increase infection rates, is hurting people in the name of Jesus," Knox said in a March statement, two weeks before his appointment to the council.
In 2007, Knox called it "immoral and insulting to Jesus" when the bishop of Cheyenne, Wyoming instructed that an activist lesbian couple not receive Communion.
"If all Knox had done was to criticize the Catholic Church on public policy issues, there would be no problem," said Catholic League President Bill Donohue. Instead, Donahue said Knox had stepped beyond merely disagreeing with the Church to demonizing it, "slamming the Catholic Church on internal matters that are none of his business."
"In short," continued Donahue, "the letter by Catholic leaders to President Obama requesting him to remove Harry Knox from his post is entirely warranted."
_________________________
Related stories:
Obama 'Comfortable' with Adviser Who Made Repeated Anti-Catholic Statements, Says White House: this CNSNews story contains links to several other CNSNews pieces on the Knox controversy
LifeSiteNews.com: "Catholics Call for Obama to Oust Homosexualist Pope Critic from "Faith" Council"
Americans For Truth: "VIDEO: Satan's Talking Points? HRC's Harry Knox Claims Homosexuality Is 'Gift from God' in MSNBC Debate with CWA's Matt Barber"