Mayor Bloomberg panders on "gay marriage" then gives homosexuals special rights to violate city anti-nudity laws
WARNING: Graphic Behaviors Described
Note on Nudity and Numbers: an atheist homosexual leatherman, Joe Jervis, has challenged our source's reporting on the number of leatherman who exposed themselves at "Folsom Street East."  Jervis, who mocks Jesus Christ (by calling him "Jeebus") and revels in repeating the lie that AFTAH founder Peter LaBarbera is a closeted homosexual, attended the event … as the judge of a "porn star contest." (He says he cannot show the photos from that — as if to prove our point.) We checked back with our New York videographer and he estimates that the number of men who walked around with genitals and/or buttocks exposed at 50 to 200. Whether the figure is 25 or 175, the photos below speak for themselves. And it is shocking that such illegal public nudity and lewd acts were allowed to go on at all. Click HERE to watch AFTAH's video on Folsom Street East. — Editor]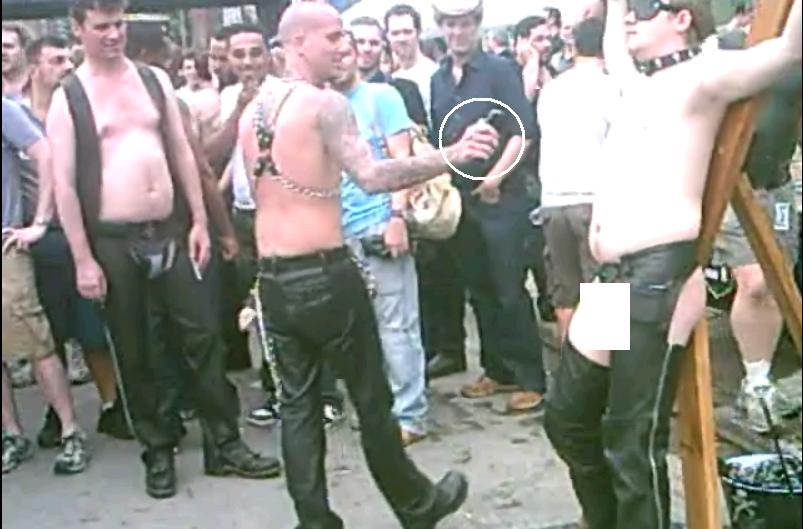 "Shocking" Public Perversion in Big Apple: a sadistic homosexual engages in "electro-torture" by remote control of another man (exposed genitals covered up in all photos) at New York City's "Folsom East" block party. (The hand-held remote control device is circled in photo.) New York Mayor Michael Bloomberg supports legalizing "gay marriage" but apparently he decided not to enforce anti-nudity and anti-lewdness laws in his own city on Sunday, June 21st. Click on photos to enlarge.

NEW YORK CITY — Americans For Truth About Homosexuality has obtained shocking video footage of a sadistic homosexual street fair in Manhattan Sunday (June 21, 2009) in which hundreds of men walked around naked and engaged in public lewd and sadistic acts in violation of state decency laws — as police did nothing, apparently under orders from New York City's governing authorities.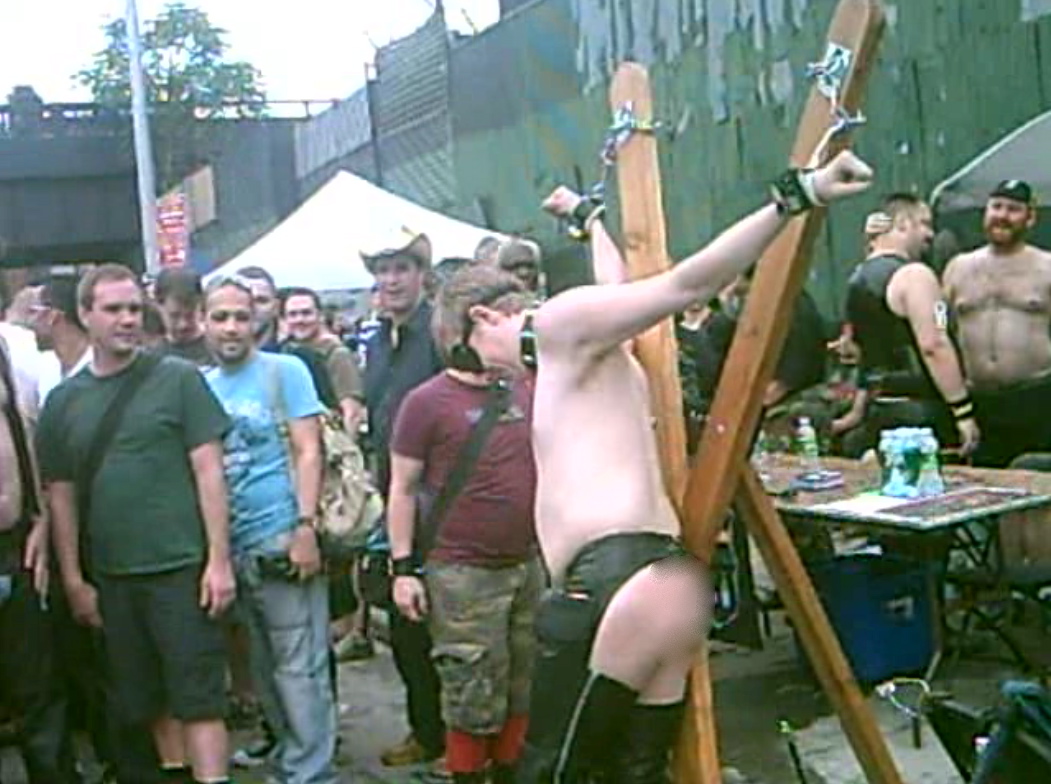 Above is a photo of a man engaging in a public "electro-torture" of another man (his exposed genitals covered up in our photo) at the "Folsom East" street festival in New York City. The 'torturer" is holding a remote control device (like a TV remote, circled in the photo) which sends an electrical current shock through the body of the man bound to a St. Andrew's cross — who writhed in pain every time the torturer pressed the button (see photo at right). Dozens of men looked on with satisfaction at the grotesque spectacle.
Folsom East is a copycat of San Francisco's über-perverse "Folsom Street Fair" and bills itself as "New York's premiere SM-leather-fetish block party." The "fair" was held in Manhattan on West 28th Street between 10th & 11th Avenues. AFTAH's anonymous source said he spotted police on the outside perimeter of the event but saw none inside the actual boundaries of the block party. He said he saw hundreds of men walking around with their genitals and buttocks fully exposed. [See note above on numbers — Editor]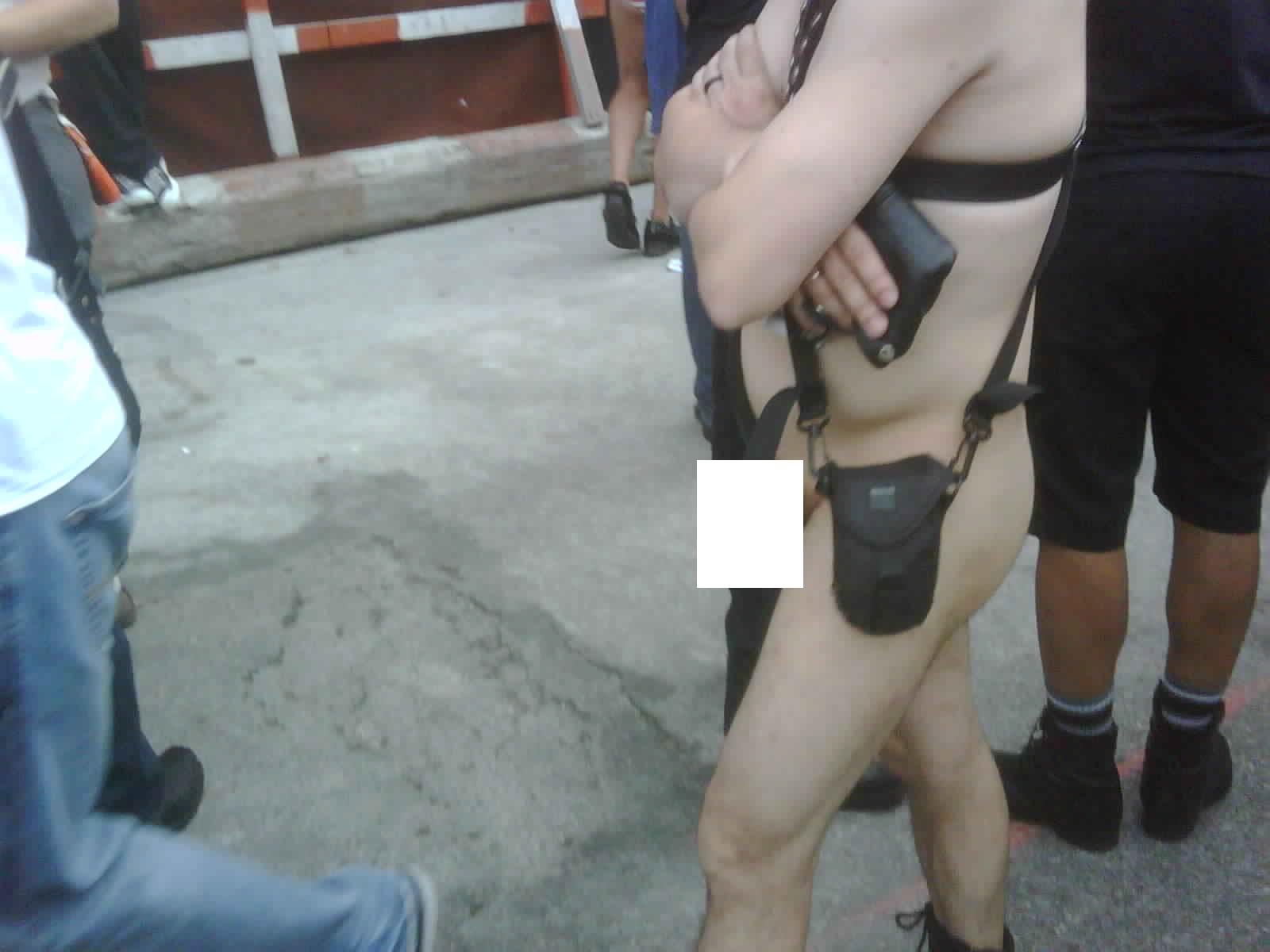 Robert Peters, president of New York City-based Morality in Media and a New York attorney who is an expert on obscenity and related laws, said the Folsom East activities appeared to be in violation of New York State's laws against: "Public lewdness" (Penal Law, Section 245.00); "Exposure of a person" (Section 245.01); and a "Promoting the exposure of a person" (Section 245.02).
Peters said the "electro-torture" demonstration shown in the redacted photo above may have also violated the New York Obscenity Law (Section 235.05(2), banning obscene performances), noting that the definition of "Obscene" in the law includes "sadism," "masochism" and "lewd exhibition of the genitals."
Ironically, proceeds from the "Folsom East" event (attendees paid $10 to get in) go to the New York City Gay & Lesbian Anti-Violence Project (AVP) , according to the Folsom East website. In other words, "consensual" sexual violence is celebrated and tolerated by the same movement that attempts to link mainstream, faith-based pro-family organizations to acts of violence targeting homosexuals.
"Tragically, the New York City Police Department turns a blind eye towards violations of these laws during the 'gay pride' festivities each year," Peters said.
New York City Mayor Michael Bloomberg has emerged as a vocal supporter of a bill to legalize same-sex "marriage" in New York State, a vote on which is expected today.
The Folsom East "block party" is only the latest example of "special rights" granted to homosexuals and other deviant-sex aficionados (otherwise known as perverts) across America, especially surrounding "gay pride" events in major cities. San Francisco is now cracking down on the public nudity at the sadistic "street fairs" there, after efforts by Americans For Truth and others to expose the non-enforcement of decency laws.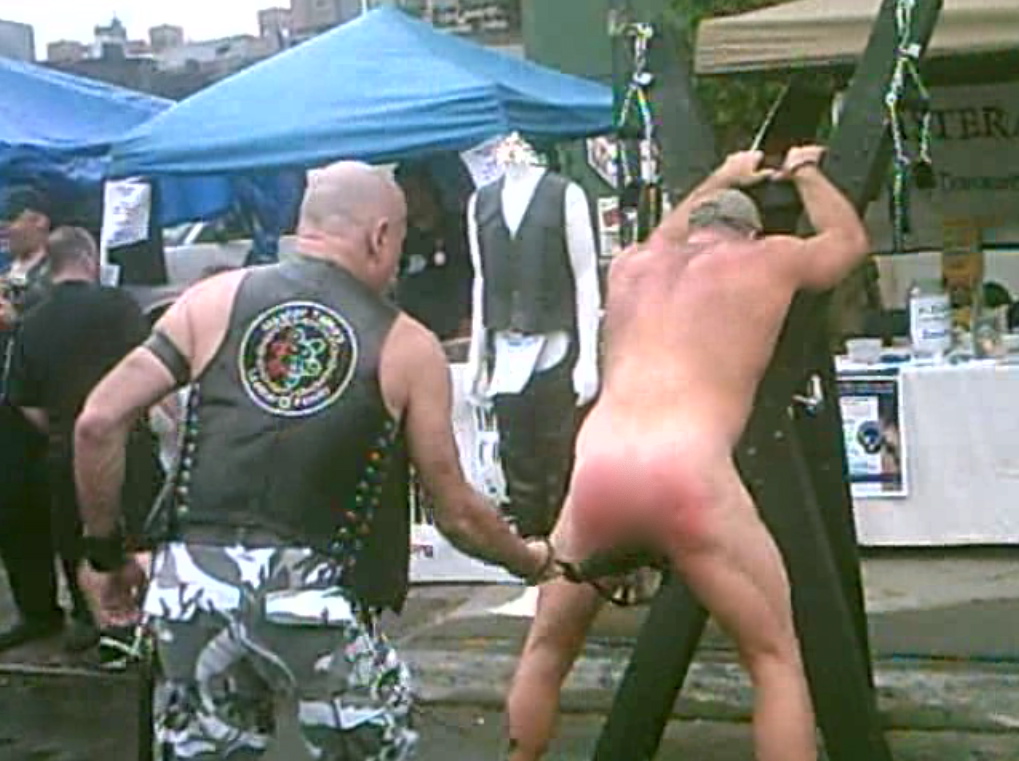 This article was posted on Wednesday, June 24th, 2009 at 11:53 am and is filed under
BDSM
,
Gay Culture
,
Homosexual Meccas
,
Leather
,
NCSF
,
New York
,
News
,
Sexual Revolution
,
Sodomy
. You can follow any updates to this article through the
RSS 2.0
feed.