So we don't have free speech, after all? Leviticus 18:22 banned in Big Apple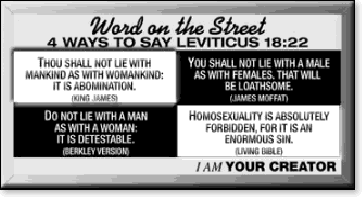 Rev. Kristopher Okwedy, a Nigerian immigrant, thought he would have the freedom to proclaim Biblical truth about homosexuality in the "the land of the free and home of the brave," but alas, New York City politicians banned his billboard (left). Judge Sonia Sotomayor joined a Second Circuit order that denied Okwedy's free speech. The ruling was obviously hostile to religion despite the Court's claim otherwise. 
________________________
American Family Association Press Release
FOR IMMEDIATE RELEASE
June 26, 2009
SOTOMAYOR: It's okay for Government to ridicule Holy Bible
In 2003, Judge Sonia Sotomayor joined a Second Circuit order that excused government hostility toward religion.  In 2000, Rev. Kristopher Okwedy and Keyword Ministries, Inc. –– a Christian Church –– put up a billboard sign quoting a verse of the Holy Bible, Leviticus 18:22, that says, "Thou shall not lie with a male as with a female –– it is an abomination."  The sign included the postscript, "I AM YOUR CREATOR."  After three days and much public outcry, Staten Island Borough President Guy Molinari called the display "mean spirited" and said the Bible verse "conveys an atmosphere of intolerance which is not welcome in our Borough."  He then attempted to have the sign removed or covered up.
Okwedy and Keyword Ministries sued in federal court, contending that Molinari's statements violated the Establishment Clause of the First Amendment, i.e., that the government must remain neutral in matters of religion.  The district court dismissed the case and Okwedy appealed.  A Second Circuit panel of the U.S. Court of Appeals that included Judge Sotomayor found no Establishment Clause violation because Molinari's statement did not target a particular religious denomination or disapprove of religion.
"The U.S. Supreme Court has stated unequivocally that government must remain neutral in matters of religion," said AFA General Counsel Patrick J. Vaughn.  "Judge Sotomayor joined a summary order that said it's okay for government to condemn the Bible," he added.  Don Wildmon, Chairman of American Family Association, observed that Sotomayor's opinion "places a judicial stamp of approval on the comment of renowned communist Karl Marx that 'religion is the opiate of the masses' and further would permit a government official to say that the Bible is akin to Aesop's Fables."  Wildmon added that Sotomayor's appointment to the Supreme Court would have "grave consequences for religious freedom."
The case is Okwedy v. Molinari, 01-7941 (2d Cir. 2003) (unpublished summary order). To read a terrific albeit dated article about Okwedy and his billboard, see Stephen Crampton's 2006 piece, "Okwedy's Oddysey: The Bible as Hate Speech," in Renew America.
American Family Association is a pro-family advocacy organization with over 2.5 million online supporters.
This article was posted on Friday, June 26th, 2009 at 2:20 pm and is filed under
A - What does the Bible say about homosexuality?
,
Biblical Truth
,
C - Heroes for Truth
,
Candidates & Elected Officials
,
Christian Persecution
,
Court Decisions & Judges
,
Freedom Under Fire
,
Gospel evangelism
,
Government Promotion
,
Homosexual Meccas
,
New York
,
News
,
Stealing Civil Rights
,
The Bible, Churches, & Homosexuality
. You can follow any updates to this article through the
RSS 2.0
feed.