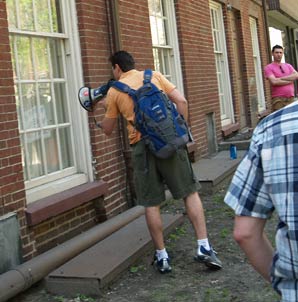 Terrorizing Churches — Are Zoos Next?  Anti-ex-"gay" homosexual extremist Wayne Besen of the mischievously named "Truth Wins Out" is shown with a bullhorn yelling into the window of Park Street Church in Boston in May while the church was hosting a conference to help men and women overcome unwanted homosexual desires. (So much for "tolerance.") Will Besen — who like other "gay" flat-earthers denies the reality that homosexuals can change — be heading next to the San Francisco Zoo to protest Harry, the happy ex-"gay" penguin? Photo courtesy of MassResistance.org.
Opinion piece by J. Matt Barber [Note: Barber will be keynoting Americans For Truth's fund-raising banquet on Sat., Oct. 24 in suburban Chicago]
The highly contentious "nature vs. nurture" debate over whether "gay" penguins choose the homosexual lifestyle or are hatched that way has reached a hard boil.
San Francisco's Fox affiliate KTUV reports: "The San Francisco Zoo's popular same-sex penguin couple has broken up.
"Male Magellan penguins Harry and Pepper have been together since 2003. The pair nested together and even incubated an egg laid by another penguin in 2008, but their relationship hit the rocks earlier this year when a female penguin, Linda, befriended Harry after her long-time companion died.
"Zookeepers say Harry and Linda are happy and were able to successfully nest this year," reported KTUV.
But not everyone is celebrating Harry and Linda's newfound love. Some believe there can be no such a thing as an "ex-gay" penguin. Upon news of Harry's decision to fly the same-sex-coop, outspoken pro-homosexual activist and anti-ex-gay crusader Wayne Besen cried fowl:
"Attempts to change sexual orientation are patently offensive, discriminatory by definition, theologically shaky, uniformly unsuccessful and medically unsound!" exclaimed a visibly angry Besen. "There is no 'ex-gay' sexual orientation. Harry is simply in denial. He's living what I call the 'big lie.'"
When asked if heterosexual penguins can become gay, Besen replied, "Well, um, sure. It happens all the time. But in that case it's just the penguin embracing who he really is. Penguin pride is quite a courageous thing to witness, what with all the mean-spiritedness and homophobia among Penguo-Americans and everything. Once gay, always gay! You know; birds of a feather and all that.
"See," continued Besen, "medical science has conclusively determined that, while still eggs, many of the more effeminate penguins sometimes get a bit scrambled, so to speak, due to what's called 'Homospheniscus Magellanicus Inheritus' or, as it's commonly referred: 'The Gay Penguin Gene' (GPG).
"No, seriously. It's science," insisted Besen. "Harry's as gay today as he's ever been. Mark my words. It's just a matter of time until he ends up slinking around some back alley gay bar in the Castro District, strung out on meth."
As is customary, Besen – along with a lathered-up handful of equally irate anti-ex-gay blowhards – intends to raucously picket Harry's Zoo holding area – megaphones in hand – to protest what Besen called, "the tremendous political setback an ever-increasing number of ex-gays pose to our furiously ambitious political agenda. I really, really wish they'd just go away."
Meanwhile, Pepper has also had difficulty accepting Harry's decision to embrace natural sexuality. According to KTUV, Harry's relationship with Linda "did not go over well with Pepper, who became violent." Zookeeper Jennifer Katz lamented that "Pepper is by himself now."
Still, it appears that Pepper has yet to hit rock bottom. In recent days he has reportedly been spotted waddling around the zoo's public men's room, skulking in stalls and inexplicably tapping his flipper. There's even speculation that, as things continue to spiral, he may consider a run for political office.
___________________________
Matt Barber is an attorney concentrating in constitutional law. He serves as Director of Cultural Affairs with both Liberty Counsel and Liberty Alliance Action. Send comments to Matt at jmattbarber@comcast.net. (This information is provided for identification purposes only.)  Barber will be the keynote speaker at AFTAH's fund-raising banquet on Saturday, October 24 at the Christian Liberty Academy in Arlington Heights, Illinois, northwest of Chicago (see below).
Matt Barber to Keynote AFTAH Fund-raising Banquet on October 24th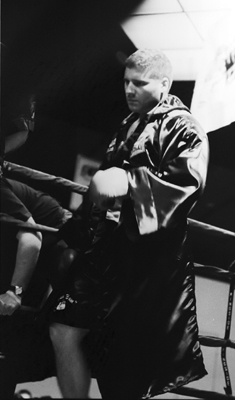 NOTE: The date of our banquet has been changed to Saturday, Oct. 24th:
SAVE THE DATE, Saturday Oct 24: Please save the evening of Saturday, October 24 to attend Americans For Truth's banquet. Our featured speaker is Matt Barber, culture warrior for Liberty Counsel and author of the column below. Matt is quite a guy, to say the least. He's gone from being a professional heavyweight boxer, to being fired by Allstate Insurance Company in 2005 because he wrote an online article – on his own time — critical of organized homosexuality, to his current position as one of America's leading defenders of natural marriage and family. AFTAH got rave reviews for its last banquet; you won't want to miss this one! The event will be held outside Chicago, in Arlington Heights, IL. Write us for more information at aftahangela@gmail.com or americansfortruth@comcast.net. We hope to see you there!
— Peter LaBarbera, Americans For Truth About Homosexuality, www.aftah.com
This article was posted on Wednesday, July 15th, 2009 at 1:45 pm and is filed under
A - What does the Bible say about homosexuality?
,
B - Ex-Homosexual Testimonies
,
Hateful Homosexual Attacks on Ex-Gays
,
Homosexual Hate
,
Homosexual Hate Speech
,
News
,
Reorientation Therapy
,
Stealing Civil Rights
,
The Bible, Churches, & Homosexuality
,
Truth Wins Out
. You can follow any updates to this article through the
RSS 2.0
feed.