Dear AFTAH Readers,
A watered-down version of the "hate crimes" amendment passed the Senate last night.  I watched on CSPAN as Sen. Brownback (R-KS) offered a successful amendment adopting language from the Religious Freedom Restoration Act — protecting all speech except that specifically intended to incite violence.  Brownback's amendment would make it harder for overzealous, pro-homosexual prosecutors to use the "hate crimes" law to suppress moral speech and Bible preaching against homosexuality.
AP reports: "Republicans will have the opportunity to propose several more changes to the hate crimes bill on Monday, but that will not change its status as part of the must-pass defense bill."  The "hate crimes" measure — outrageously attached by the Democrats to a DoD spending bill — remains a dangerous Trojan Horse.
TAKE ACTION: Urge your Senators to challenge other portions of the "hate crimes" amendment, such as language that would make it the first federal law to create federal "civil rights" protections based on gender confusion ("gender identity").  Call Congress at 202-224-3121 or write your Senators through www.congress.org.
Despite the AP's characterization, "hate crimes" still might not become law as President Obama could veto the defense bill to which it is attached (he objects to some military spending in the bill).  Keep checking our website, www.aftah.org, for more details. — Peter LaBarbera, Americans For Truth; donate online at www.americansfortruth.com/donate/
P.S.  Remember Arthur Goldberg's dinner-talk TONIGHT at AFTAH's office in Carol Stream: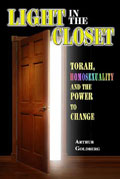 Dinner-Lecture July 17: Arthur Goldberg, Co-Director of JONAH (Jews Offering New Alternatives to Homosexuality), will be the featured speaker at AFTAH's next dinner lecture on Friday, July 17. Dinner starts at 6:00 PM and Arthur's talk and Q&A will run from 7:00-9:00. Arthur will be discussing his new book, "Light in the Closet: Torah, Homosexuality, and the Power to Change" [order HERE]. You will not want to miss this informative presentation from a man who — although not ex-"gay" himself — knows firsthand the reality that men and women can leave the homosexual lifestyle because that is his life's work. RSVP to Angela at [email protected]. AFTAH's office is at 25W560 Geneva Rd. in Carol Stream, IL (just west of Gary on Geneva Rd.). Donations will be accepted to cover expenses.