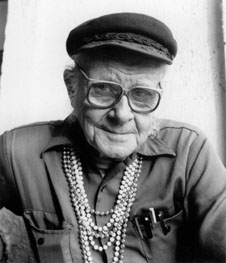 "NAMBLA walks with me," declared homosexual activist pioneer Harry Hay (left) — speaking of the "North American Man/Boy Love Association," which advocates the legalization of sex between adults and children. Hay, who died in 2002, formed the first homosexual activist group — and later was among a dissident group of homosexual activists who defended NAMBLA as a "responsible gay organization." Sex between men and boys has long been a part of homosexual history, as openly "gay" U.-Mass.-Boston history professor William Armstrong Percy III documents in his book, "Pederasty and Pedagogy in Archaic Greece."
______________________________
From the archives of Concerned Women for America's online "Culture and Family Institute" newsletter (Oct. 30, 2002):
Father of 'Gay Rights' Dies; Media Ignore NAMBLA Connection
Harry Hay Was Sexualized Early, Defended Pedophiles to the End
By Peter J. LaBarbera, CWA, 10-30-2002
In noting the passing of Harry Hay — the man who first organized homosexuals as a political minority — no mainstream media outlets reported that Hay was an advocate of pedophile rights and the notorious group NAMBLA.
NAMBLA is the North American Man/Boy Love Association, a group that advocates for the legalization of sex between men and boys, and an end to all "age of consent" laws.
Hay, who died on October 24, at age 90, formed the first American homosexual activist group, the Mattachine Society, in 1950. He conceived of the idea of organizing homosexuals at a time when most were afraid to even be discovered as such. Hay was also a committed Communist who married to hide his homosexuality so that he could join the Party.
He went on to found The Radical Faeries, a shamanistic spirituality movement for homosexual men. "Gay pride" parades frequently include local contingents of "Faeries" — semi-naked men prancing and dancing in variations of Native American rituals.
Hay strongly opposed the notion that "gays" should assimilate into larger "straight" culture. Thus, in the eighties and nineties, when homosexual activists began banning NAMBLA from "gay pride" parades to clean up their public image, he and other "gay" liberationists were outraged.
In 1994, Hay, then in his eighties, was among the signers of a "Spirit of Stonewall" proclamation that argued that efforts to ban NAMBLA from the New York "pride" parade violated the spirit of the original Stonewall "rebellion," which is revered by homosexual activists as the spark of the modern "gay rights" movement. (In 1969, homosexuals and others then regarded as deviants rioted in response to a police crackdown of the Stonewall Inn in New York City.)
The Spirit of Stonewall (SOS) declaration read in part:
Stonewall was the spontaneous action of marginal people oppressed by the mainstream — of teenaged drag queens, pederasts, transsexuals, hustlers, and others despised by respectable straights and "discreet" homosexuals. …

SOS is an ad hoc committee of lesbian, gay and other individuals and groups formed to bring Stonewall 25 [celebrating the 25th anniversary of the riots] back to the principles of gay liberation. We focus on one of the most glaring departures from those principles: the attempt to exclude [NAMBLA] . …

NAMBLA's record as a responsible gay organization is well known. NAMBLA was spawned by the gay community and has been in every major gay and lesbian march. … NAMBLA's call for the abolition of age of consent is not the issue. NAMBLA is a bona fide participant in the gay and lesbian movement. NAMBLA deserves strong support in its rights of free speech and association and its members' protection from discrimination and bashing.
In 1986, Hay's pro-NAMBLA activism had a role in what became known in homosexual circles as the "Harry Hay incident." As part of a protest against the Los Angeles Gay Pride Parade, Hay taunted organizers for excluding the North American Man/Boy Love Association by wearing a sandwich board that read, "NAMBLA Walks with Me." This event is chronicled by Hay's biographer, homosexual writer Stuart Timmons, in The Trouble with Harry Hay: Founder of the Modern Gay Movement. The book includes a photo of Hay in the NAMBLA sandwich board.
More recently, Hay wrote an essay for the pederasty magazine GAYME, according to a "queer" magazine Web site. GAYME is a magazine for men who are sexually "into boys," according to one Web reviewer. It is produced by former NAMBLA Bulletin editor Bill Andriette.
Timmons' sympathetic biography of Hay reveals that he had his first homosexual sexual encounter at age nine, with another boy. At age 14, in a grove of trees, he "discovered his first [homosexual] lovemaking" with a 25-year-old sailor named Matt. Hay refused to describe the experience as "molestation," according to Timmons, "to make the point of how sharply gay life differs from homosexual norms." The account continues:
"As a child," [Hay] explained, "I molested an adult until I found out what I needed to know." … Far from being an experience of "molestation," Harry always described it as "the most beautiful gift that a fourteen-year-old ever got from his first love!"
A Nexis database search of Harry Hay obits in over 30 print news outlets — including The New York Times, The Los Angeles Times, Associated Press and Time Magazine — turned up no mention of his pro-NAMBLA advocacy.