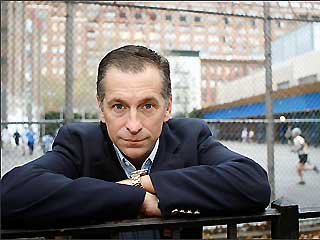 Which Story Is True? Kevin Jennings, President Obama's "Safe Schools" chief, gave two opposing histories of his ailing mother marching in Winston-Salem's first "gay pride" parade. 
By Peter LaBarbera
Kevin Jennings, President Obama's appointee to head up the "Safe and Drug-Free Schools" agency at the Department of Education, gives speeches on "gay history" but can't seem to get his own straight (no pun intended).
At Americans For Truth, we have long observed that Jennings has a flair for the dramatic — and a penchant for anti-Christian bigotry (see his vulgar church condemnation of the "religious right" HERE).  But there are contradictions and obvious exaggerations in the various tellings of his life story — and self-serving memory lapses, such as when Jennings — who preaches "Respect for All" — told an NPR reporter that he couldn't remember using the F-word in a church to tell Christian conservatives to "Drop dead!"
Also, given Jennings' professional history of distorting the Bible's clear teachings against homosexual behavior, and his skewed take on other facets of the debate over homosexuality — e.g., denying the reality that many people have left the homosexual lifestyle — it shouldn't surprise anyone that he plays loose with the facts, as this decade-old AFTAH article demonstrates.
The following is reprinted from Americans For Truth's flagship publication, Lambda Report (April-May 2000). An online GLSEN article provided in the first version ("Mom Too Sick to March"), but today the same link connects only to the organization's current articles and not the story cited]. However, that first version is closest to the one Jennings used in his third book, a memoir titled Mama's Boy, Preacher's Son. We have added the 2006 book version at bottom for sake of comparison. Note the bold portions:
_____________________________
Kevin Jennings' Dual Histories
Lambda Report, April-May 2000
Kevin Jennings, the founder of the Gay, Lesbian, and Straight Education Network [GLSEN; after a name change from the original Gay, Lesbian, Straight Teachers' Network (GLSTN)], gives speeches on "gay" history and taught history at two private academies. But he seems to give out contradictory information about his own past, as the following accounts — from his own [GLSEN's] and another "gay" publication (quoting him) — attest:
VERSION ONE:

Mom Too Sick to March:

"…For the first time, my hometown of Winston-Salem was going to have a Gay Pride March, and I was invited home to speak at it. I called Mom to let her know…without missing a beat, Mom replied, 'I've been reading about this march and I figured you were coming, so I've already made plans to march with you.'

"June came and my Mom didn't actually march. Now on oxygen full-time, she was only able to come to the workshop I gave the day before the March. But, for the first time, she heard me speak in public about what has become my life's work — helping lesbian/gay kids escape the bigotry with which I grew up…."

—Kevin Jennings, "Home for the Holidays," GLSEN Blackboard Online, Dec. 1996, see [this link now links to a different, current article:] http://www.glsen.org/pages/sections/people/citizens/005.aricle
_____________________________
VERSION TWO:


Brave Mom Marched:

"In 1996, Jennings was invited…to speak on the occasion of Winston-Salem's first ever GLBT (gay, lesbian, bisexual, transgender) Pride Parade … [H]e phoned his mother to make sure that she was OK with this. She had a surprise for him: she planned to be marching side-by-side with him. When the day came, 'There she was in 90 degree heat and 100 percent humidity, my mother, at age 74 — my mother with emphysema and lung cancer — out there with her portable oxygen tank she must take wherever she goes. And she marched down the streets of her town, in a city where everyone knows her as REV. Jennings' widow. And, I say, if my mother can come that far, surely we all can come that far, too…Our victory is inevitable.'"

— John Quinlan quoting Kevin Jennings, reporting for Alternative Family Magazine, "Leadership profile" on Jennings, Summer 1999, Vol. 2, No. 1, p. 38. [Note: we could not find this article online — the magazine appears to be defunct. It's former web domain is inoperative and we could not locate an online archive. However, Quinlan's AFM piece is cited as a source HERE.]

 _____________________________
ADDENDUM: Jennings' mom apparently does NOT march in 2006 version of story in his autobiographical book, Mama's Boy, Preacher's Son:
The following is the version of the story found in Jennings' 2006 autobiography. Note that there is no mention of his mother "marching down" the street for "gay pride," although she apparently lugged her oxygen tank to her son's talk. Jennings writes:
In 1996, the North Carolina Gay Pride celebration was to held in Winston-Salem for the first time and, as perhaps the most famous homosexual from Winston-Salem, I was asked if I would speak at it. This was taking things to a new level: Mom lived there and everybody would now know, if they had somehow missed me on national news. I decided I had to call her and ask how she felt about it. If she was profoundly uncomfortable, I wasn't going to do it.

The phone call was a bizarre experience… I began to explain about the march and Mom interrupted. "Oh, Kevin, I know about the march and I figured you were coming," she began. "I have already made plans to do with you." Now it was my turn to be struck silent. "So, what were you calling about, Kevin?"

… A few weeks before the march, Mom was diagnosed with emphysema (three packs a day for fifty years will do that to you). She was just put on oxygen to help with her increasingly labored breathing and given a portable oxygen tank to toke with her when she left the house. Now my concern shifted: should she be coming out to an event in the middle of a June North Carolina day, which means ninety-degree heat and 100 percent humidity? I said maybe it wasn't such a good idea after all. She brushed aside my concerns, saying she wasn't going to stop living just because she had to lug around some dumb oxygen thing.

So there we were at the Pride Festival, where I focused my talk on gay history. Mom loved it (after all, she was the one who had dragged me to the public library and the Civil War battlefields and taught me to love history in the first place) and said she learned a lot. She was delighted to meet so many people who thought so highly of her son, and she would brag about my Harvard degree and the organization I started and my books. I bragged about her for starting the PFLAG chapter in Winston-Salem, and people hugged her for doing it. A good time, indeed, was had by all. …

— Jennings, Mama's Boy, Preacher's Son: A Memoir of Growing Up, Coming Out, and Changing America's Schools, pp. 237-238.