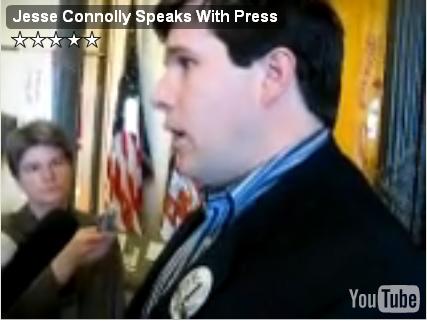 By Peter LaBarbera
Pro-homosexual activist Jesse Connolly (right) — campaign manager for the Maine pro-"same-sex-'marriage'" effort "No on 1"— issued two complete fabrications about me, after I represented AFTAH at a pro-traditional-marriage press conference held Wednesday at the Maine capitol in Augusta:
These malicious comments by Connolly were reported on the homosexual blog "Pam's House Blend":
"And they [referring to leaders of the pro-traditional-marriage group  'Stand For Marriage'] can't stand behind Peter LaBarbera, who has attacked Ben & Jerry's, supported rescinding women's right to vote and believes we should return to the Old Testament where gay people were stoned….."
Connolly's assertions are false and absurd. As to the "stoning" accusation, AFTAH embraces orthodox Christian teachings on this matter: we have always condemned violence and true hatred against homosexuals. For example, in this 2006 AFTAH article, "Stoning homosexuals: which is the real voice of hatred?, I noted the stark contrast between Christians — who hope for practicing homosexuals to repent of their sin, accept Christ's forgiveness, and leave the lifestyle — and radical Muslims, who favor draconian, violent punishments against homosexuals (yes, even including stoning, which would commence only after the violator is pushed off a "high building").
As to wanting to deny women the vote, I don't know where Connolly got that one. Again, it is completely false. As a legislative aide and prominent Maine political operative, Connolly — who is reportedly on leave from his job as chief of staff to Maine House Speaker Hannah Pingree (D) — should exercise greater care before leveling serious accusations.
However, I will say this: I hope as many Maine women as possible vote "Yes" on Ballot Initiative 1 this Tuesday — to reject counterfeit "same-sex marriage" in the Pine Tree State.
Because of our principled position against homosexual behavior, Americans For Truth is a frequent target of the Left's smears, lies and plain old mean-spiritedness. But pro-homosexual activists might consider that much of the misinformation and attack pieces posted against conservative groups like AFTAH does not qualify as authoritative source material.
Jesse Connolly's reckless and baseless accusations against me — which reinforce the crudest and most uninformed secular biases against Bible-believing Christians — definitely qualify as an act of hate.
We call on Connolly to publicly retract and apologize for this malicious smear.