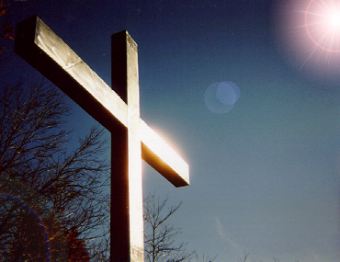 Dear Readers,

We at Americans For Truth wish each of you a Joyous and Merry Christmas, as we celebrate the most important birth in all of history. At AFTAH, we do the best we can to defend God's Truth about homosexuality in a hostile and worldly culture — and other groups do the same on such issues as abortion, pornography, decency and marriage. But there is a Truth above all truths, and people's attitude toward Him often dictates their commitment to or rejection of truth on these cultural matters.
Jesus Christ is that Truth: God's own Son who departed from glory and humbled Himself to become man who obediently died a humiliating death on a cross — to pay the punishment that each of us deserves for our sins.
Jesus Christ's "free gift" of salvation is available to all, but many choose darkness over the light. No mere wise teacher, Jesus alone could make the stunning and exclusive claim: "I am the Way and the Truth and the Life. No one comes to the Father but by Me." (John 14:6) Because unlike any other religious leader in history, Jesus was not just a man. He triumphed over death! "Where, O death, is your victory? Where, O death, is your sting?" (1 Corinthians 15: 55) And even as being born again through life-changing belief in Christ is the eternal hope of every man and woman, no one can reach heaven without believing in Christ. And no one can escape His judgment. (John 3: 1-21)
An America that dishonors Jesus Christ is an America headed toward oblivion, and ultimately a return to Christ — that is, a return to God — alone can save our troubled, disobedient land. A pale imitation of Christ's humility — in the form of Americans swallowing their pride, self-centeredness and shallow religion, and returning to God in repentance — is the key to America becoming truly great.
This holiday season, I urge you to contemplate Jesus Christ, and pass Him on, as it were, to others. If you are a steadfast critic of AFTAH who does not believe in the Christ of the Bible, please forget the "Culture War" for a moment and honestly consider the claims of Christ, perhaps starting in the Gospels. Let each of us pledge to get deeper into God's divinely inspired Word, the Bible, in 2010. Who can doubt that one will become a better and more godly person for doing so?
Below these powerful verses in Philippians about Christ's humility and exaltation are Charles Wesley's biblically faithful lyrics for "Hark the Herald Angels Sing!" Let us together "Hail the Son of Righteousness!" this holiday season! May the Lord richly bless you and yours.
Sincerely in Christ,
Peter LaBarbera
Americans For Truth About Homosexuality
www.americansfortruth.org
E-mail: americansfortruth@comcast.net
Donate to AFTAH: at www.americansfortruth.com/donate/; gifts must be postmarked by Dec. 31st  (or received online by midnight Dec. 31st) to be tax-deductible for 2009. Mail gifts to: Americans For Truth, PO Box 5522, Naperville, IL 60567-5522.
_______________________________
"Your attitude should be the same as that of Christ Jesus: Who, being in very nature God, did not consider equality with God something to be grasped, but made himself nothing, taking the very nature of a servant, being made in human likeness.

"And being found in appearance as a man, he humbled himself and became obedient to death — even death on a cross!

"Therefore God exalted him to the highest place and gave him the name that is above every name, that at the name of Jesus every knee should bow, in heaven and on earth and under the earth,and every tongue confess that Jesus Christ is Lord, to the glory of God the Father." (Philippians 2: 5-11; NIV)
_______________________________
Hark the Herald Angels Sing!
Hark the herald angels sing
"Glory to the newborn King!
Peace on earth and mercy mild
God and sinners reconciled"
Joyful, all ye nations rise
Join the triumph of the skies
With the angelic host proclaim:
"Christ is born in Bethlehem"
Hark! The herald angels sing
"Glory to the newborn King!"
Christ by highest heav'n adored
Christ the everlasting Lord!
Late in time behold Him come
Offspring of a Virgin's womb
Veiled in flesh the Godhead see
Hail the incarnate Deity
Pleased as man with man to dwell
Jesus, our Emmanuel
Hark! The herald angels sing
"Glory to the newborn King!"
Hail the heav'n-born Prince of Peace!
Hail the Son of Righteousness!
Light and life to all He brings
Ris'n with healing in His wings
Mild He lays His glory by
Born that man no more may die
Born to raise the sons of earth
Born to give them second birth
Hark! The herald angels sing
"Glory to the newborn King!"
_______________________________
Background:
"Hark the herald angels sing" Christmas Carol was written by Charles Wesley, brother of John Wesley founder of the Methodist church, in 1739. A sombre man, he requested slow and solemn music for his lyrics and thus "Hark the herald angels sing" was sung to a different tune initially. Over a hundred years later Felix Mendelssohn (1809-1847) composed a cantata in 1840 to commemorate Johann Gutenberg's invention of the printing press. English musician William H. Cummings adapted Mendelssohn's music to fit the lyrics of "Hark the herald angels sing" already written by Wesley. Source: http://www.carols.org.uk/hark_the_herald_angels_sing.htm