Mainstream media outlets uncritically repeat Jenkins' accusations
Reprinted from LifeSiteNews.com [click here to sign up for LifeSite's daily news e-mails]
By Matthew Cullinan Hoffman
NEW YORK, February 2, 2010 (LifeSiteNews.com) – Janet Jenkins, a practicing lesbian who was once in a "civil union" with ex-lesbian Lisa Miller, is conducting a media campaign to locate Miller's seven-year-old daughter in an attempt to gain custody of the child.
Miller's daughter, Isabella, was conceived via artificial insemination during the pair's relationship, and has no biological relationship with Jenkins. Miller disappeared with Isabella in December, apparently in an effort to prevent a Vermont judge from transferring custody of her child to Jenkins.
But Jenkins is doing numerous interviews with mainstream media outlets, ostensibly in an effort to locate Isabella (described by Jenkins in one interview as "my child"), which are uncritically repeating her charges against Miller, while failing to mention Miller's charges against Jenkins – -including that her relationship with Jenkins was abusive.
"I think she's dangerous, and I think she's very vulnerable and I think she's capable of anything," Jenkins told ABC News on January 29 when asked about Miller.
"I think she's very desperate," added Jenkins. "I think the people and the places that she is exposing herself to and my child to – our child to – it's just frightening for me to even think about."
Reports of Jenkins' abusive behavior
However, Jenkins herself has been repeatedly accused of being "dangerous" — both to Miller's child, Isabella, and to Lisa Miller herself.
In a lengthy interview with LifeSiteNews.com in 2008, Miller recounted the physical and emotional abuse she said she suffered at Jenkins' hands, and also stated that her daughter was desperate not to return to Jenkins' custody.
In addition to being "physically and emotionally abusive," and repeatedly trying to throw her out of the house, Jenkins even "said she wanted to kill me," Miller told LSN in her account of her relationship with Jenkins, which began in late 1998 and lasted more than four years.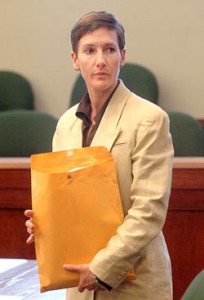 Miller said she fled the ongoing abuse twice before leaving Jenkins permanently in 2003.
According to Miller, Isabella had become desperate not to return to Jenkins (shown at left) after a visit in which she said that she had been required to bathe naked with her other "mother." She had even spoken of wanting to die.
"Last year, Isabella put a comb up to her neck and said she wanted to kill herself after one of the visits," Miller told LSN. "She took a comb and pressed it into her neck and said, 'I want to kill myself.' I don't know where she got that. It was immediately after a visit. Other people have seen huge changes. She also started openly masturbating which is not something that my child has done."
"She is 6 now (2008) but this started when she was 5 — after visits," Miller continued. "The very first time that Janet ever saw Isabella after the two and a half years, her very first over-night visit — the court ordered it and I allowed it because it was in Virginia and she was supposed to have been supervised by her parents — Isabella came home and said, 'Mommy, will you please tell Janet that I don't have to take a bath anymore at her house.'
"I asked her what happened. She said, 'Janet took a bath with me.' I asked her if she had a bathing suit on. 'No, Mommy.' She had no clothes on and it totally scared Isabella. She had never seen this woman except once in 2 ½ years and she takes a bath with her."
Other Witnesses
According to Miller attorney Rena Lindevaldsen, Miller was not alone in her accusations. In a 2008 interview with LSN, Lindevaldsen said that a psychologist who had examined Isabella before and after her trips to see Jenkins had submitted two affidavits testifying to the damaging effects of the trips.
At least two other witnesses also submitted affidavits testifying to Isabella's troubling behavior following visits with Jenkins, according to Lindevaldsen.
Even Jenkins' own parents, who are supportive of their daughter, admit that Jenkins had a "spat" with Miller while they were together, in which Jenkins threatened to force her onto the street, something they objected to.
"Janet said: 'I'm going to kick her A-double-S out. I'm going to put her clothes on the curb.' My answer was: 'You can't do this. The kid has no place to go," Jenkins' father told the Washington Post Magazine. "'You've already said you'd allow her to move in. You can't put her out on the street. You don't do stuff like that.' "
When LSN spoke to Lindevaldsen in late 2008, she said that the Vermont courts had delayed ruling on the accusations for nine months, but that a hearing had finally been scheduled. Ultimately the testimony of Miller, at least one psychologist, and multiple other witnesses was not enough to prevent Judge Richard Cohen from transferring custody to Jenkins in late 2009.
The mainstream media also has almost completely ignored the accusations, with the exception of a single 2008 Newsweek article that mentioned them in passing, along with Jenkins' rebuttal. The affidavits presented to the court were never mentioned.
However, ABC News and other major newspapers and media outlets have allowed Jenkins to repeat, without proof and without rebuttal, her accusations that Miller is "dangerous" and "capable of anything." One writer at ABC, David Schoetz, went so far as to compare Miller's disappearance to that of Clark Rockefeller, who tried to flee with his ex-wife's biological daughter. Schoetz wrote that if "we can learn anything from the Clark Rockefeller, pictured in his mugshot above, it's that hiding a child is not an easy thing to do, especially when so many people care."
_________________________________________
Related links:
Helping Isabella Facebook Page
AFTAH articles:
Previous LifeSiteNews coverage:
This article was posted on Saturday, February 6th, 2010 at 12:48 am and is filed under
"Civil Unions" & "Gay Marriage"
,
"Civil Unions" & "Gay Marriage"
,
A - What does the Bible say about homosexuality?
,
Adoption & Foster Parenting
,
B - Ex-Homosexual Testimonies
,
Christian
,
Conception
,
Custody
,
E - Praying for the Lost
,
Evangelicals
,
Homosexual Parenting
,
Lesbianism
,
News
,
The Bible, Churches, & Homosexuality
,
Vermont
,
Virginia
. You can follow any updates to this article through the
RSS 2.0
feed.