WARNING: Offensive Language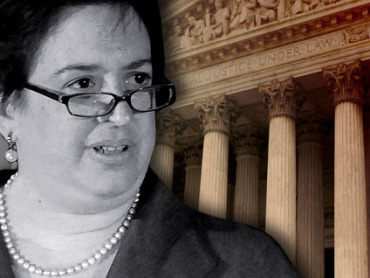 For the last few weeks I've been working with Mass Resistance's Amy Contrada, who has pulled together a wealth of information about Supreme Court nominee Elena Kagan's time at Harvard University, where she served as Dean of the Law School. Many will be shocked at just how extreme Harvard has become — and the radical sexual/gender policies advanced by Kagan. Kudos to Contrada and our friends at Mass Resistance for doing the reporting that most in the liberal media refuse to do (because too many agree with Kagan's left-wing social agenda). And thanks to Chaplain Gordon Klingenschmitt of the Pray in Jesus Name Project for supporting this work. Please read the full report, which ends with questions that members of the Senate Judiciary Committee should be asking Kagan.
TAKE ACTION: Fax and e-mail the Kagan report to Judiciary Committee members and request that they question Kagan on her full record at Harvard, which is way out of touch with the vast majority of Americans. Click on the names of the individual Committee members HERE and fax to their MULTIPLE offices (D.C. and local); request that the Senator ask Kagan the questions at the end of the report (reprinted below). Do the same to your own two U.S. Senators. (Congress switchboard: 202-224-3121.) — Peter LaBarbera, www.aftah.org
Below are some Highlights of Elena Kagan's Record as Dean at Harvard Law School, 2003-2009:
Kagan accelerated and legitimized the GLBT "rights" concept and law studies at Harvard Law School and in the larger university community.
Kagan encouraged Harvard students to get involved in homosexual activist legal work. At a time when she as Dean pushed students to engage in "public interest law" and to get "clinical" legal experience, the Harvard Law School established the LGBT Law Clinic. How could a "Justice Kagan" on the Supreme Court be impartial involving cases brought by "gay" legal activists — when she so openly advocated for homosexual legal goals and integrating homosexuality into legal studies and practice at Harvard?
Kagan recruited former ACLU lawyer (and former ACT-UP member) William Rubenstein to teach "queer" legal theory. Few Americans can comprehend the radical nature of "queer" academics. Rubenstein described one of his courses as the taking up of "newer identities (bisexuality, trans, gender[f**k])." as well as involving "polygamy, S&M [sadomasochism], the sexuality of minors."

Kagan promoted and facilitated the "transgender" legal agenda during her tenure at Harvard. In 2007, HLS offered a Transgender Law course by "out lesbian" Professor Janet Halley and Dean Spade, a transsexual activist attorney, both of whom she recruited. (Halley's extremism and contempt for natural gender boundaries is illustrated by her calling herself a "gay man.") Kagan also brought in Cass Sunstein (currently Obama's regulatory czar) who has written in support of polygamy and other free-for-all marriage relationships.
Kagan engaged in ongoing, radical advocacy opposing "Don't Ask, Don't Tell" and demanding an end to the ban on homosexuals serving in the military. Her highly partisan actions are unbecoming of a future judge – especially one who would be called upon to adjudicate such weighty and divisive matters.
Even after Kagan and Harvard lost their legal campaign to ban military recruiters and Harvard Law School was forced to let them back on campus, she encouraged ongoing student protests against them — deputizing the radical Lambda group to come up with ideas of how to harass the recruiters legally. Kagan's actions blatantly disrespected our military and exposed her as the out-of-touch, socially leftist academic that she is.
Kagan attended functions of radical homosexual (GLBT) groups at Harvard University, absorbing and apparently agreeing with their goals.
Kagan followed the wishes of campus homosexual organizations — within a month of meeting with a Harvard GLBT student group, she was agreeing with their demand to ban military recruiters on campus.
Radical "trans" activism at Harvard: Kagan's active promotion of the GLBT agenda at Harvard likely accelerated the campus environment that was becoming so "tolerant" of homosexuality and gender confusion that there was even a campaign during her tenure to make the campus "trans inclusive" — using Harvard's "gender identity" nondiscrimination policy (in place since 2006). This included discussions between GLBT student activists and the law school administration (i.e., Kagan) "to make our restrooms safe and accessible for people regardless of their gender identity or expression." (Read: allow men who identify as "women" to use female restrooms and locker rooms, etc.)
As a likely result of Kagan's activism, Harvard has become so committed to radical transsexual activism that its health insurance policy now partially covers "sex-change" breast "treatment" for transsexuals – either men taking hormones to develop breasts, or women having their healthy breasts removed to become the "men" they believe they are.  Where does Kagan stand on transgenderism and transsexuality and the law today?
From the report…
V. Specific questions Kagan should be asked
Involvement with GLBT groups
Kagan was involved with radical GLBT groups at Harvard Law School (HLS Lambda) and the larger university (Harvard Gay & Lesbian Caucus – HGLC).
Did she then and does she now support their stated goals and viewpoints?
Kagan said she "was committed to working with Lambda & others" on DADT, gays in military [Oct 2003 Harvard Law Record]. Which other groups was she referring to?
Does she agree with the awards given by HGLC to Frank Kameny and Kevin Jennings?
Is there an audio, video or transcript of her remarks at the various radical events she attended or moderated discussions at…?
Sept, 2003 HLS GLBT reunion (HLS Lambda students voiced their demands there).
Oct, 2003 HLS Lambda forum on DADT.
HGLC 25th anniversary celebration. What "LGBT legal developments and trends" were discussed? Which achievements and goals did she agree with?
2007 HLS Lambda forum she moderated on gays in the military.
Several Harvard news accounts refer to her working directly with HLS Lambda to oppose military recruiters on campus. To what extent was she working with them? How often did they meet? Etc.
Did she attend any other Harvard U or HLS Lambda forums? If so, what was her role?
Did she attend the Sept 2003 HLS-GLBT alumni dinner as a member of the group?
GLBT-specific law
To what extent was she a proponent of the GLBT component in the curriculum? Did she approve the LGBT Law Clinic, the GLBT and (specifically) transgender law courses, the publication of the "LGBT Rights Law" career guide (2007)?
Does she believe this is a legitimate area of the law? That GLBT rights are civil rights? Which rights exactly does this include? Who defines these rights?
Does Kagan subscribe to Feldblum's view that homosexuality-based "rights" take precedence over the liberty of people of faith to act on their belief that homosexual practice is wrong?
Transgenderism at Harvard
Does she agree with Harvard University's inclusion (2006) of "gender identity" as a protected class of persons? How does she define "gender identity"? What would comprise discrimination against one's "gender identity"?
To what extent did she work with transgender activist students and staff in the period from 2003-9? There are references to their working with administrators throughout the university, and specifically the "law school administration to make restrooms safe and accessible" for transgender people.
Did she approve and/or attend the transgender conferences held by HLS Lambda in 2005 and 2008? Did she meet with the national transgender leaders who have taught at or visited the Law School? (Dean Spade; Mara Keisling)?
Did she agree with Harvard University Health Services decision to provide hormone treatments (and other "transgender" health demands in 2006) – to be paid for by all members of the community through their insurance premiums? Does she agree with the Health Services 2010 decision to cover breast augmentation (for "male-to-females") and mastectomies of healthy breasts (for "female-to-males")? Does she think the Health Services should decide to cover "bottom surgeries" (now under study)?
Did she know Atty. Noah Lewis (HLS Class of 2005) when she was Dean? Does she know if his current work with the Transgender Legal Defense and Education Fund? (He is currently pushing Harvard U. Health Services on these transgender health demands.)
Did she agree with the transgender student demands to use whichever bathroom, locker room, or dorm room they choose (regardless of biological sex, but determined by their self-identified "gender")?
Should the military allow transgender and transsexuals to serve?
Read our Mass Resistance report, "How Elena Kagan Helped "Queer" Harvard Law School (Will she now help "queer" the US Supreme Court's decisions?)"
This article was posted on Tuesday, June 29th, 2010 at 11:02 am and is filed under
"Sexual Orientation"/"Gender Identity" and the Law
,
Academic Bias
,
DOMA
,
Frank Kameny
,
Kevin Jennings
,
Left-wing activism
,
News
,
Obama
,
Pansexual
,
Post-modernism/relativism
,
Promoting Gender Confusion
,
Sex-change Operations
,
Sexual Revolution
,
Too Much Tolerance
,
US Supreme Court
. You can follow any updates to this article through the
RSS 2.0
feed.