WARNING: Offensive video and San Francisco public lewdness photo below  
By Peter LaBarbera
Some lowlights from soon-to-be former Speaker of the House Nancy Pelosi. No need to comment on this prediction: 
We won't miss stories like this — although President Obama is happy to continue and build upon the tradition of fantastically wasteful junkets: 
This comment on Obama-care is an all-time Pelosi classic: 
Pelosi in happier days in 2007 pandering to her adoring "gay" activist fans at Human Wrongs Rights Campaign (led by secular, Bible-distorting bigot Joe Solmonese): 
A very "queer" district 
It's no wonder that Nancy Pelosi is out of touch. As AFTAH has well documented, her hometown district, San Francisco, is so perverse, intolerant (of Christians), and extreme — even by left-wing standards — that most Americans would not believe what goes on there. For example, every Easter Sunday, a large crowd of San Franciscans gathers in Dolores Park to watch the "Hunky Jesus" contest mocking Jesus' crucifixion. The event is MC'd by the Sisters of Perpetual Indulgence, an accepted "charity" group in the city even though it is made up of men who dress in drag as mock "nuns," with twisted and filthy names like Sister Roz Erection and Sister Fawn D'amen. Much like NAMBLA, if 25 "gay"-agenda-opposing conservatives got together to invent something that would hurt the image of the Homosexual Movement, they couldn't come up anything this "queer" (or this insensitive): 
And every year in San Francisco, at two homosexual-sadism-oriented "street fairs," men are allowed to walk around in the streets [WARNING: OFFENSIVE LINKS] fully naked (well, they do have shoes and socks on) — without fear of arrest. Some even engage in public sex acts  (see AFTAH photo at bottom): 
A strong ally of homosexual activists, Pelosi has been careful not to criticize the unprecedentedly perverse activities that go on in her hometown, America's "gay" Mecca. Pelosi through a spokesman even dismissed an opportunity to distance herself from this shockingly distasteful and disrespectful Folsom 2007 poster mocking da Vinci's Last Supper: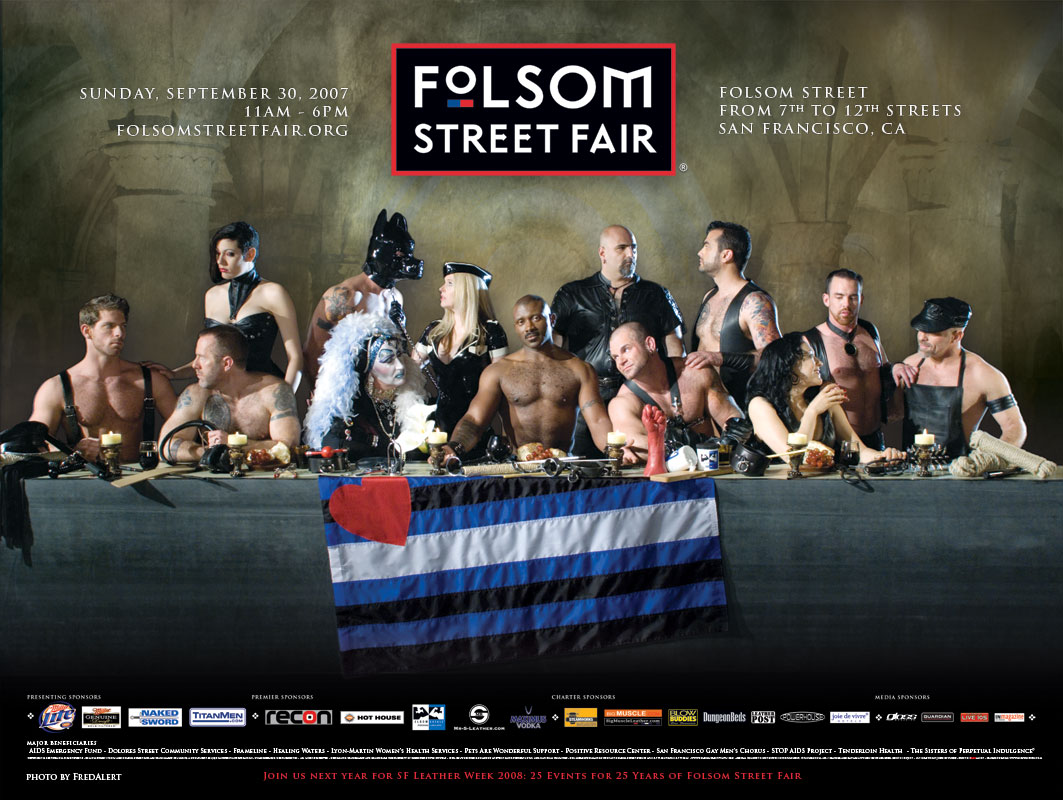 Maybe it's time for Nancy Pelosi to return home, study up on the Catholicism she publicly professes yet profanes [see Catholic teaching on homosexuality HERE and abortion HERE], and then try to clean up the reputation of her city. Of course, San Franciso Mayor Gavin Newsom and the city's supervisors have a bigger role than Pelosi in restoring decency and the rule of law to the city — and California Gov. Arnold Schwarzenegger could at least take measures to enforce anti-lewdness laws. But Pelosi could certainly use her waning yet significant influence to make healthy "change" in this debauched Sodom-by-the-Bay. 
Public sex: no big deal 
The photo below was taken by an Americans For Truth reporter who attended the (annual) Folsom Street Fair in San Francisco on Sunday, September 25, 2010. It confirms that public sex continues at the perverse "fair" despite pledges by fair organizers and the city to stop public nudity and open sex in the streets (following exposes by AFTAH and others in previous years).
In the (censored) center of the photo, a naked man is standing on the ground performing oral sex on another naked man, who is standing on the stage of a booth sponsored by 'Steamworks,' a local bathhouse (anonymous homosexual sex club). Behind him, another barely-clad man grabs the genitals of a fellow "fair"-goer at Folsom: 
This article was posted on Thursday, November 4th, 2010 at 8:47 pm and is filed under
Assaults
,
BDSM
,
Candidates & Elected Officials
,
Catholic general
,
Christian Persecution
,
Democrat Party
,
Extremism
,
Freedom Under Fire
,
Gay Activist Hate Against Christians
,
Gay Culture
,
Government Promotion
,
Homosexual Hate
,
Homosexual Meccas
,
Homosexual Pornography & Film Festivals
,
Homosexual Pride Parades & Festivals
,
Leather
,
News
,
ObamaCare
,
Promiscuity
,
Public Indecency
,
Public Sex in Your Neighborhood?
,
Redefining Morality
,
San Francisco
,
Sisters of Perpetual Indulgence
,
Sodomy
,
Too Much Tolerance
,
YouTube videos
. You can follow any updates to this article through the
RSS 2.0
feed.