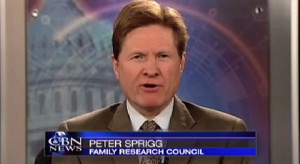 This is Part One of a three-part interview with Peter Sprigg [click HERE to listen], Senior Fellow for Policy Studies at the Family Research Council. This podcast was recorded June 14, 2012. Sprigg is the author of "Outrage: How Gay Activists and Liberal Judges Are Trashing Democracy to Redefine Marriage" (Regnery, 2004), and is co-editor of the FRC book "Getting It Straight: What the Research Shows about Homosexuality." The bulk of this interview deals with the new study on homosexual parenting" by University of Texas scholar Mark Regnerus, appearing in the journal Social Science Research (June 10, 2012). The study found dramatic differences between children raised in normal, mom-and-dad families and those raised in lesbian-led households. Sprigg is also on the Board of PFOX (Parents & Friends of Ex-Gays and Gays). Joining program host Peter LaBarbera of Americans For Truth is Pastor John Kirkwood of Grace Gospel Fellowship Church in Bensenville, IL.
HOW TO LISTEN: This is an mp3 file, supported in most operating systems by Windows Media Player, Quick Time and/or I-Tunes.  Real Player is not supported and there may be difficulty when attempting to listen with it.  Left click once on the link below to play. (Please be patient, depending upon the speed of your internet connection it may take a moment or two to load.)  OR right click the link then "save target as" to download the whole show.
6-14-12, Peter Sprigg, Part One
This article was posted on Friday, June 15th, 2012 at 11:24 am and is filed under
"Civil Unions" & "Gay Marriage"
,
"Civil Unions" & "Gay Marriage"
,
"Sexual Orientation"/"Gender Identity" and the Law
,
A - What does the Bible say about homosexuality?
,
Adoption & Foster Parenting
,
Americans for Truth Hour
,
Biblical Truth
,
C - Heroes for Truth
,
GLBTQ Targeting Youth and Schools
,
Homosexual Parenting
,
News
,
Political Correctness vs. Truth
,
Sodomy
,
The Bible, Churches, & Homosexuality
. You can follow any updates to this article through the
RSS 2.0
feed.