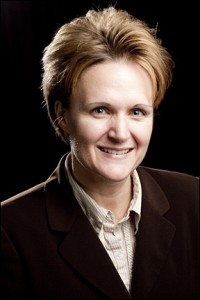 This is Part Two of our (second) in-depth interview with Prof. Rena Lindevaldsen [click HERE to listen], a professor at Liberty University School of Law and Associate Dean of the Liberty Center for Law and Policy. This interview was recorded July 26, 2012. AFTAH President Peter LaBarbera and co-host John Kirkwood discuss with Lindevaldsen the liberal metamorphosis of American law from being used to promote virtue to its present use to promote vice (including homosexuality). There is further discussion from last week's interview of the implications of an openly homosexual judge, Sophia Hall, presiding over case involving 25 homosexual couples challenging Illinois' law defining marriage as it is: between a man and a woman. Lindevaldsen reiterates that Judge Hall has a clear conflict of interest and should recuse herself from the case.
There is also a brief discussion of Sally Ride, the first female astronaut, whose passing away prompted some homosexual activists to stress that she was a lesbian. LaBarbera speculates that there will be an effort to teach about Ride as a homosexual "hero" in future "Gay History Month" celebrations — including in schools. He said that while Ride's groundbreaking achievements have earned her a place in history, her homosexuality should not be lauded nor made the focus of her life story. See Part One of AFTAH's interview with Prof. Lindevaldsen HERE.
HOW TO LISTEN: This is an mp3 file, supported in most operating systems by Windows Media Player, Quick Time and/or I-Tunes.  Real Player is not supported and there may be difficulty when attempting to listen with it.  Left click once on the link below to play. (Please be patient, depending upon the speed of your internet connection it may take a moment or two to load.)  OR right click the link then "save target as" to download the whole show.
7-26-12, Rena Lindevaldsen, Part Two
This article was posted on Friday, July 27th, 2012 at 10:49 am and is filed under
"Civil Unions" & "Gay Marriage"
,
"Civil Unions" & "Gay Marriage"
,
"Sexual Orientation"/"Gender Identity" and the Law
,
A - What does the Bible say about homosexuality?
,
Americans for Truth Hour
,
Biblical Truth
,
C - Heroes for Truth
,
Christian Colleges
,
News
,
The Bible, Churches, & Homosexuality
. You can follow any updates to this article through the
RSS 2.0
feed.