Coach notes rapid desensitization of Americans toward homosexuality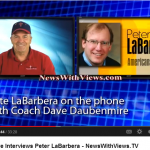 Folks, Coach Dave Daubenmire of Pass the Salt Ministries is one of a kind. It was a pleasure to be interviewed by the Coach — a man's man whose old-fashioned moral frankness may be out of step with today's culture but is so much more refreshing than the pablum coming from some "Christians" and "conservatives" these days. I love Coach's point — as politically incorrect as it is true — at around the 22:25 mark regarding what parents fear most. Also note:
Coach's comments on TIME magazine's indecent "gay kiss" cover and what it says about desensitization in the USA (10:30);
my comments on Larry Kramer and "gay" men who look back "fondly" on their own molestation (27:35); and
the section on the sinister pro-pedophilia "B4UAct" website ("NAMBLA with a PhD"), which mimics homosexual activist talking points to advance the agenda of the "Minor Attracted People" movement.
Give me just 100 pastors like Coach Daubenmire scattered across America and you wouldn't recognize this nation! Please support the Coach and his ministry. — Peter LaBarbera, AFTAH
PS. Let me anticipate a homosexual activist criticism of my comments — which of course will be distorted — around the 14:00-15:00 minute mark. I am not "reassured" (14:40) that homosexual men contract so many diseases related to their perversion, in the sense of taking some sort of heartless satisfaction from their suffering. Rather, I am reassured that Nature and the practical realities of the homosexual lifestyle affirm God's revealed truth about this sin. As I say in the interview, "The real world is backing up what the Bible says about homosexuality." This should further motivate Christians to lovingly share God's free gift of salvation through Jesus Christ to people caught up in homosexual behavior. More information follows the interview….
This interview was published by NewsWithViews.TV on Apr 11, 2013. Coach writes:
"Peter LaBarbera of www.AmericansForTruth.org joins Coach Dave for an in-depth discussion of the homosexual agenda and how 'marriage' is just their latest assault on traditional values. Listen to this riveting, no-holds-barred discussion."
To listen on Coach Dave's YouTube channel, go here: http://youtu.be/aAXYzgdhEvU
This article was posted on Tuesday, April 16th, 2013 at 10:23 pm and is filed under
"Civil Unions" & "Gay Marriage"
,
"Civil Unions" & "Gay Marriage"
,
A - What does the Bible say about homosexuality?
,
B - Ex-Homosexual Testimonies
,
Biblical Truth
,
News
,
Pedophilia/Pederasty
,
Political Correctness vs. Truth
,
The Bible, Churches, & Homosexuality
,
Transgender-General
. You can follow any updates to this article through the
RSS 2.0
feed.