Bashing Jesus and Christians is fair game but Islam goes untouched by profane homosexual "Sisters of Perpetual Indulgence"
"How long will the wicked, O LORD, how long with the wicked be jubilant?"—Psalm 94:3
WARNING: VULGAR & OFFENSIVE LANGUAGE
Here are two short videos (under two minutes) and some photos covering Easter Sunday's uber-blasphemous "Hunky Jesus Contest" 2014 in San Francisco [watch on YouTube HERE]. The annual Resurrection-mocking event is sponsored by the San Francisco-based "charity," Sisters of Perpetual Indulgence. [See previous AFTAH coverage of  the "Sisters'" "Hunky Jesus" contest HERE.]
The "Sisters"–who are popular in the homosexual Mecca by the Bay and raise money for mostly homosexual- and transgender-related causes–are a bunch of (mainly) homosexual men who dress up in drag and paint their faces to appear as deviant "nuns." As such, they mock the Catholic Church specifically and Christianity in general. Their urban popularity testifies to the godlessness, insensitivity, bigotry, and immaturity of snarky modern "progressives"–who strangely view themselves as more sophisticated than the rest of America.
The "Sisters"–spouting perverse names like "Sister Tillie Swallows" –get it? "'Till He Swallows": an allusion to homosexual oral sex–are now 35 years old [see their "Sistory" HERE], with "orders" in various other cities like Los Angeles and Boston.
Psalm 94:3 gives me comfort, because I know that God is just. Imagine that all these lost people who mock the resurrected Son of God on the most important date on the Christian calendar will have to answer directly to Him some day! I hope some of the "Sisters" and their fans grow up, repent, and see that Jesus Christ and the Resurrection are real, rather than fodder for raunchy "gay" double entendres. –Peter LaBarbera, Americans For Truth
P.S. My tweet about how we'll never see a "Hunky Muhammed Contest" follows the video, and under that (after the jump)  is another short video of Hunky Jesus 2014:
My tweet April  23: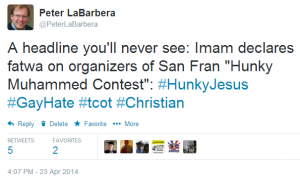 This second YouTube video captures the vulgar and twisted nature of the event and also the large crowds that show up for it every Easter in San Francisco:
This article was posted on Friday, April 25th, 2014 at 12:22 pm and is filed under
04 - Gender Confusion (Transgender)
,
Gay Activist Hypocrisy
,
Homosexual Hate
,
Homosexual Pride Parades & Festivals
,
Hunky Jesus Conteste
,
News
,
Paganism
,
Sisters of Perpetual Indulgence
,
YouTube videos
. You can follow any updates to this article through the
RSS 2.0
feed.