AFTAH Exclusive: Perversion "museum" — part of Chicago's "gay community" — sits near three schools and a day-care center; houses BDSM works eroticizing adult sadistic sex with minors
WARNING: Some stories about the homosexual movement are so grotesquely perverse that they are difficult to report. This article by necessity describes some deeply disturbing sexual "fetishes" involving homosexual adult sadistic sex with children and teenagers–and vile, unnatural acts like "fisting" practiced for decades by by sadomasochistic homosexual "leathermen." One book cover below contains an obscenity, another a highly offensive image. Keep in mind that the "Leather Archives & Museum" in Chicago that houses and celebrates these depraved works is located in the middle of a residential neighborhood within a short distance of three public schools and a day-care center. 
"[S]landerers, God-haters, insolent, arrogant and boastful; they invent ways of doing evil…." (Romans 1:30, NIV)
PART ONE
TAKE ACTION: Download the AFTAH PDF flier alerting residents to this "Perversion Museum," the Leather Archives & Museum, at 6418 N. Greenview Ave., near Devon Ave., in the Rogers Park neighborhood of Chicago. [Click HERE for flier.] Contact the Chicago Alderman in whose ward the "Leather Archives" sits, Ald. Pat O'Connor: 312-744-6858; e-mail: [email protected].
________________________
"The wicked strut about on every side when vileness is exalted among the sons of men." (Psalm 12:8; NASB)
By Peter LaBarbera; Twitter: @PeterLaBarbera
If you need convincing that the homosexual (LGBTQ) movement is about immoral, unnatural behaviors rather than innate "identities" and "civil rights," keep reading this article.
Chicago's Leather Archives & Museum–a de facto "museum" of mostly homosexual sadomasochistic perversions–contains numerous works that eroticize adult sex with underage children–including man-boy sodomies and parent-child incest, AFTAH has learned. One book even offers advice from NAMBLA, the notorious North American Man/Boy Love Association, for adult "gay" men on how not to get entrapped by police in their "boy-love" pursuits.
The "museum" sits in the middle of a residential neighborhood in the heavily homosexual north side Chicago neighborhood of Rogers Park–within a half mile of three public schools (two elementary schools and a high school), as Americans For Truth previously reported. [See AFTAH's PDF flier, which we distributed last week alerting residents to this perverse establishment.] There is also a day-care center nearby and young children evidently in its care are walked by the Leather "Museum" as part of their daily activities (see photo above).
The homosexual "leather" world is so hellishly twisted and perverse that it is difficult to research and describe it without corrupting minds and souls. I venture to say that the uber-deviant fetish depravities honored and carefully documented by this "museum"–celebrating "fisting," "watersports," body-punishing "sex play," masters-and-slaves, etc.–are simply inconceivable to the average human being. However, as depraved as BDSM (mostly homosexuals "Bondage & Discipline, Dominance & Submission, Sadism & Masochism) acts between consenting adults are, their wickedness and horror are magnified exponentially when involving children. In this case, that includes fictionalized pornographic fantasies glorifying adult sexual domination of minors, as in "Macho Sluts" –a work this writer saw on display when I toured the "museum" several years ago. The younger the child, the greater the evil.
Because AFTAH has been tracking the homosexual movement with its "leather" subculture for many years, we had some knowledge about the depraved and disturbing works possessed and made available by this "museum." The mostly "gay" BDSM "erotica" opens a window into the history of modern homosexuality and its overlap with pedophilia and ephebophilia (adults who pursue sex with adolescents)–as well as other extreme behaviors once dubbed, in saner times, as anti-social and deviant. Ironically, the "leather" archivists and other homosexual historians have helped preserve and document this creepy, predatory reality of "gay history"–and LGBT perversions in general–for the wider public.
"Chicken" and chicken hawks
So pervasive is adult homosexual male lust for teenage boys that–through "gay liberation"–it earned its own slang category: "chicken" is "gay" slang for highly desired teen boys and "chick hawks" their adult sexual pursuers. (Boy Scouts of America: beware.) AFTAH will post future articles on the sickening and outrageous "gay" phenomenon that dehumanizes boys as "chicken" to be sexually devoured.
The following are brief descriptions of a sampling of selections from the Leather Archives & Museum; the items are available for perusal to patrons of the museum's library. I apologize in advance for describing such awful deviance but it is our role to document and shed light on behaviors that are not only tolerated but honored, as it were, in the larger homosexual "community." More will follow in future pieces:
_________________________
PEDOPHILE PORN: "Macho Sluts": Lesbian Mom Sexually Torments and Beats Young Daughter in BDSM scene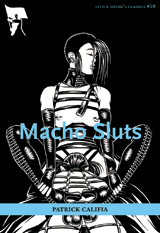 This book of lesbian S&M fantasies is the twisted creation of prolific, self-styled "sex-radical pornographer" and BDSM enthusiast Pat Califia, who became "Patrick Califia" after becoming a "transman" (female-to-male transsexual). "Macho Sluts" intentional pushes the envelope to promote sadomasochism of the sort practiced by homosexual "leathermen" to lesbians. In one story of the book, "The Finishing School," a mother in her "early forties" sexually tortures and beats her pubescent daughter, Clarissa, who, it turns out, is also her sex slave. The mother, Berenice, shackles up her daughter for a BDSM scene and berates her, as is the practice of sadistic "masters" humiliating their "slaves." After being manipulated by various means into a state of sexually excitement, Clarissa begs to be manually penetrated by her mother. Instead Berenice beats her child's bottom with a yellow cane to the point of causing welts and bleeding–which,  in this wicked tale, makes Clarissa proud and happy. The sadistic mom also is the dominant "master" over her sister Elise (Clarissa's aunt), another love "slave."
An introduction celebrating the salacious "Macho Sluts" is written by University of Southern Maine professor Wendy Chapkis (USM page HERE). "Nowhere in this collection does anyone sacrifice their own pleasure for another," writes Chapkis. Indeed. The professor writes that she could "barely get through" the "The Finishing School"–not because of the of pedophilic, incestuous exploitation and child molestation in the story–she is no prude!–but because of "my preference for sci-fi over Victorian school-girl fantasies." For such grotesquely reckless judgment in championing Califia's book with its pedophile porn, this professor should not be allowed to work among young adults or children.
Incredibly, Califia has the gall to complain about "bullying" in her ("he" is a biological female) own foreword to the 2009 re-published edition of "Macho Sluts" by Arsenal Pulp Press. (See Califia's political correct listing in the Left-biased Wikipedia HERE.) Note that the very first newsletter published in 1993 by "The Lambda Report," the forerunner to Americans For Truth About Homosexuality," exposed the original publisher of "Macho Sluts," Alyson Publications, as a purveyor of pro-pedophilia advocacy. The now-defunct Alyson published several other books containing pro-pedophile themes, including one almanac listing NAMBLA as a resource group, and another titled "The Age Taboo." [See original AFTAH story HERE.]
_________________________.
"Gay Sex" manual gives advice from NAMBLA for "boy-lovers" on how not to get caught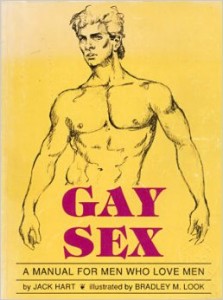 One of the books published by Alyson Publications is "Gay Sex: A Manual for Men who Love Men," by Jack Hart. In its first edition, which is found in the "Leather Archives" library, this very graphic "gay sex" guide contains a section on "Pedophilia." It offers seven "suggestions" from "a member of NAMBLA (the North American Man/Boy Love Association" on how to "minimize the risk" for men who want to have sex with boys–including hiding the relationship and not taking any photos together with the boy! Here are the seven NAMBLA tips for "boy-lovers"–and following that photos of the "Pedophilia" section:
Verbatim passage from page 122-123 section on "Pedophilia" in "Gay Sex: A Manual for Men who Love Men" (Alyson Publications, 1991, first printing); text bolded by AFTAH:
"Precautions: For men who are involved with partners under the legal age of consent, a member of NAMBLA (the North American Man/Boy Love Association) offers some suggestions to minimize the risk:

Ethical as well as legal considerations dictate that you carefully establish the wishes of your partner. Do not push him to become more involved than he wants to be.

Don't unnecessarily share information about your relationship, including the identity of your lover, with anyone.
Don't take photos of him, even in non-sexual situations. Such photos simply provide fuel for police and ambitious D.A.'s [District Attorneys].
Don't record your experiences in a diary, letters, or in any other written form.
Avoid situations where a number of men have sex with the same boy, or group of boys, over a period of time.
A young partner may be uninformed about AIDS prevention, and he probably trusts you to protect him. It's your responsibility to engage only in safer sex.
Be especially cautious about swapping photos by mail, or putting information of any sort onto computer bulletin boards. These are often monitored by police, and it's easy to become trapped in a situation with strong evidence against you.

"This may seem like a daunting list of don'ts. But many men today are languishing in prison simply because they had sex with a willing partner who was under the age of consent." [The excerpt goes on and urges those so inclined to…

"…form friendships with other man/boy-lovers and join organizations like NAMBLA. You can form non-sexual relationships with boys, although this option isn't without risk: An irate and suspicious parent could easily cause trouble."
We have reproduced the entire section in "Gay Sex" on "Pedophilia" in two photos below (orange emphasis added):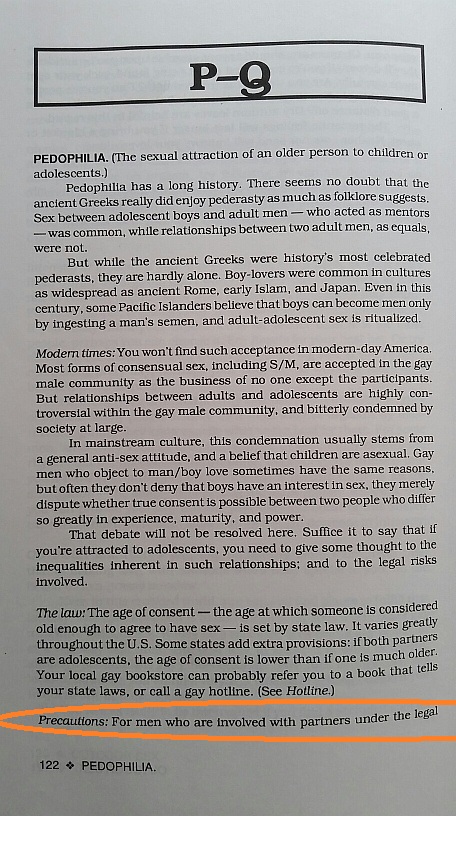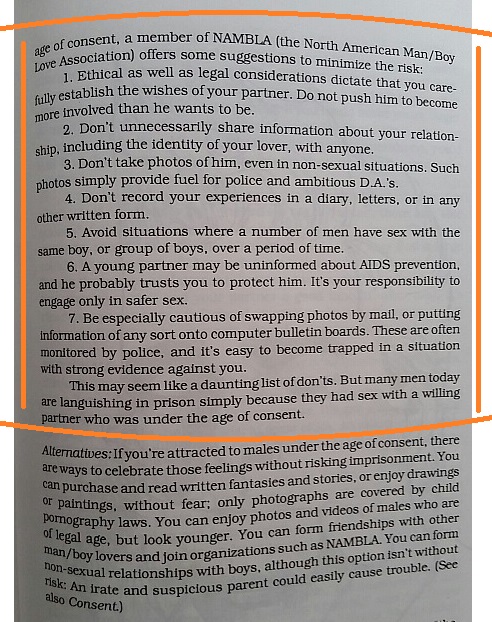 Here is the entry in the "Leather Archives'" online library for the "Gay Sex" book by Jack Hart–with its advice for "boy-lovers" from NAMBLA on how not to get caught by the police (click to enlarge):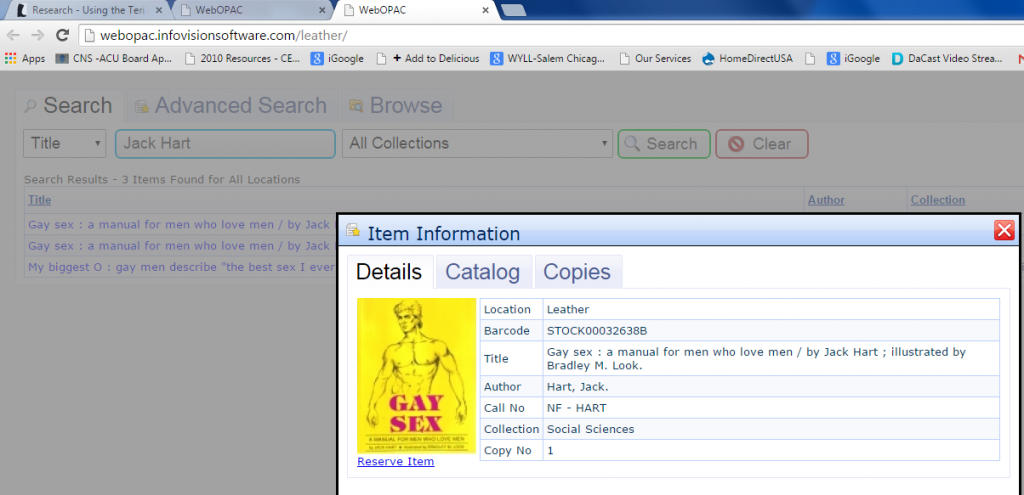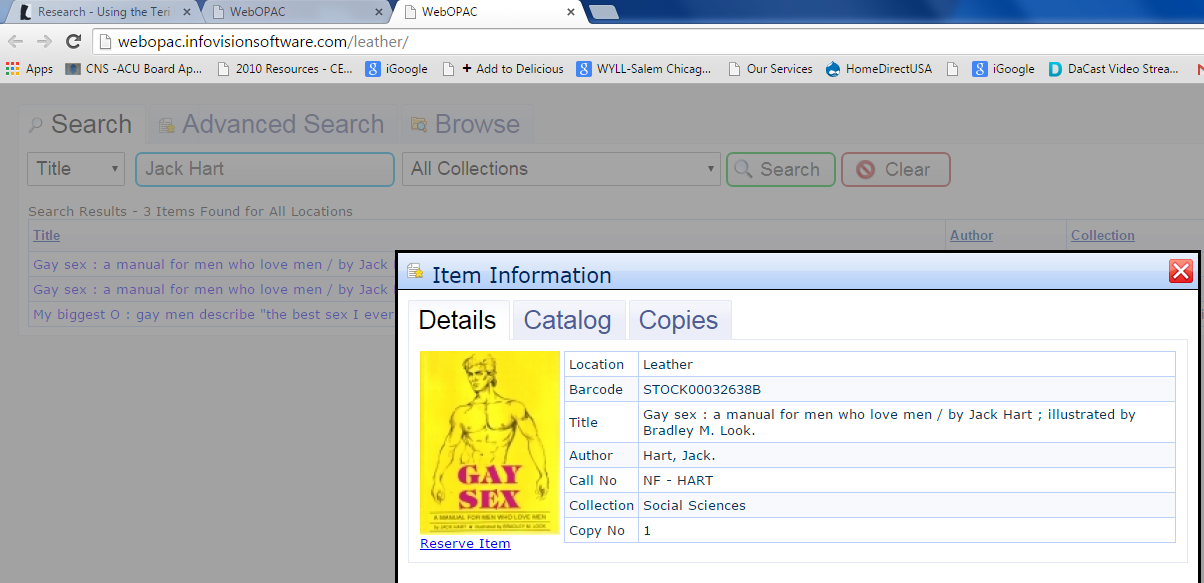 _________________________
 "Fisting" Manual includes "chicken" porn story in which man "fists" teenage boy
Anal fisting —  hand/arm-anal "sodomy" — is a product of the modern "gay" revolution, in which the "leather" subculture, with its anything-goes "sexuality," played a key role. As this article in a San Francisco homosexual newspaper Bay Area Reporter states…
"Today's [homosexual] community also might not realize how prominent the leather community was in decades past. Leather men were perhaps the first group of gay men who publicly celebrated their sexuality without shame….
The leather act of anal "fisting" manual shown at right is one of the many items celebrating the grotesque BDSM practice — — available in the Leather Archives & Museum. It is part "how-to" on fisting — a revolting BDSM fetish brought to the world by homosexual "leathermen" in which a man inserts his hand and forearm into the rectum and lower colon of another man — and part pornographic stories featuring the notorious act. (Note: a lesbian/heterosexual version has one partner inserting their hand and forearm into the vagina of their partner.) One of the manual's "fisting porn" stories involves a teen boy ("chicken") who is penetrated by an adult "leatherman."
Under the heading "CHICKEN IN THE BASKET," the pornographic tale is about a boy, Allen, who "looked about 16-17 and had one of those hairless bodies with tight skin that seemed to pull itself taut around well defined muscles." The boy meets older leatherman Chet at a bathhouse and the man takes him back to his apartment for a sexual romp that includes "fisting" the boy. To describe the sickening fantasy as "debauched" would be an understatement, but it is interesting that poppers–an inhalant that relaxes the muscles–is necessary to accomplish the vile act.
"Fisting" Dangers
In the booklet, on page 4, a warning on the perils of "fisting" appears under the headline "DANGERS"–just before an appeal to use "common sense" (!). Below is an excerpt. Note the description of the human body–clearly not designed for outside penetration by fist, penis, or "sex toy" (as any normal guy who has had a physical can testify). It is incredible and a testament to human depravity that men (or women) engage in this wicked act. Again, we apologize for the grossness [link added]:
When your hand is up a butt, you can cause an irreparable amount of damage without his being aware of it. There is no sensation of pain past the anal opening. During surgery anesthetic is needed only to get into the bowels. Once there a doctor can do whatever he likes without anesthetic. The intestinal walls are very thin and can be compared to wet tissue paper. The penetration won't cause pain at the time of injury. It will take about two hours before enough bleeding builds up to cause severe abdominal cramps. By that time the condition is critical and the chances of peritonitis setting in is about 85%, and even in our age of medical miracles, 10% of all peritonitis cases are fatal…..
Also, see this case in the 2012 Journal of Surgical Case Reports paper about a surgical healing from a homosexual "fisting" mishap; from the abstract:
"Bowel perforation can be potentially fatal. We describe the case of a 42-year-old male who presented with severe abdominal pain following anal fisting. Clinical examination revealed tenderness of the complete abdomen with signs of peritonism."
Side note: dangerous, extreme and reckless sexual misbehavior has its consequences: lots of bizarre "accidents." Several times over the years, I have been regaled by hospital workers, mostly retired, telling Emergency Room horror stories about various extraneous objects that were jammed in the posteriors of "gay" men as a result of anal "sex toy" romps gone bad. These required the attention of doctors to be carefully removed. Once a retired nurse easily in her 70s approached me after I gave a speech in Wheaton, Illinois, and casually began to inform me–in that matter-of-fact way of nurses who have seen it all–of all the odd items that she had witnessed being removed from men's rectums.
_________________________
Turning men into urinals: the homosexual BDSM "Watersports" perversion
Deviance begets deviance, and twisted "fetishes" develop a network of enthusiasts who use the web to organize around their perversions–no matter how extreme. I purchased this "watersports" porn book "Soaked" shown at right as evidence when I visited the Chicago "Leather Archives" several years ago.* This is yet another–in my opinion, Satanic–"fetish" that BDSM enthusiasts (some would say perverts) began practicing years ago in the name of "gay liberation."
AFTAH has covered and helped close down homosexual BDSM "pig sex" parties that cater to BDSM perversions.
Homosexual activists will respond to this article by asserting that extreme behaviors like "watersports": 1) are only at the fringe of the "gay" world; and 2) are also practiced by heterosexuals, so why single out homosexuals?
Regarding Objection Number 1: Nobody is saying all or even most homosexual men are into this revolting fetish or others like "fisting"–but the fact that "leather" bars, homosexual bathhouses and sex clubs (such as "Blow Buddies" in San Francisco) cater to such bizarre fetishes shows they do have a following. For example, "Blow Buddies" hosts a monthly "Golden Shower Buddies" event for men into this urination perversion. Moreover, homosexual "leathermen" played a key role in "gay liberation" and increasingly their "leather pride" flag flies in homosexual "pride" parades and in "gay" Meccas like San Francisco.
"Soaked" author and homosexual BDSM author Joseph Bean, made this observation on the growing acceptance and popularity of the "watersports" perversion among homosexual men–comparing 2004, when his book was published, to the 1980's. From a Christian perspective, this passage also illustrates the seemingly endless capacity for men (and women) given over to sin to embrace deeper and deeper levels of depravity. Bean writes:
[H]ere…is what I wrote back in the 1980s: Unattractive as some people may find it, piss is hot stuff to a lot of guys. Even so, piss play or watersports is one of those things, even one of those words, that embarrasses people. Why? What is so embarrassing about wanting to see, play in, drink, or be 'humiliated' with piss in a subculture that accepts all kind of variations on oral sex, rimming and boot licking so much more easily?"

[Bean writing in 2004:] "Times change. Way back when, no one seemed to doubt that rimming [oral-anal 'sex'] and boot licking were great fun, nor to imagine much danger in them. Piss seemed an unbreakable taboo. Now, after a couple of decades of AIDS and open discussion about wet sex [urination fetish] and safer sex, the tables have turned. Piss is everywhere (always was, naturally) and people don't seem all that freaked out by it."
Regarding Objection Number 2: AFTAH focuses on homosexuality, but we of course oppose BDSM and other perversions–including anal sodomy–when practiced by heterosexuals. Sadly, homosexual advocates like sex writer Dan Savage (who has attended the annual "Mr. Leather" event in Chicago) are working to "mainstream" such extreme behaviors in the heterosexual world. Naturally, movies like "50 Shades of Grey" thrill homosexual activists, who love it when unnatural deviancies like sadomasochism and "watersports" grow in popularity among "straights," but this has no bearing on the gross immorality of such behaviors.
The writer contacted the ward office of Ald. Pat O'Connor to alert them to the presence of the "Leather Museum" and its pedophilic holdings. Staffer Jennifer Dill was unaware of the gross contents of the "museum," but said that it is properly licensed in the City of Chicago.
TAKE ACTION: Download the AFTAH PDF flier alerting residents to this "Perversion Museum," the Leather Archives & Museum, at 6418 N. Greenview Ave., near Devon Ave., in the Rogers Park neighborhood of Chicago. [Click HERE for flier.] Contact the Chicago Alderman in whose ward the "Leather Archives" sits, Ald. Pat O'Connor: 312-744-6858; e-mail: [email protected].
Stay tuned for further articles on Chicago's very own "perversion museum" and the support for it in the city.
____________________
*The writer went as a pro-family reporter and as a critic–and has zero prurient interest in anything homosexual or BDSM, contrary to the vicious assertions of homosexual activists trying to "kill the messenger."