Catholic Action League condemns decision; girls school undermined its own religious liberty with "sexual orientation" nondiscrimination hiring policy
"[D]iscrimination against those in same-sex marriages is discrimination on the basis of sexual orientation. While the religious nature of the employer does bear upon other issues…., it does not lessen the impact of such discrimination or the interest in eliminating it. The Commonwealth's interest in eliminating sexual orientation discrimination in employment remains compelling."–Associate Justice Douglas Wilkins, Matthew Barrett v. Fontbonne Academy, Dec. 16, 2015
Folks, we will have more on this devastating decision by Massachusetts Superior Court Associate Justice Douglas Wilkins–the latest court defeat for religious liberty in the ongoing battle between freedom of conscience and so-called "gay rights." A Catholic girls preparatory school, Fontbonne Academy, in Milton, Mass., is sponsored by teh Congregation of the Sisters of Saint Joseph of Boston.
I have read the decision and it turns out that Fontbonne Academy hurt its own case by having a published policy of "sexual orientation" nondiscrimination regarding employment. That made it easier for the judge–who cites it twice–to diminish the school's religious mission, i.e., its assertion that having a homosexually "married" staffer undermines its Catholic teaching. The judge probably would have ruled against Fontbonne anyway; regardless, no religious or moral institution should ever have a pro-homosexual hiring code, as it grants the premise that homosexuality (a moral issue) is akin neutral nondiscrimination criteria that are unchangeable, such as race and ethnicity.
Following the Catholic Action League of Massachusetts release below we have reprinted one by the homosexual activist group GLAD (Gay & Lesbian Advocates & Defenders), which defended Barrett. — Peter LaBarbera, AFTAH
___________________________
NEWS RELEASE, Catholic Action League
December 17, 2015
Contact: C. J. DOYLE
(617)524-6309
catholicactionleague@gmail.com
CATHOLIC ACTION LEAGUE CONDEMNS DECISION
IN BARRETT V. FONTBONNE ACADEMY
The Catholic Action League of Massachusetts today condemned the decision of Norfolk County Superior Court Justice Douglas H. Wilkins in Barrett v. Fontbonne Academy, which granted summary judgment to a homosexual man who sued the Catholic school — administered by the Congregation of the Sisters of Saint Joseph of Boston — after it reversed a decision to hire him upon learning that he had contracted a civilly recognized marriage with another man.
In June, 2013, Matthew Barrett of Dorchester applied for the position of Food Services Director at Fontbonne Academy in Milton. On July 9, 2013, following an interview during which Barrett responded affirmatively to a question about his support for the principle that all employees of the Catholic school should be "ministers of the mission," Barrett was offered and accepted the position for which he had applied.
Later that same day, Barrett completed a new hire form in which he listed his civil husband as an emergency contact. On July 12, 2013, Barrett was informed that he could not be hired because his homosexual relationship was incompatible with the teachings of the Roman Catholic Church.
Barrett, represented by the Gay and Lesbian Advocates and Defenders (GLAAD), brought suit against Fontbonne Academy, alleging discrimination in employment.
In finding for Barrett, Judge Wilkins — a Governor Deval Patrick appointee who served as First Assistant Attorney General under Attorney General L. Scott Harshbarger — ruled that the Catholic school violated Massachusetts anti-discrimination law, was not exempt as a religious institution from that law, and enjoyed no constitutional protections in this matter.
The Catholic Action League called Judge Wilkins decision "a frontal assault on religious freedom, an appalling subordination of the First Amendment to the Massachusetts gay rights law, and a victory by homosexual activists in their campaign to coerce Christians into compliance with same sex marriage."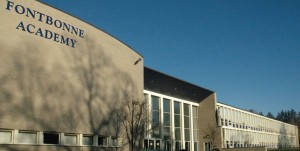 Catholic Action League Executive Director C. J. Doyle made the following comment:
"Religious liberty is guaranteed not only by the Free Exercise clause of the First Amendment to the U.S. Constitution, but even more broadly, by Article II of the Declaration of Rights of the Massachusetts Constitution. Religious freedom consists not merely of the right to worship, but of the right of religious institutions to govern their internal affairs free of state interference."
"Judge Wilkins's decision would compel Catholic institutions to hire those who reject and despise Catholic teaching, fatally impairing the constitutionally protected right of those institutions to carry on their mission. This is precisely the sort of 'excessive entanglement' of government with religion decried and prohibited by the U.S. Supreme Court in Lemon v. Kurtzman."
"The judge's ruling does underscore two facts — the charade-like character of the religious exemption to the 1989 Bay State gay rights law, which we warned against at the time, and the prophetic nature of the dissenting opinion of Justice Clarence Thomas in Obergefell, which held that same-gender marriage will have 'potentially ruinous consequences for religious liberty.'"
______________________________
The following is GLAD's press release on Wilkins' decision:
MA Court Rules against Catholic High School that Rescinded Job Offer to Married Gay Man
In a first-of-its-kind decision, a Massachusetts Superior Court judge has ruled that Fontbonne Academy, a Catholic girls' high school, discriminated against Matthew Barrett on the basis of sexual orientation and sex when it rescinded its offer of the job of food services manager to him because he is married to another man. The court ruled that Fontbonne had clearly and directly violated the Massachusetts nondiscrimination law; was not exempt from the law; and had no constitutional defenses against its discriminatory conduct. The decision can be read here.
The case, Barrett v. Fontbonne Academy, brought by Gay & Lesbian Advocates & Defenders (GLAD), seeks to enforce the nondiscrimination laws that are vitally important to our civil society and to push back against attempts by religiously-affiliated institutions to expand their ability to free themselves from the obligations of the nondiscrimination laws.
"Religiously-affiliated organizations do not get a free pass to discriminate against gay and lesbian people," said Bennett Klein, GLAD Senior Attorney. "When Fontbonne fired Matt from a job that has nothing to do with religion, and simply because he is married, they came down on the wrong side of the law."
"I'm ecstatic," said Barrett. "What happened to me was wrong, and I truly hope it doesn't happen to anyone else."
In rejecting Fontbonne's constitutional claims asserting rights of free exercise of religion and expressive association, Associate Justice Douglas H. Wilkins wrote, "The state has a compelling interest in prohibiting discrimination against historically disadvantaged people," citing cases from the U.S. Supreme Court addressing race and sex discrimination. He continued, "That interest is rarely stronger than in the employment context…"
Barrett was born and raised in a Catholic family. He has worked in the food services industry for 20 years, and lives in Dorchester with his husband Ed Suplee.
The next step in the case will be a hearing on damages.
In addition to Klein, Barrett is represented by GLAD attorney Gary Buseck and GLAD's founder, John Ward.
________________________________________________________
Once nearly eliminated, syphilis is coming back — 83% of cases in 2014 linked to men who sodomize other men
Americans For Truth About Homosexuality (AFTAH) needs your help to break through the media's radically-biased "cheerleading" coverage of the homosexual-bisexual-transgender movement. We are working on several projects that will pull together the massive amount of public information documenting the extreme health risks of homosexual lifestyles: disproportionate STDs; domestic violence; "hook-up sex murders"; extreme and unnatural practices; "gay" über-promiscuity; unstable relationships; mental health issues; and heavy drug and alcohol use.

The U.S. Centers for Disease Control and Prevention (CDC) reports:
"Most cases are among MSM [men who have sex with men]. In 2014, 83% of the reported male P&S [primary and secondary] syphilis cases where sex of sex partner was known were among gay, bisexual, and other men who have sex with men."
Break Through Liberal Media Censorship: Please help AFTAH reach our goal of raising $10,000 for this project. Give safely online HERE or send you check or money order to: AFTAH, PO Box 5522, Naperville, IL 60567-5522. (There is also an option online for monthly giving.) All gifts of $25 or more will receive a free book — your choice of:
___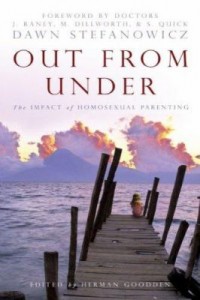 "Homosexuality: A Freedom Too Far: A Psychoanalyst Answers 1,000 Questions about Causes and Cure and the Impact of the Gay Rights Movement on American Society," by the late psychiatrist Dr. Charles Socarides (who led the fight against the "normalization" of homosexuality by the American Psychiatric Association; OR
___"Out from Under: The Impact of Homosexual Parenting," by Dawn Stephanowicz, telling the harrowing story of growing up with a promiscuous homosexual man as her father; OR
___"Can You Be Gay and Christian: Responding with Love & Truth to Questions About Homosexuality," by Dr. Michael Brown, a wonderful book that exposes the myth of "gay Christianity" with great compassion and an abundance of facts and useful Bible analysis.
Please notify us as to which book you would like to receive with your donation to AFTAH of $25 or more. Bulk discounts of these and other pro-family books are also available. For more information, contact Brad Wallace at 312-324-3787 or write him at connops@yahoo.com. Thank you!