Hotels now openly host vile homosexual sadomasochistic events; "Fisting A to Z" workshop features "hands-in" demonstration–in conference room; CLAW "charity" funds LGBT groups
WARNING: Graphic descriptions and revolting photos of horrifying homosexual perversions–after page jump. Not for children. 
 "A good man will be ashamed to speak of what many wicked men are not ashamed to do."—Matthew Henry's Concise Commentary on the New Testament Book of Ephesians, Chapter 5:3-14
__________________________________
TAKE ACTION: Contact the Holiday Inn-Cleveland So (216-524-8050); ask for Gen. Manager Tom Moore. Call Holiday Inn's parent company, International Hotel Group, at 800-621-0555. Also contact the Embassy Suites-Rockside hotel at 216-986-9900. [Embassy Suites is owned by Hilton: call them 800-362-2779; online form HERE]. Lastly, contact the Westin Cleveland Downtown — the host of next year's (2017) CLAW leather convention: phone: 216-771-7700; ask for Gen. Manager Bob Megazzini].
__________________________________
By Peter LaBarbera, AFTAH exclusive
Summary: Part One:
Two Cleveland hotels, Holiday Inn Cleveland-South and Embassy Suites, both in Independence, OH, jointly sponsor homosexual "leather weekend" conference called CLAW. Holiday Inn also hosted the deviance celebration last year;
CLAW rented the entire Holiday Inn hotel, for three days, April 28-May 1–even closing the bar and restaurant (like the rest of the hotel) to the public for this private perversion-fest;
CLAW celebrates the most extreme and vile sexual behaviors invented by sinful men–including Fisting, Rimming, Scat, Watersports (involving urine), Master-Slave "relationships," and a twisted "Puppy" fetish in which men become human "dogs" for their "masters." This is sexual anarchy and as sick and satanic as it gets;
One CLAW workshop, "Fisting A to Z," instructs homosexual men on how to "fist"–a bizarre and dangerous sadomasochistic perversion in which a man inserts his hand and forearm into the rectum and lower colon of his fisting partner [see below];
The "fisting" workshop advertised a "hands-in" demonstration–i.e., the disgusting act apparently was performed in the Holiday Inn conference room advertised for the session [see below];
CLAW, like other homosexual male "leather" conventions, features deviant-sex orgies–and apparently not just in hotel rooms–which the poor maids are forced to clean up;
Another CLAW workshop, titled "Down in the Brown," was about the "scat" fetish–essentially eroticizing poop (feces). It was held in the Embassy Suites Con 1 meeting room [see below]
The non-profit CLAW calls itself a "charity" and raises money for homosexual activist groups like GLSEN, PFLAG and Equality Ohio.
Next year's CLAW is advertised as being held at the Westin Cleveland Downtown [Phone: 216-771-7700; ask for Gen. Manager Bob Megazzini]
______________________________________
One of the features of post-Sexual Revolution and LGBT-friendly America is that the most vile misbehaviors invented by mankind increasingly are committed out in the open–with the full cooperation of corporations, which profit off of the organized perversion. Apparently no deviant behavior act or group is too vile not to be accommodated by big businesses in sexually "liberated" America.
Such was the case in Cleveland over the weekend, where an event featuring the most heinous deviant sex-fetishes ever conceived–including "fisting"–was not only hosted but sponsored by the Holiday Inn Cleveland South, in Independence, Ohio. The annual event is called CLAW: Cleveland Leather Annual Weekend–and it drew mostly homosexual "leathermen" from across the country and beyond. (The same Holiday Inn hotel sponsored last year's CLAW, drawing around 1,500, according to organizers.)
CLAW organizers rented the entire Holiday Inn hotel–with 363 rooms–closing it to the public for three days. The event was co-hosted by the nearby Embassy Suites Cleveland-Rockside. These hotels allowed some of their meeting rooms and (I suspect) pools to become orgy spaces—-as the above graphic for the CLAW 2016 "Fisting A-Z" class held in a Holiday Inn conference room above shows. ("Fisting" is a bizarre fetish invented by homosexual men in which a man inserts his hand and forearm into the rectum and lower colon of his "partner."
The "Fisting A to Z" class advertised a "hands-in" (as opposed to a "hands on") demo (demonstration), held in the Hercules 277 meeting room at the Holiday Inn Cleveland South. Here is the "class" description:
Fisting A to Z

In addition to covering the basics of a fisting session and fisting play parties, we will cover as many letters of the alphabet as time allows — Anatomy, Breathing, Cleaning, Dildos, Eating and so forth.

And we will have a hands-in demo.
The CLAW "leather weekend" is one of several homosexual BDSM (Bondage & Discipline, Dominance & Submission, Sadism & Masochism) events of a similar nature across the country. Every Memorial Day weekend homosexual "leathermen" and "bears" (older, larger, hairy homosexual men–yes, they have their own "pride" flag) descend on a swank hotel in Chicago–this year the Congress Plaza Hotel–for "International Mr. Leather"–also taking over entire hotels for their perverse goings-on. [See AFTAH story on IML 2007.]
Like the anti-Christian, nun-mocking "Sisters of Perpetual Indulgence," CLAW bills itself as a charity, and the annual CLAW event has raised hundreds of thousands of dollars for a variety of groups, including homosexual activist organizations like GLSEN (Gay Lesbian Straight Education Network)-Northeast Ohio, Equality Ohio (the state's leading homosexual lobby group) and P-FLAG (Parent, Friends and Family of Lesbians and Gays).
I think it is safe to say that even today, the average American would be stupefied by the über-deviance on display at such homosexual "leather" events. It is a far cry from the sanitized "gay wedding" images–two guys in tuxedos–that have come to represent the dominant "gay civil rights" narrative advanced by the liberal media. Here, for example, is a Twitter photo of a booth for "Paddle Daddy" and "Jim Support"–two of the "leather"-oriented vendors at the CLAW event. The banner shows a man "fisting" another man:
Remember that the "gay" movement is a sexual "liberation" movement, and the practitioners of such horrifying perversions are the most "liberated" homosexuals on the planet, at least in their own depraved minds. "Gay leathermen" have been a fixture of "out and proud" homosexual "communities" (e.g., San Francisco) for decades, and it appears that 
fisting
–although clearly on the "gay" fringe–is alive and well. There are many sites and even organizations devoted to this truly bizarre and twisted act.
Men Become "Obedient" Dogs
But "fisting" was just one of the vile misbehaviors celebrated at CLAW. As this writer witnessed covering the sadomasochistic 2014 "Up Your Alley" street fair in San Francisco, a growing fetish for edgy homosexual men is for one man to play-act–or rather "live"–as the dog "puppy" of another man, his "master." Here is a description of the CLAW workshop "Puppy for the Outsider," followed by a screenshot of the CLAW website of same:
Class Title: Puppy for the Outsider
Presenter: Sir Justin St. Clair, author of Bark!
Room: Ballroom III (Holiday Inn)
Description: This is a roundtable discussion about the foundations of the pup community. Unlike a typical Puppy 101, this class gives the participants some guidelines as to how to approach pups as someone outside the community. Topics discussed are: where puppies fit in the greater leather community, the meaning of puppy protocol (as opposed to leather protocol), and how to approach a puppy.
And here is the description for the CLAW "Puppy 201" class:
Puppy 201: Obedience
Presenter: Sir Justin St. Clair
Room: Ballroom III
"Description: The Obedience class begins with an interactive discussion around the reasons for obedience and the barriers to obedience. Using some of the idease learned, volunteering participants choose roles and engage in a hands-on learning session."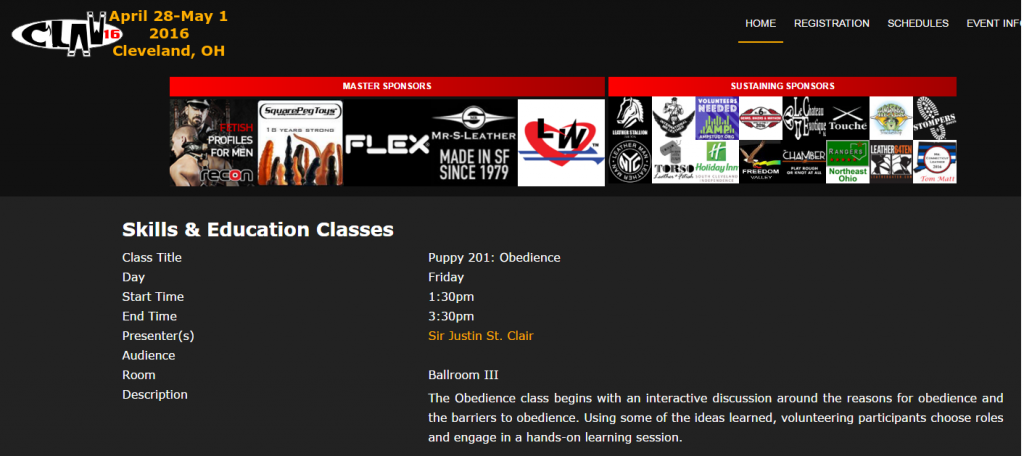 Note the phrase "pup community." If you can have a "community" built around the sin of homosexualism ("gay community") and consensually violent and degrading sex ("leather community")–then why not a community for human dog-slaves? (And don't forget the Fisting Community…) I mean, let's celebrate diversity, right?! Who are you to judge? and all that. But I digress.
OK, you've read the CLAW workshop descriptions. Now, let's put an image to it. Here is a photo I shot in San Francisco in 2014 of some young men who are the "puppies" of their older, bearded uniformed "master" (remember, pro-LGBTQ sexual leftists consider this to be "progress"):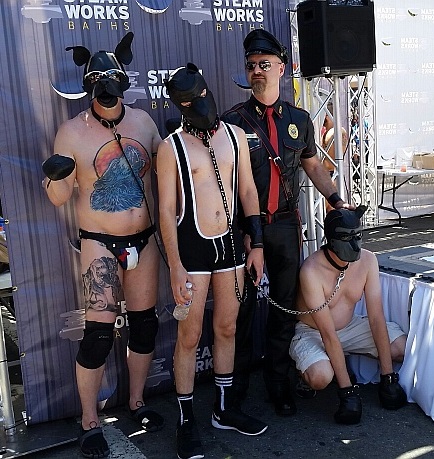 As Fyodor Dostoevsky observed, "If there is no God, then everything is permitted."
At right is the cover of the book by CLAW presenter "Sir" Justin St. Clair. Here is an introduction to his book, Bark!:
"The idea of humans taking on the persona of animals for rituals and for pleasure dates back thousands of years. There are many subcultures in the world today that have been enjoying taking on the persona of human pets for decades in this country, just behind the scenes of what society accepts. In the past 10-15 years, there has been a human-puppy revolution happening. While it was first overtly noticeable in the deeply sexual, gay leather community, people from every walk of life are deriving pleasure from letting go of the cares of this world and taking on the care-free persona of an animal. Within the past several years, the concept has even made its way into prime-time TV, although generally with a negative connotation."
Playing with poop as a turn-on?!
As you can see from this article, one difficulty in fighting homosexualism and the array of "queer" perversions is that many things done in the name of "gay liberation" are so grotesque–and, indeed, satanic–that it is difficult even to discuss them. Take this CLAW 2016 workshop on the "scat" fetish, "Further Down in the Brown," held in the Embassy Suites Hotel's Conference Room 1. It was led by a proud pervert who calls himself "Piglet" (homosexual men who engage in such deviant behavior call themselves "pigs" and their orgies "pig sex"). Believe it or not, this is all about eroticizing feces (poop). The class description is as follows:
"A continuing discussion on the rarely discussed fetish of scat. What is it? How to get started in it? How to meet others into it? The course is designed both for existing players and those new to the scene."

So it seems now there is also a "Scat Community." I think these human BDSM aficionados owe the real (animal) pigs an apology–because, although I am no pig expert, it must be true that pigs' mating habits cannot come close to the filth exhibited by the "gay" perverts who venture every year to CLAW.
Linda Harvey, president of the Christian pro-family group Mission America, based in Columbus, Ohio, had this to say about CLAW:
"Deviance abounds this week-end at the Holiday Inn and Embassy Suites in suburban Cleveland, and Ohio is supposed to yawn. As an advocate for healthy behavior, Christian values and strong families, Mission America stands firmly against events like the CLAW men's leather event, and we are appalled that the Holiday Inn is playing host to bondage, chains, sexual activity involving human waste products, and other aspects of male homosexual sado-masochism. Such events should be banned from all public accommodations in America."
To read Harvey's column in WND.com on the debauched CLAW event, go HERE. Below is my personal tweet on one of the lessons from uber-perversion events like CLAW: