AFTAH in the News
On Tuesday (July 18, 2017), I was a guest on VCY America's "Crosstalk," with my friend and host Jim Schneider (who always does an excellent job) [Click HERE to listen.] It was a great program; Crosstalk's description of it follows (I have added some links). Also, a reminder: you can view all of my articles and columns on LifeSiteNews by clicking on the button at the lower right or by going HERE. — Peter LaBarbera, president, Americans For Truth; Twitter: @PeterLaBarbera; write us at americansfortruth[at]gmail.com. 
________________________
Selling Out to the LGBT Agenda
Posted on July 18th, 2017
​​Date:         July 18, 2017
Host:         Jim Schneider
Guest:       Peter LaBarbera
​Listen:      MP3 ​​​| Order from VCY America
​This edition of Crosstalk began with an update concerning baby Charlie Gard. An American doctor, who previously testified that Charlie's chances of improvement are up to 50%, is examining him.
The judge is allowing for this examination and then he'll allow up to a week in making a decision.
Also, Charlie has received a government appointed lawyer who supposedly is speaking for Charlie in the courts. The problem is that this lawyer is the chairman for Compassion in Dying, an end-of-life advocacy group with a sister organization that supports assisted suicide.
Peter LaBarbera is the founder and president of Americans for Truth About Homosexuality and also a writer for Lifesitenews.com.
Jim indicated that he commends the Trump administration for putting on hold the recruitment of people who desire to identify in a way that's contrary to their biological sex. That policy was set to take effect July 1st but has been postponed to January 1st. However, those in the military who wish to identify as transgender are being allowed to do so. Peter feels it's ridiculous that under President Trump we're not shelving this radical experiment.
According to Peter, there's radical pro-transgender training which is telling even women that they need to get used to and accept (in the name of non-discrimination) the idea that there will be biological males in the same shower facilities, barracks and restrooms with them.
Jim noted that what's even more disturbing is that now when a vote has come before Congress to put a stop to things like this, they have refused to do so. For example, he mentioned how the Republican led U.S. Congress had an opportunity to ban taxpayer funding for sex change surgeries for military personnel. They blocked a ban on such operations which means they kept the Obama era policy intact and put taxpayers on the hook for those in the military who are gender confused.
Peter told listeners which of your Republican legislators voted not to ban taxpayer funding of sex change operations for military personnel and he also commented on the following stories as well:
Bruce (Caitlin) Jenner may run for the U.S. Senate.
Law enforcement officer disciplined for listing a man as being male when
arresting the individual.
The NEA will continue to advance the rights of lesbian, gay, bisexual,
transgender or questioning students and educators.
Texas is considering a bathroom bill while IBM takes out full-page ads to lobby
against this.
Eugene Peterson, author of the Bible called 'The Message', said he would perform
a same-sex "marriage." After an uproar ensued, he retracted that statement.
More Information:
To contact your legislators regarding taxpayer funding of sex change operations for military personnel, go to www.house.gov or call 202-225-3121.
Americans for Truth About Homosexuality
​www.americansfortruth.com
www.lifesitenews.com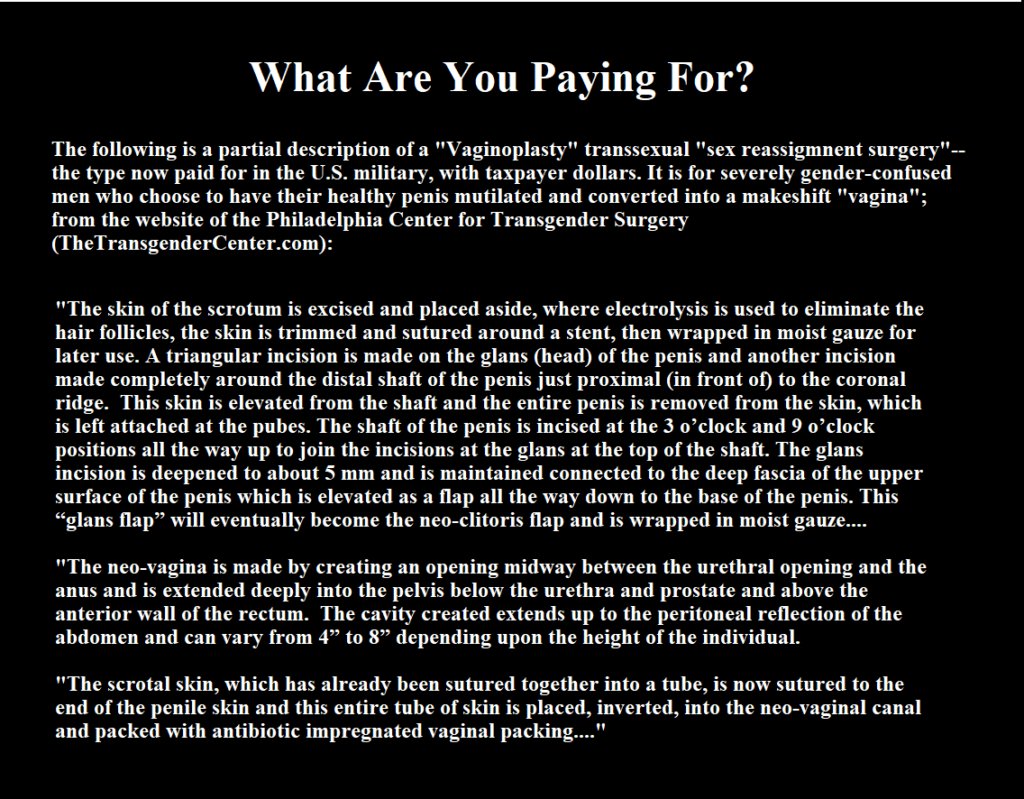 This article was posted on Thursday, July 20th, 2017 at 12:51 am and is filed under
"Sexual Orientation"/"Gender Identity" and the Law
,
A - What does the Bible say about homosexuality?
,
Biblical Truth
,
Government Promotion
,
News
,
The Bible, Churches, & Homosexuality
,
Too Much Tolerance
,
Transgender-General
. You can follow any updates to this article through the
RSS 2.0
feed.