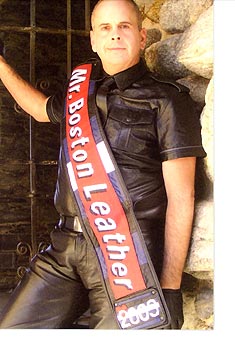 A 'Leatherman' Attends Boston's "Transgender" Youth Prom: Mr. Boston Leather, Tim Starkey, who self-identifies as a "leather BDSM fetishist," was an official greeter at Boston's "Transgender Prom" May 9. Adult transsexuals (men in dresses) also were seen at the event supposedly for "youth 22 years old and under." Bottom line: homosexual activists simply cannot be trusted with America's youth. Check out this shocking eye-witness report and you will see why homosexual activists have struggled so hard to keep groups like AFTAH and MassResistance from exposing their events. Is this the "Safe Schools" agenda of President Obama and his Education Secretary, Arne Duncan?

_________________________
Folks, when it comes to the homosexual/transsexual "queer" activist movement, it seems the continuous story line is: Can it get any weirder, any more perverse? And then it does. Our good friends over at MassResistance once again have done the hard work of exposing part of the REAL homosexual youth agenda — you know, the one in which adult homosexual activists recklessly expose vulnerable young people to adult sexual perverts and harmful lifestyles. This is hardly the first "gay youth" scandal.
Take the time to read this shocking eye-witness story and then ask yourself: how is it that President Obama has the "audacity" to promote a man, Education Department "Safe Schools" czar Kevin Jennings, whose organization (GLSEN) has for more than a decade promoted all things transsexual to youth — yes, in the name of "safety." This "transgender prom" travesty is part of Jennings' perverse legacy — GLSEN has sponsored or been associated with other events that corrupted and endangered youth, like the notorious "Fistgate" episode, and a GLSEN conference in Chicago in which pornographic homosexual magazines advertising "gay" sex clubs and leather bars were passed out to underage youth.
Bottom line: such recklessness toward youth would never be tolerated if it weren't part of a left-wing, politically correct agenda. It is wrong and incredibly irresponsible to use American schools to "promote homosexuality", transsexuality, bisexuality — and, God help us, sexual sadism — to young people. TAKE ACTION: Please call and write Education Secretary Arne Duncan (arne.duncan@ed.gov; 202-401-3000) and politely urge him to withdraw his appointment of homosexual extremist and anti-Christian bigot Kevin Jennings as Deputy Assistant Secretary for Safe and Drug-Free Schools. — Peter LaBarbera, www.americansfortruth.com

Excerpts from MassResistance's exposé below:

Read the rest of this article »