"We simply want to send a message that it might be easier to discriminate against a small Christian group, but it's no less acceptable … We don't want corporate America to continue in its belief that it's OK to discriminate against unpopular points of view."
— Americans For Truth attorney Jason Craddock
*      *     *
"For those who support the hotel in this, imagine that the tables were turned. Suppose it was a homosexual group that had been turned down by the hotel because of 'negative publicity.' Would you still support the hotel's right to discriminate in this fashion? Sauce for the goose…"
— Comment by "Springer" posted at Daily Herald article (reprinted below), "Anti-gay group sues Naperville hotel, alleges discrimination"
_____________________________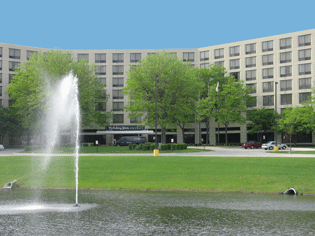 Anti-Christian Discrimination OK? Imagine the hue and cry that would have erupted had the Holiday Inn Select hotel (left) in Naperville, Ill., canceled a "gay" organization's scheduled banquet after its leader told the hotel that some Christians might protest the event.
Dear AFTAH Readers,
Below are two local articles on AFTAH's just-filed lawsuit against a Naperville, IL Holiday Inn hotel for canceling our banquet two years ago out of fear of "gay" protests.
We hope you can make it to this year's AFTAH banquet on Sat., Oct. 24 at Christian Liberty Academy in Arlington Heights, IL — featuring culture warrior and former professional heavyweight boxer Matt Barber, who was fired by Allstate Insurance Co., after writing an article against homosexual "marriage" on his own time. Tickets are $50 each. A table of 10 is $500. More information here: http://americansfortruth.com/news/matt-barber-to-keynote-aftah-banquet.html; book your seat now at www.americansfortruth.com/donate.
Also, don't forget our the dinner-lecture at our Carol Stream office Thursday, Sept. 17 featuring Michael Brown, who is going to talk about how to walk that fine line of reaching out to homosexuals with the Gospel of Christ while resisting the radical "gay" political/cultural agenda. I am really looking forward to this talk. Click HERE for more info. RSVP to aftahangela@gmail.com or americansfortruth@comcast.net. (Donations will be accepted at the event to cover costs.)
Lastly, AFTAH has now crossed the half-way mark in our goal of matching a generous donor's $20,000 grant. Please help us go all the way with your tax-deductible donation to AFTAH at www.americansfortruth.com/donate or by mailing your gift to: Americans For Truth, P.O. Box 5522, Naperville, IL 60567-5522.  Thank you!
Read the rest of this article »