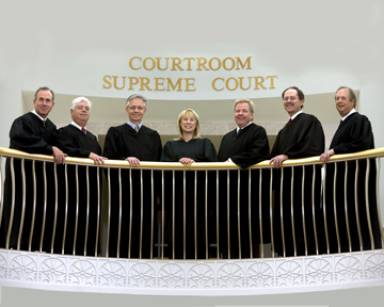 Meet Iowa's New 'Super-Legislature': forget those civics lessons, kiddos: the real, ultimate power to create laws lies with the nature-defying liberals in charge of the Iowa Supreme Court (left). Needless to say, Iowa's Democratic governor, Chet Culver (who once taught high school government), did not take Matt Barber's bold advice today — that is, he did not interfere with the new immoral, counterfeit "marriages" imposed by the seven smiling "judiciocrats" at left.
Contact: Matt Barber: [email protected]
DATE: April 27, 2009
FOR IMMEDIATE RELEASE
Iowa Governor Should Tell Court 'Thanks but No Thanks'
Lynchburg, VA – Matt Barber, Director of Cultural Affairs with both Liberty Alliance Action and Liberty Counsel* released the following statement today encouraging Iowa Governor Chet Culver to honor his obligation to uphold the Iowa Constitution and refuse to issue marriage licenses to same-sex pairs.
"In Baker v. Nelson, the U.S. Supreme Court refused to imagine there exists a 'constitutional right' to 'same-sex marriage.' It held that if the Court were to create such a right, it would amount to an unconstitutional act of 'judicial legislation.' With its recent opinion charging that such a right exists and ordering that, starting today, marriage licenses be given to homosexual duos, the Iowa Supreme Court has done just that. It has co-opted the role of both the legislative and executive branches of government and has presumed to unconstitutionally create and administer law from the bench.
Read the rest of this article »